BLUEBERRY ZIRCON™
Zircon is the oldest mineral on earth, dating back 4.4 billion years. Its name comes from the Persian "Zargun", which meaning golden color. Zircons can survive geological processes like erosion, transport, and even high-grade metamorphosis; as a result, they contain a rich and varied record of these processes, adding to their unique allure. There are many colors of Zircon including yellow, orange, brown, green, red and blue, the latter of which Le Vian® has chosen to introduce as Blueberry Zircon™, its newest gemstone flavor.
Le Vian® Blueberry Zircon™ can only be found in Cambodia, is chosen from the top of production and displays a unique blue color with green tones, which sometimes causes it to be mistaken for a Paraiba Tourmaline. It is a very highly refractive gem with a hardness of 7.5 and a vitreous luster.
Blueberry Zircon™ has the unique characteristic of being double reflective which means you see twice as many facets and twice as much fire. Larger sizes of Blueberry Zircon™ are extremely rare, almost nonexistent, with only 5 or less pieces of 30 carats or more discovered in the last year. Le Vian® is popularizing this ancient and rare gem as a salute to its 2017 Color of the Year, Blues™.
"Blueberry Zircon™ is cut to Le Vian's exacting standards and displays a unique blue color. They have a very high dispersion of light and high refractive indices giving them very high brilliance."
PEACH MORGANITETM
Morganite, the sister stone of emerald and aquamarine, was first discovered in California and is named for J.P. Morgan, one of the greatest financiers in history and one of the most important gem collectors in the early 1900s. Originally known as pink beryl, this peachy pink gem which is rarer than aquamarine, receives its blush hue through traces of manganese. Stronger colors are possible, although the finest colors are mainly achieved through larger stones. Morganite crystals can be quite large, with stones in Brazil weighing over 22 pounds. The largest Morganite weighing in at 50 pounds was uncovered in the U.S. in 1989 and named "The Rose of Maine." The largest faceted Morganite is a 598.70-carat cushion-shape from Madagascar in the collection of the British Museum. Symbolically, Morganite is thought to induce peace, joy and inner strength.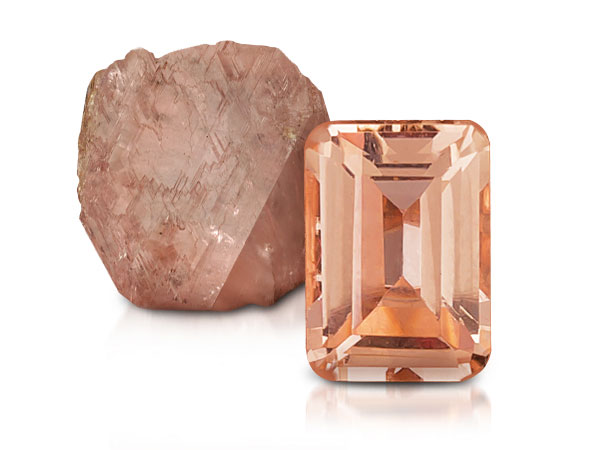 "Le Vian® masterfully combines the peachy pink flavors of its highly selective Peach MorganiteTM with Strawberry Gold®, to create a new effect which enhances the beauty and femininity in any woman."
VANILLA DIAMONDS®
The journey of a diamond in the rough to the sparkling diamond design you love is a fascinating story, one that began billions of years ago, deep within the earth where a diamond has formed under extreme heat and pressure. Its ascent from its natural home is forced by nature or man where it is then cleaved, cut and polished revealing its natural beauty. Diamonds are the hardest material on earth and the only gem that is composed of only one element, carbon.
Vanilla Diamonds® are specially selected to adorn Le Vian® designs – from breathtaking one-of-a-kind red carpet favored designs in Vanilla Gold® to the trendsetting combination of Strawberry 'N Vanilla® featuring the blushing hue of Strawberry Gold® topped with Vanilla Diamonds®.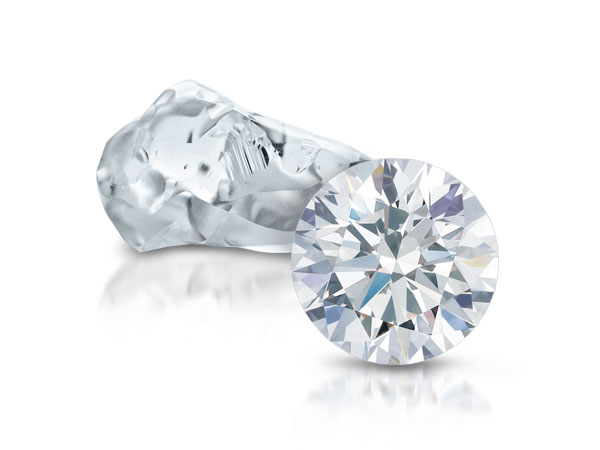 "Le Vian® Vanilla Diamonds® are chosen by exacting standards: SI quality of higher and G-J color."