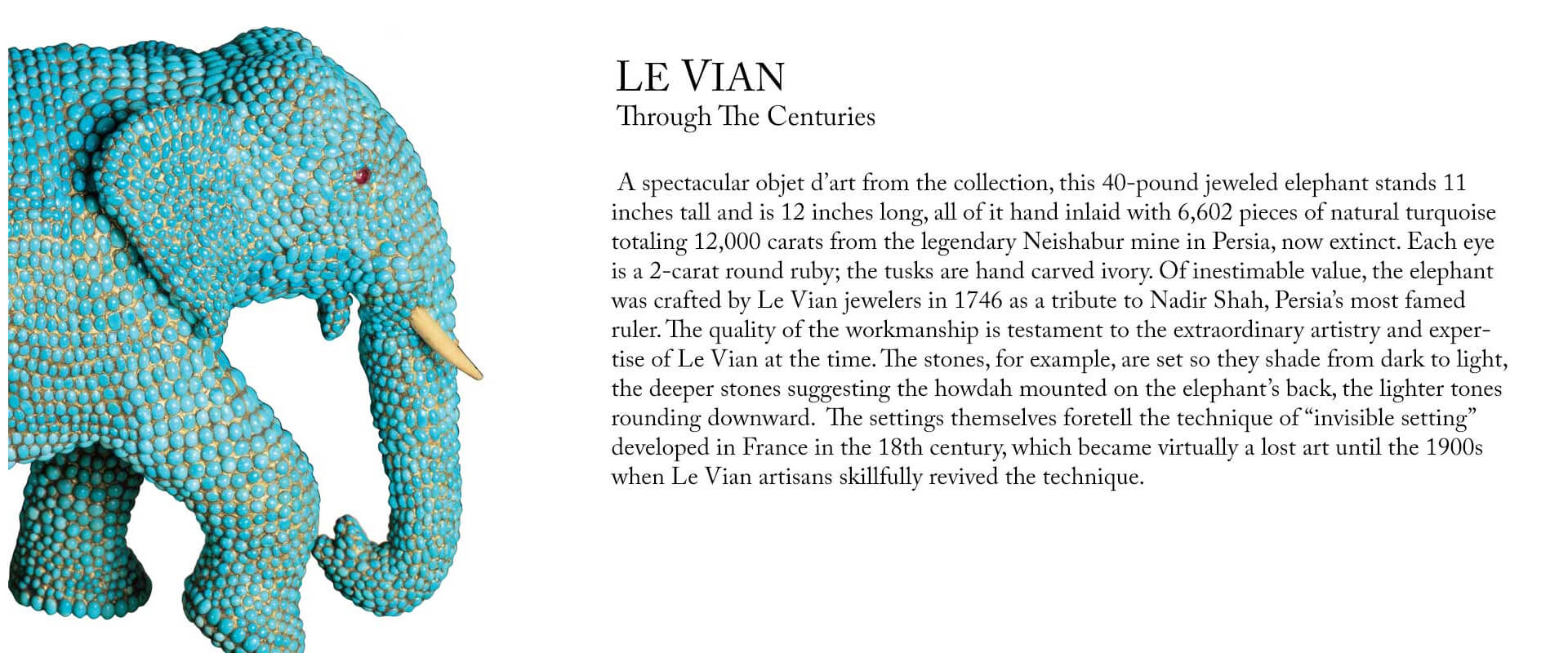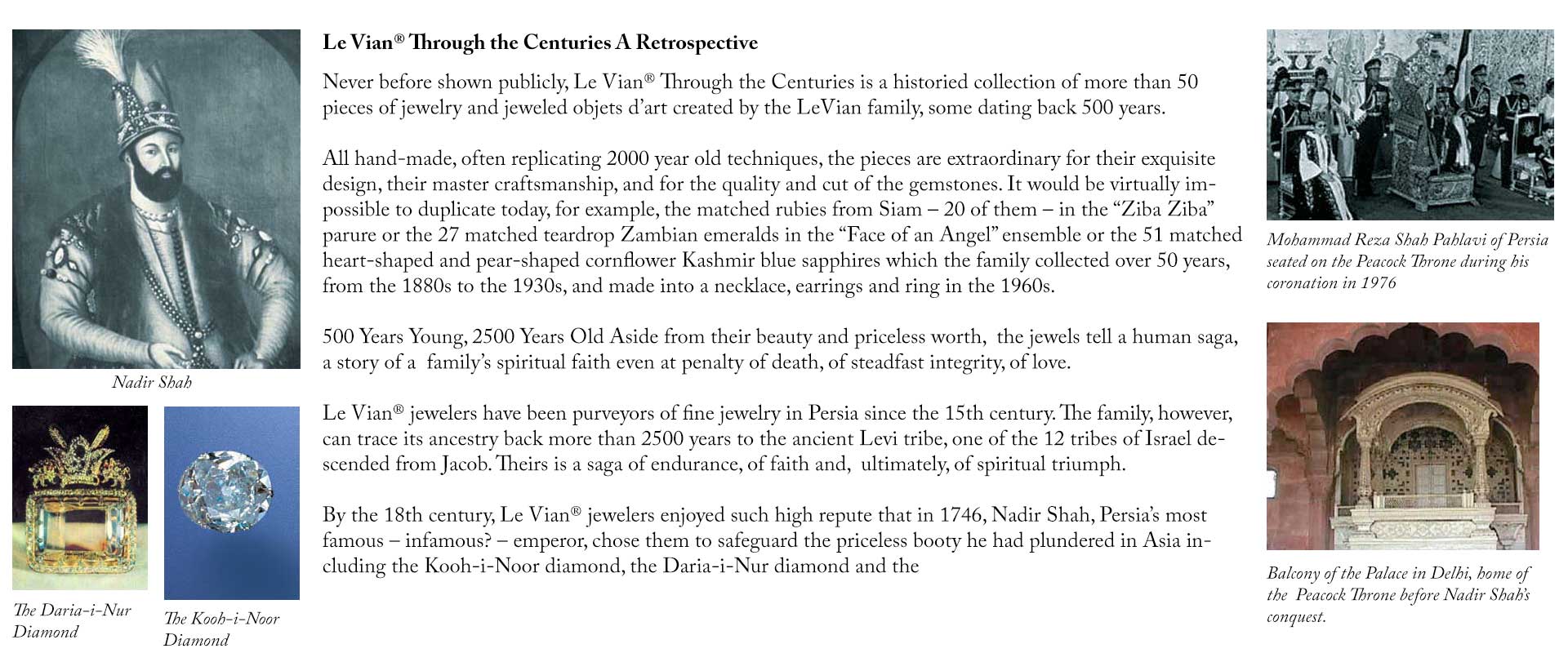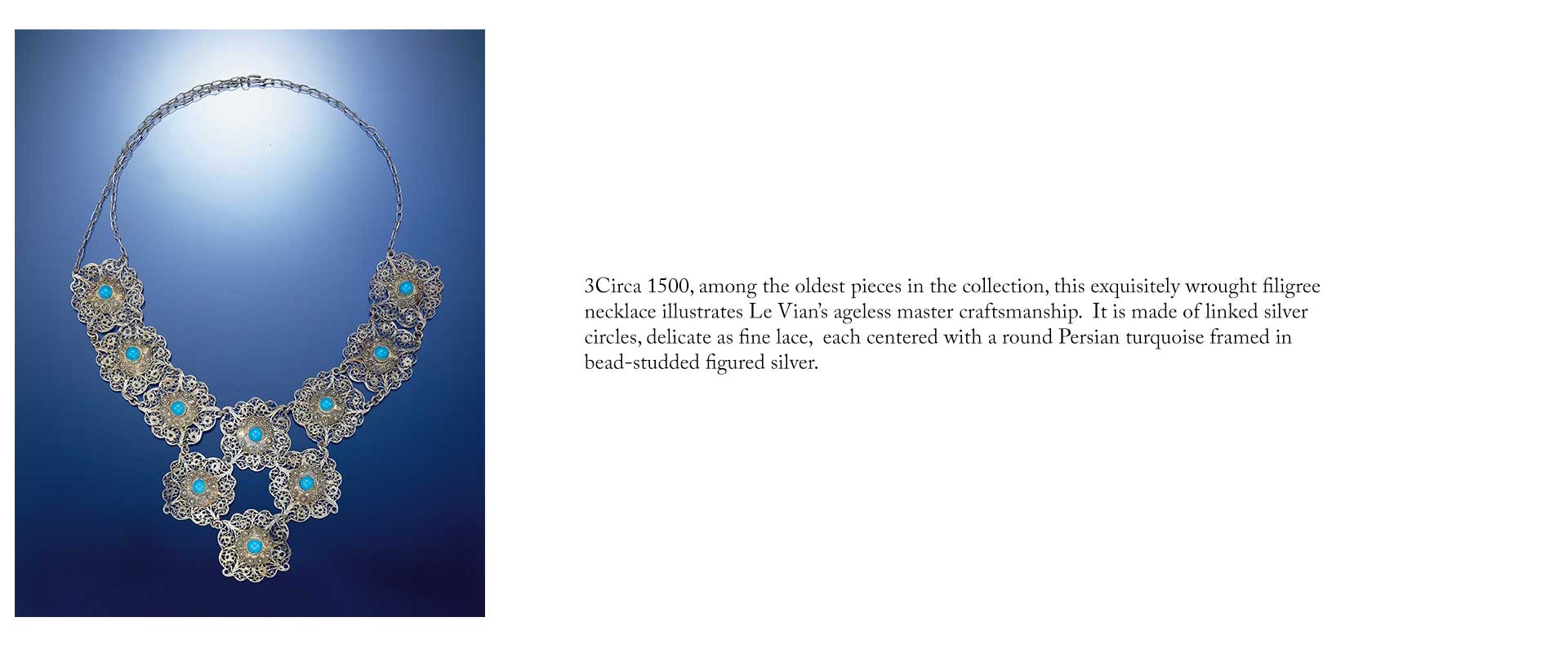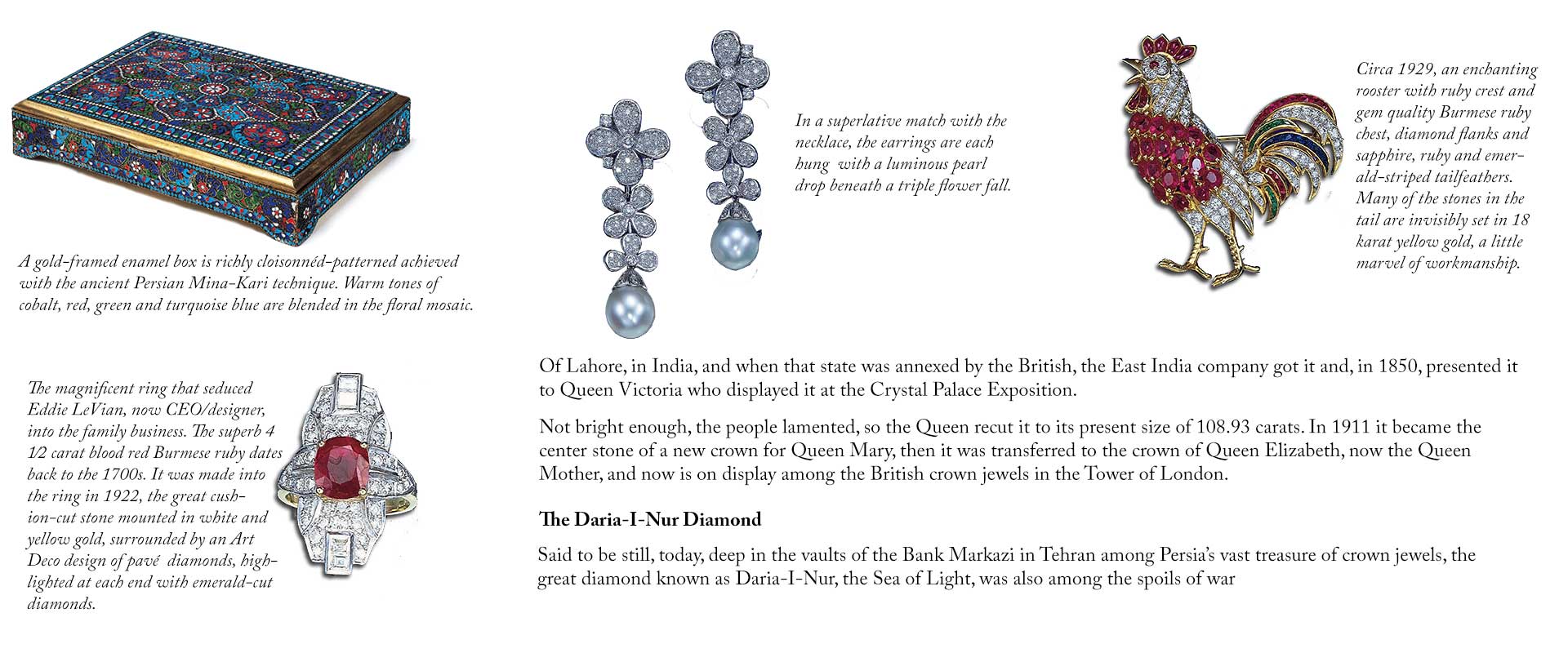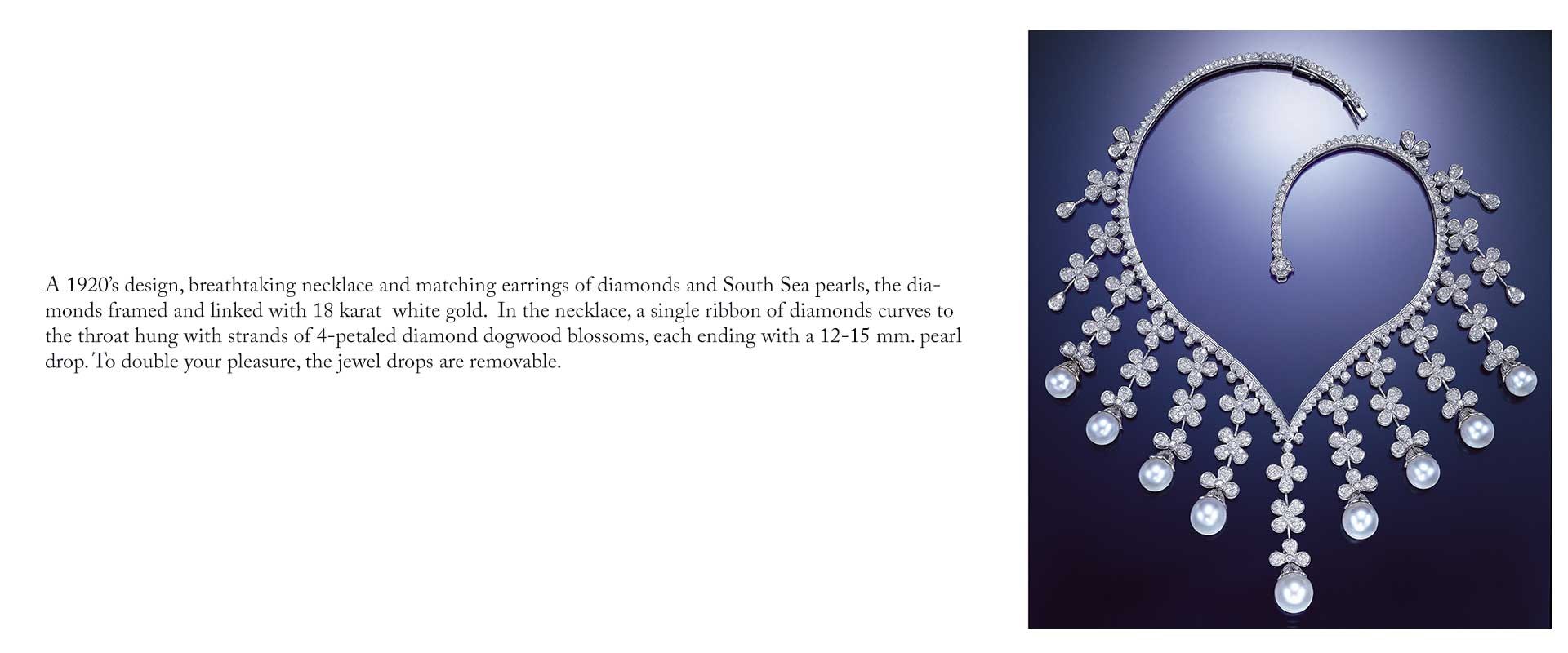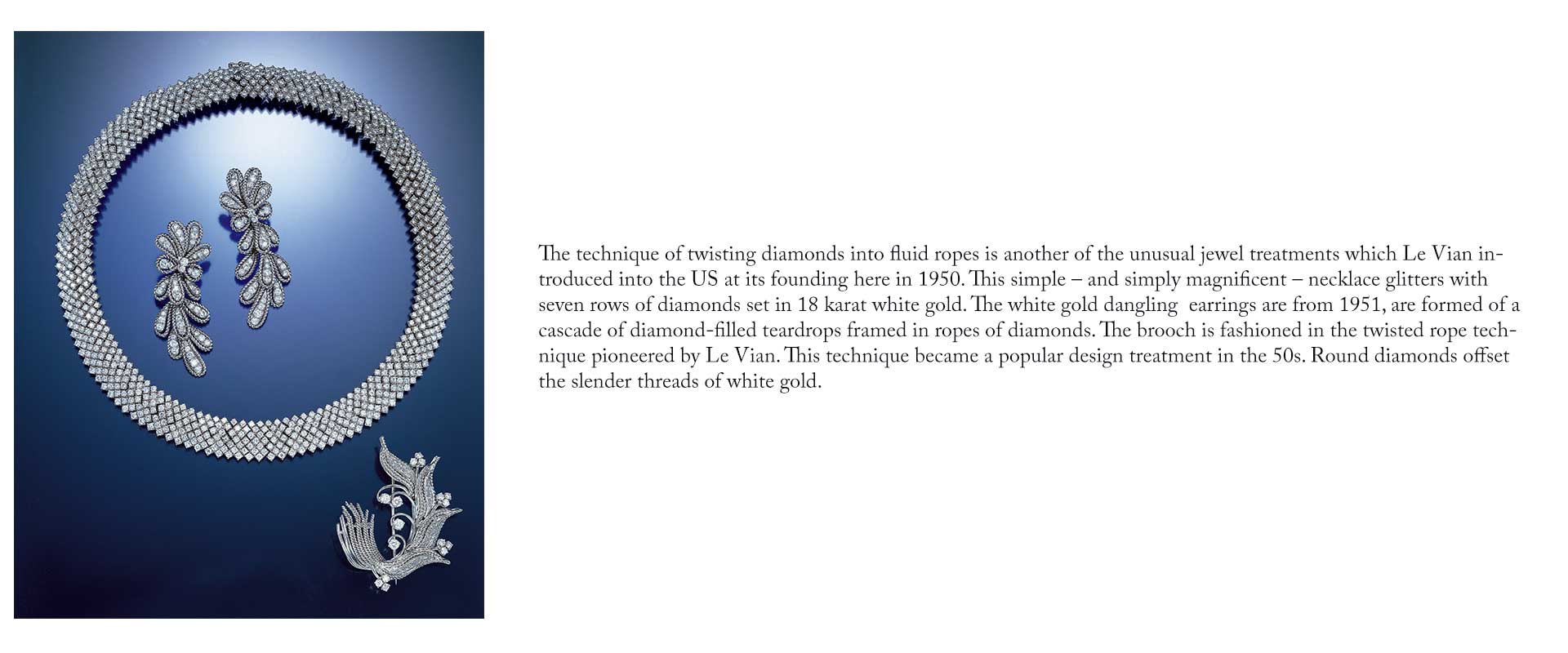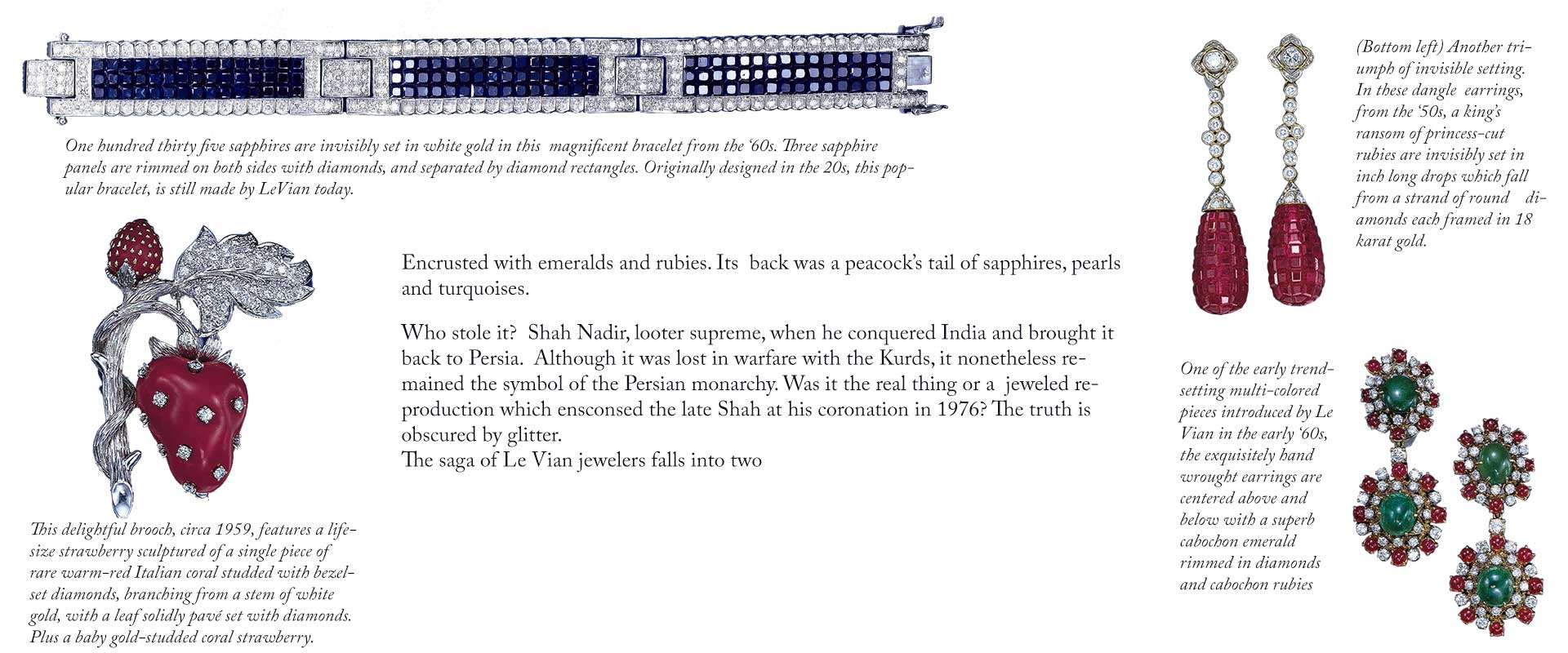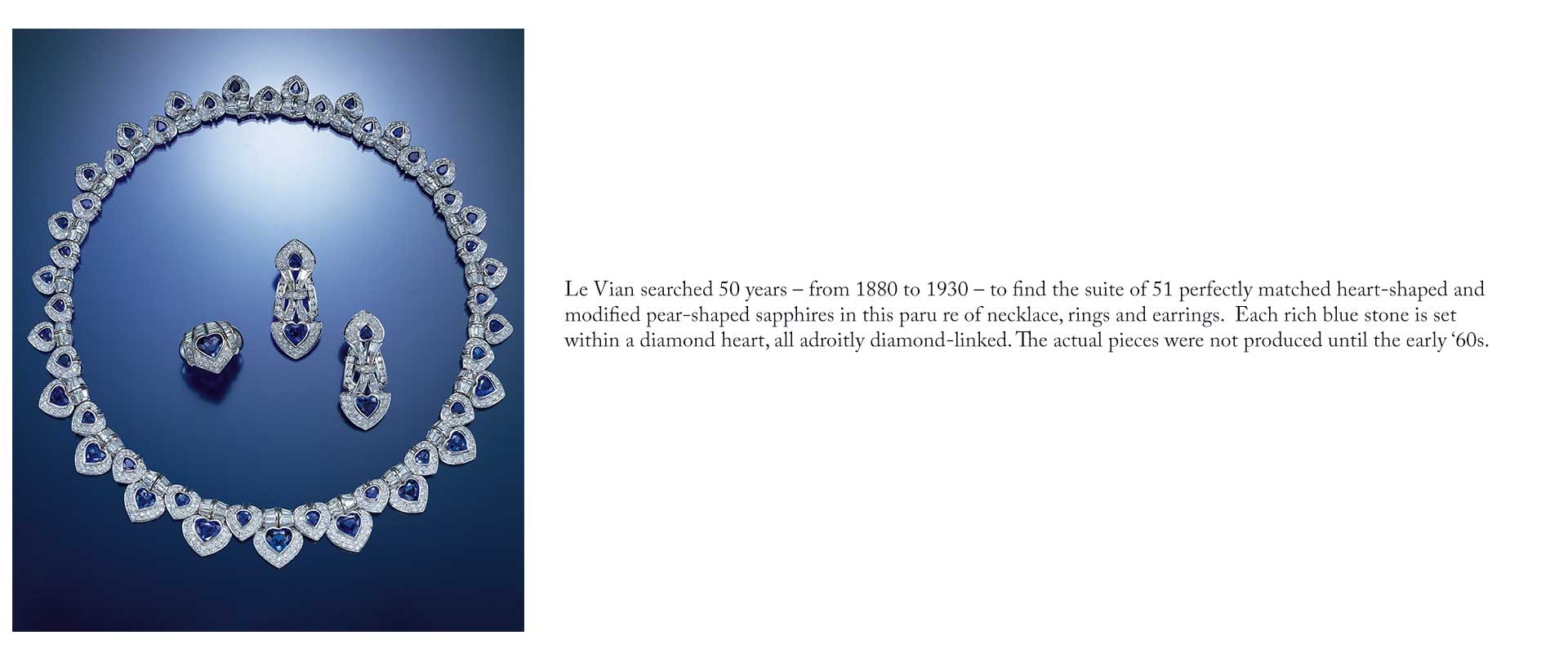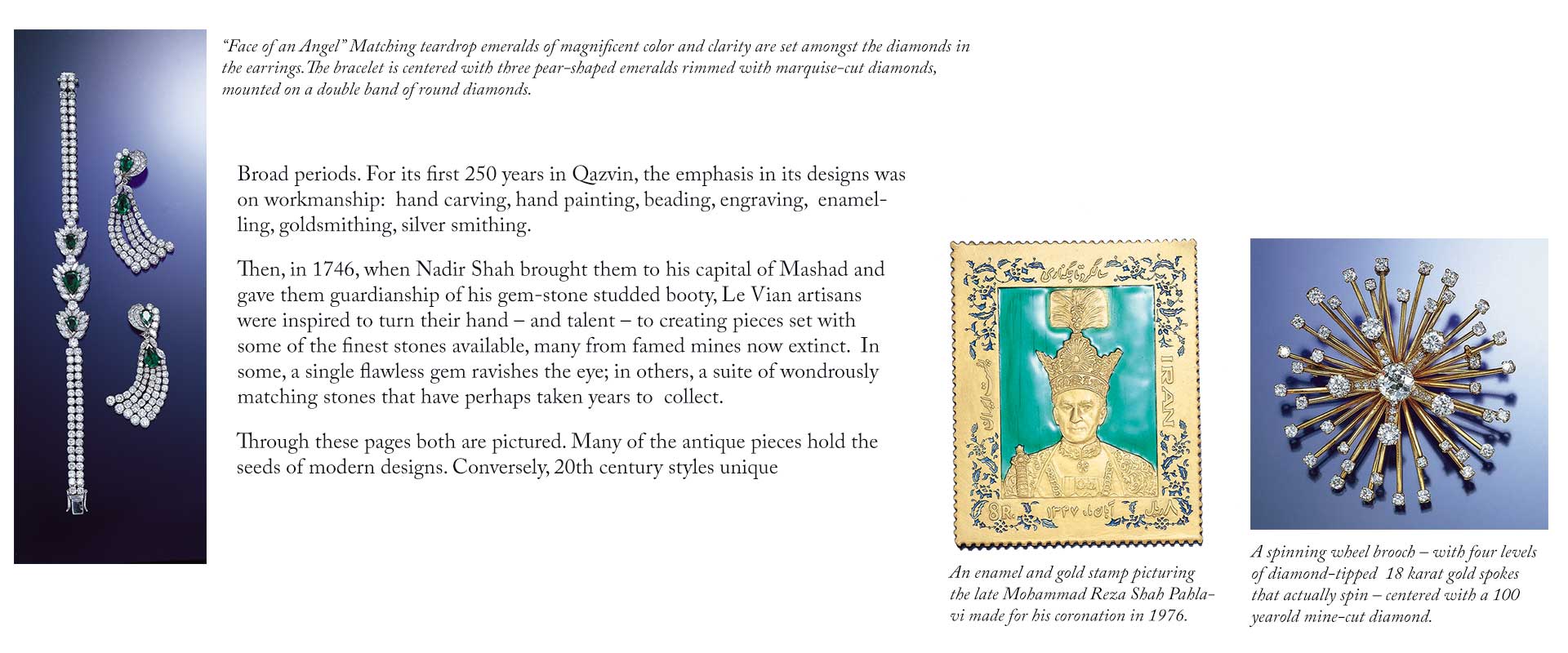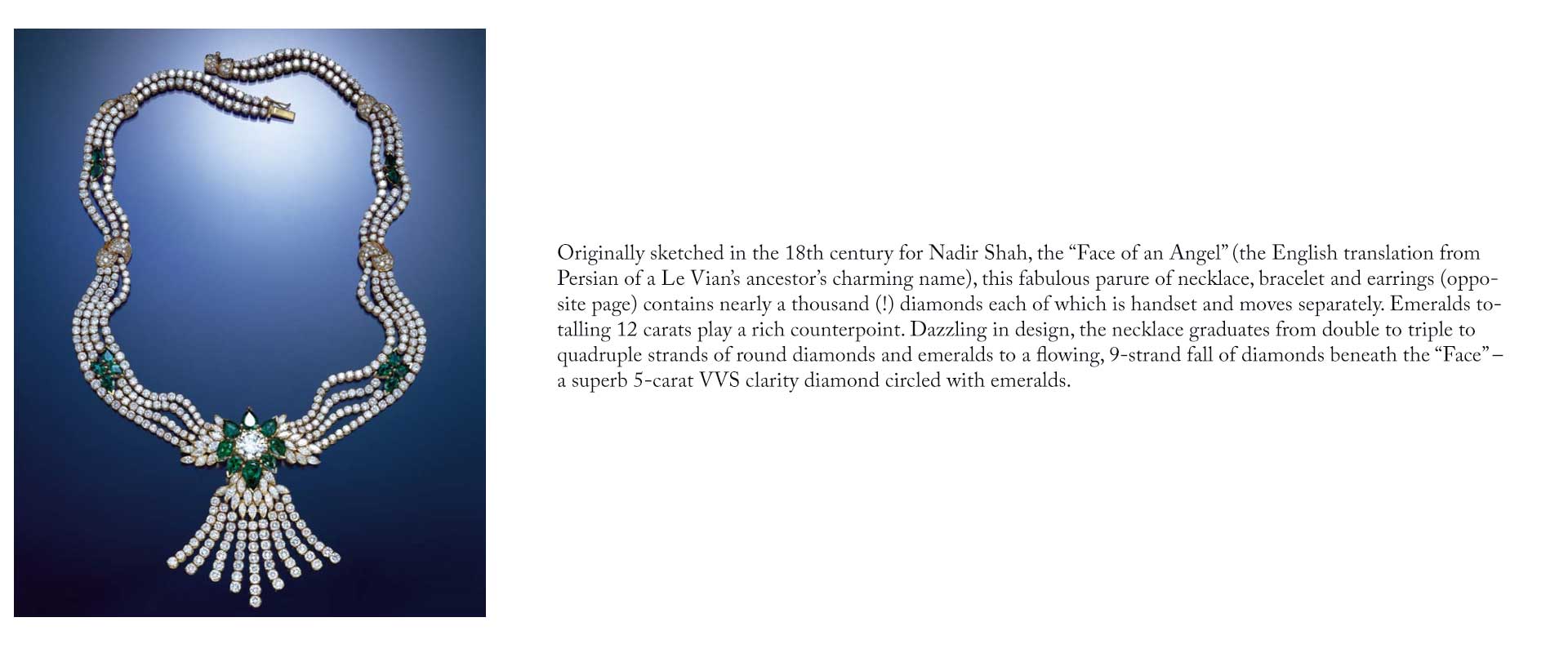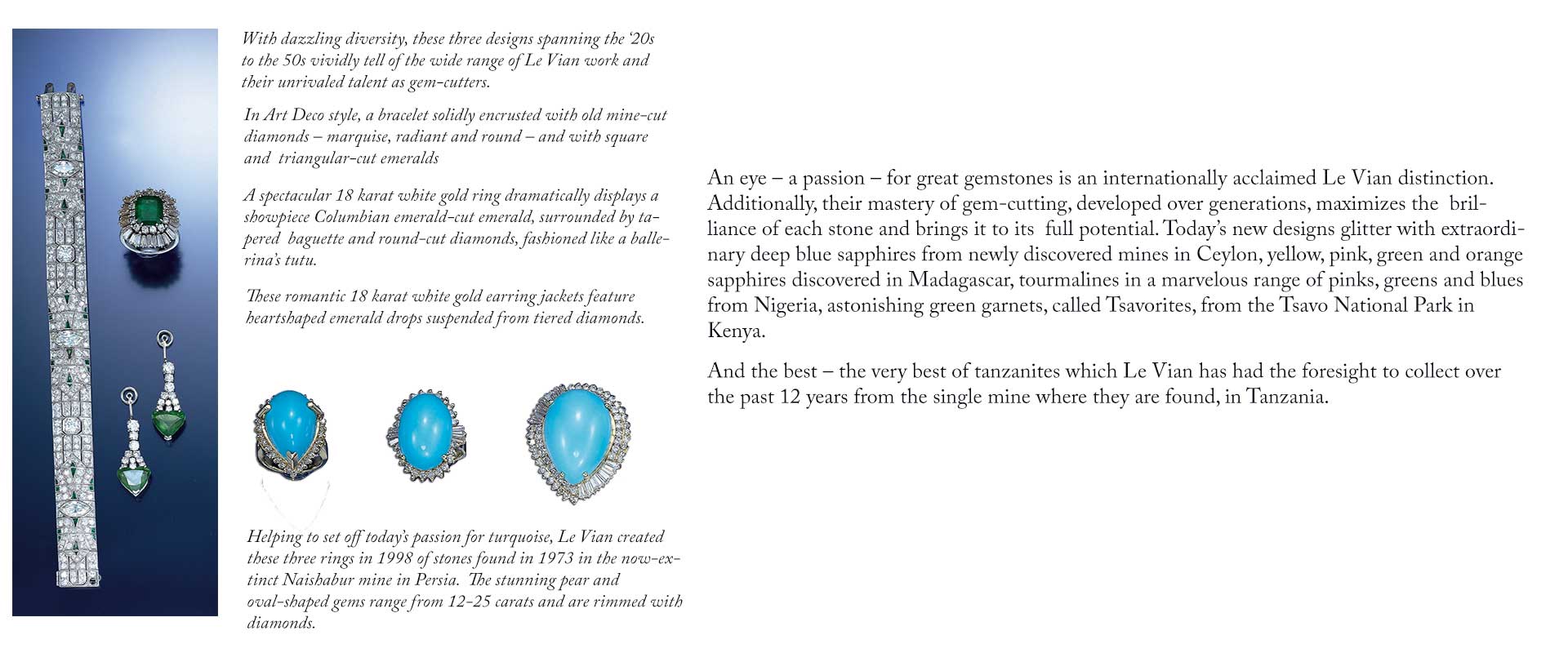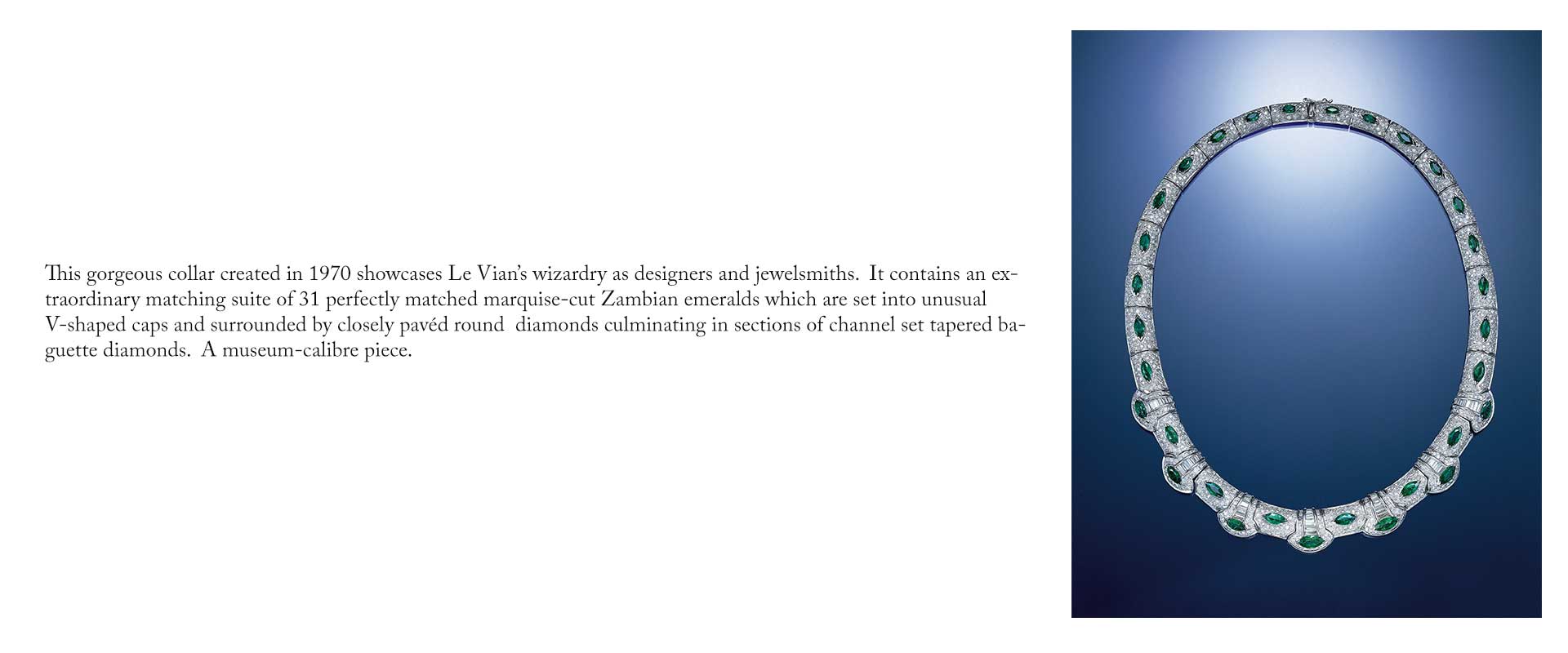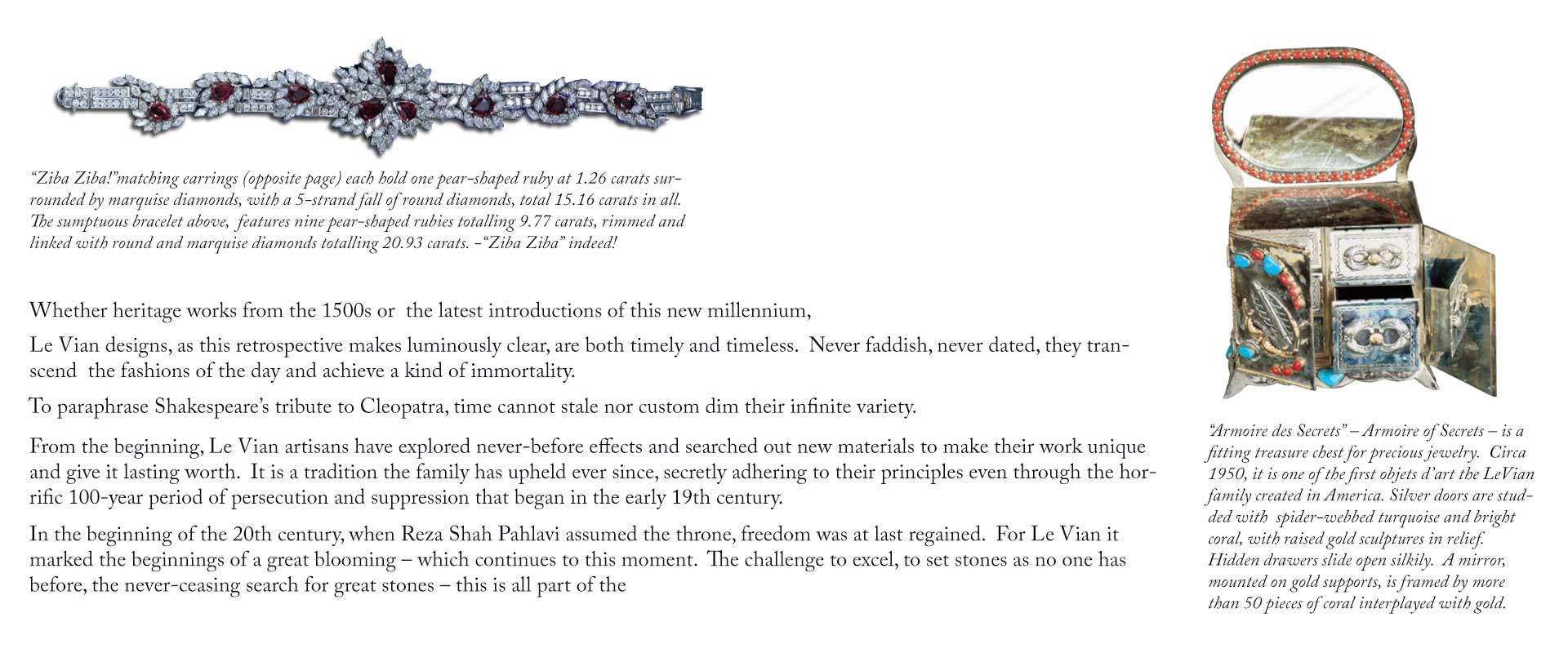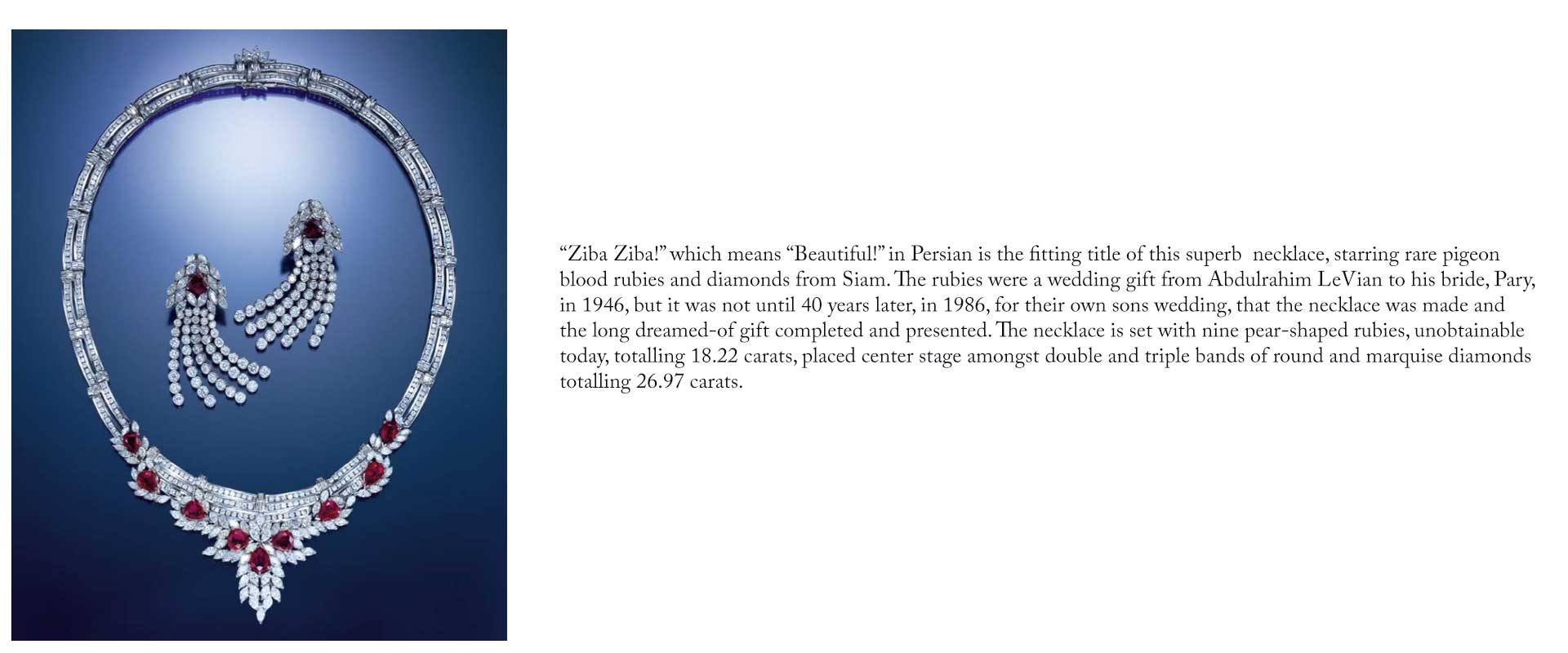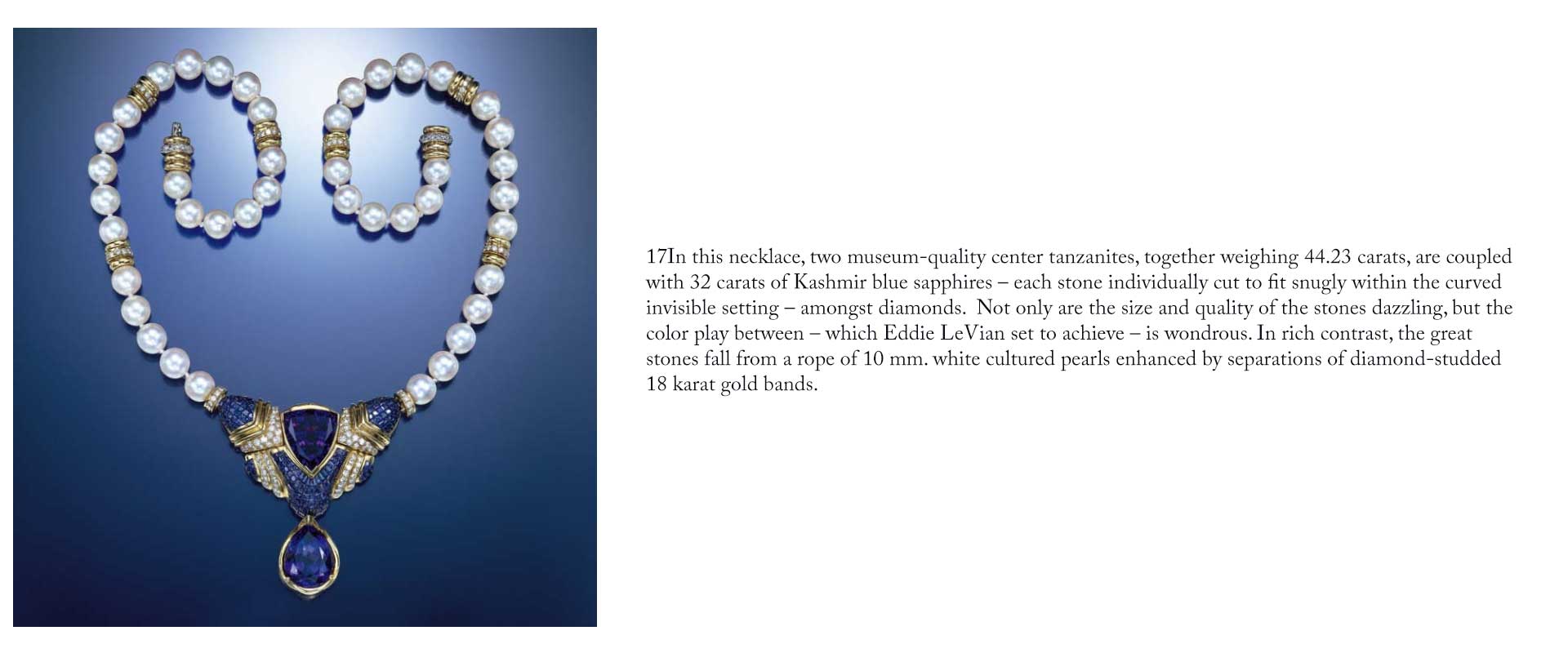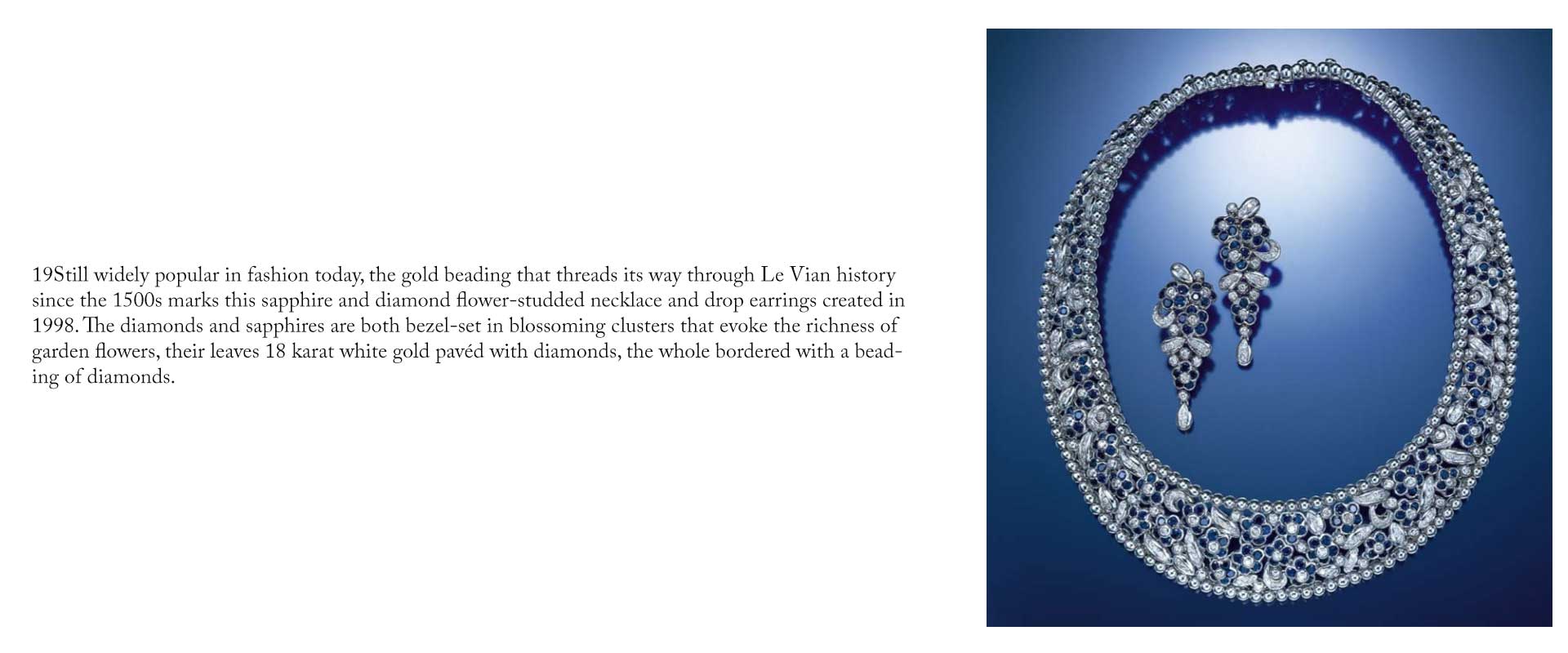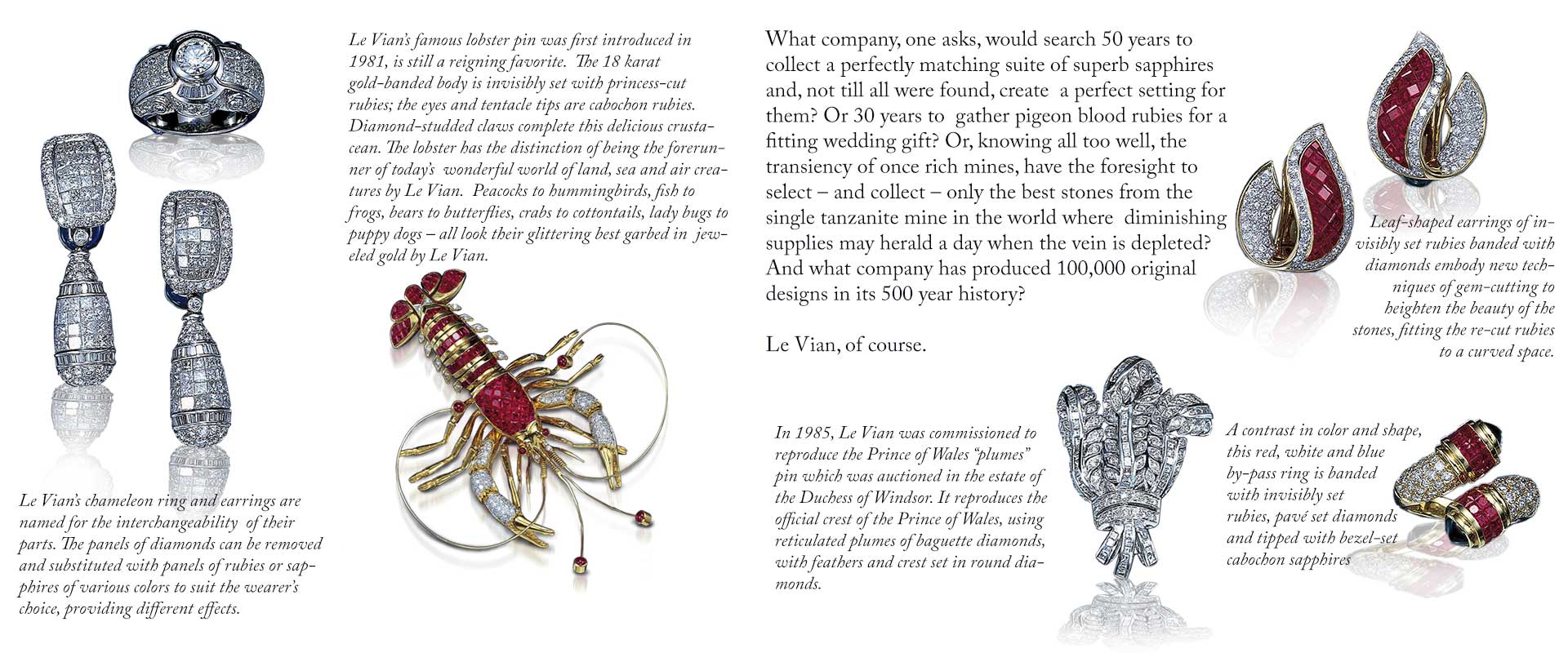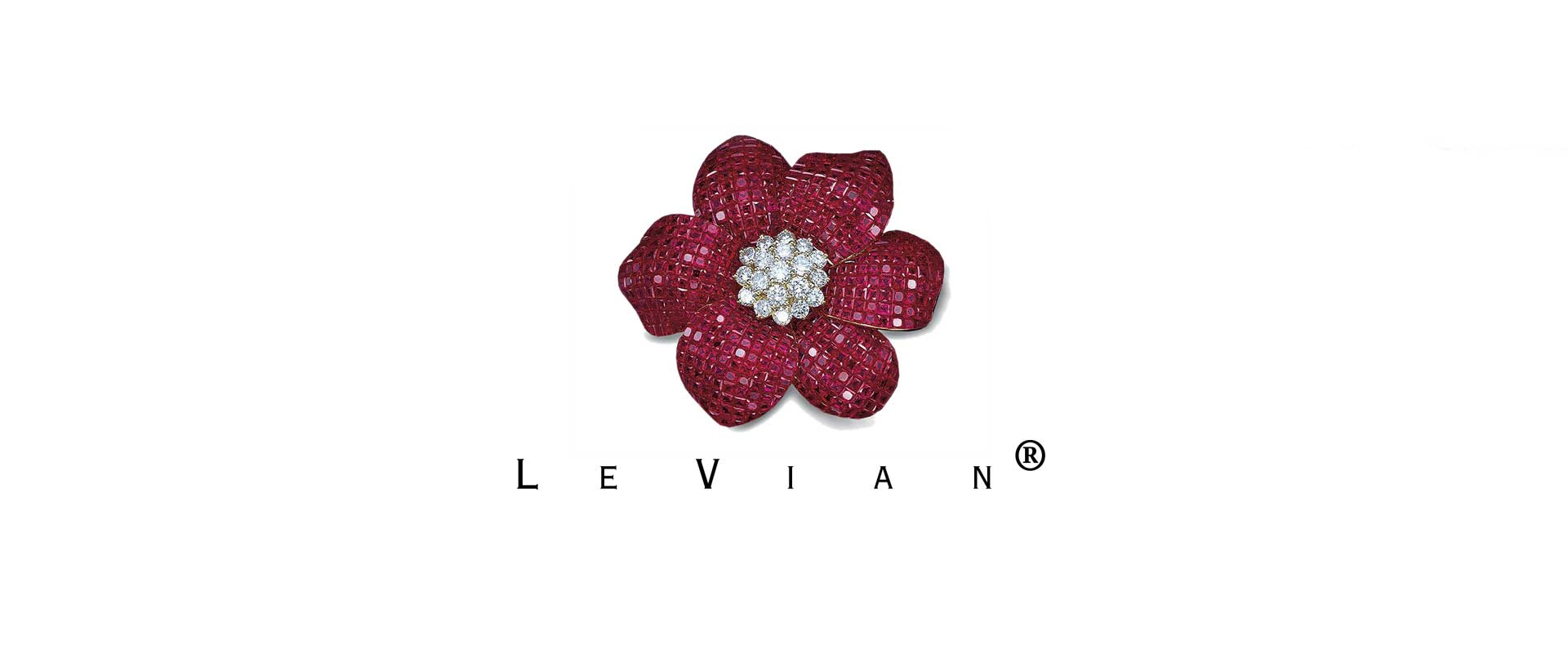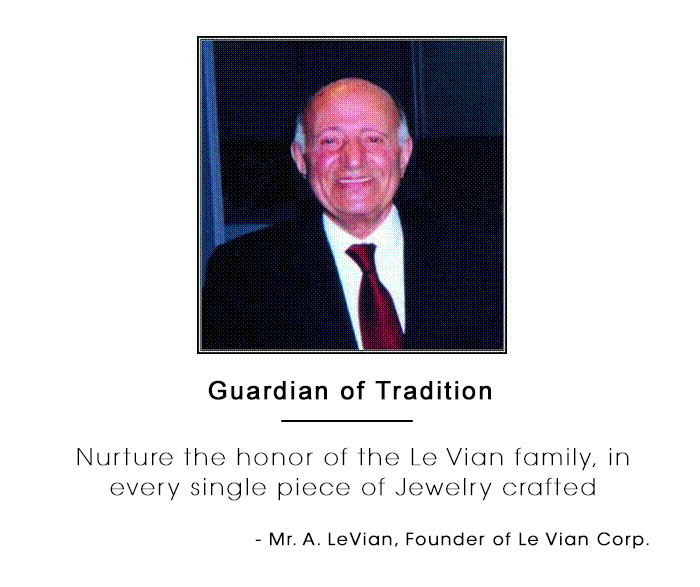 500 Years Young, 2500 Years Old
A Retrospective of Le Vian through the Centuries
Never before shown publicly, Le Vian® Through the Centuries is a historied collection of more than 50 pieces of jewelry and jeweled objets d'art created by the LeVian family, some dating back 500 years.

All hand-made, often replicating 2000 year old techniques, the pieces are extraordinary for their exquisite design, their master craftsmanship, and for the quality and cut of the gemstones.
A spectacular objet d'art from the collection, this 40-pound jeweled elephant stands 11 inches tall and is 12 inches long, all of it hand inlaid with 6,602 pieces of natural turquoise totaling 12,000 carats from the legendary Neishabur mine in Persia, now extinct. Each eye is a 2-carat round ruby; the tusks are hand carved ivory.

Of inestimable value, the elephant was crafted by Le Vian® jewelers in 1746 as a tribute to Nadir Shah, Persia's most famed ruler. The quality of the workmanship is testament to the extraordinary artistry and expertise of Le Vian at the time. The stones, for example, are set so they shade from dark to light, the deeper stones suggesting the howdah mounted on the elephant's back, the lighter tones rounding downward. The settings themselves foretell the technique of "invisible setting" developed in France in the 18th century, which became virtually a lost art until the 1900s when Le Vian artisans skillfully revived the technique.
---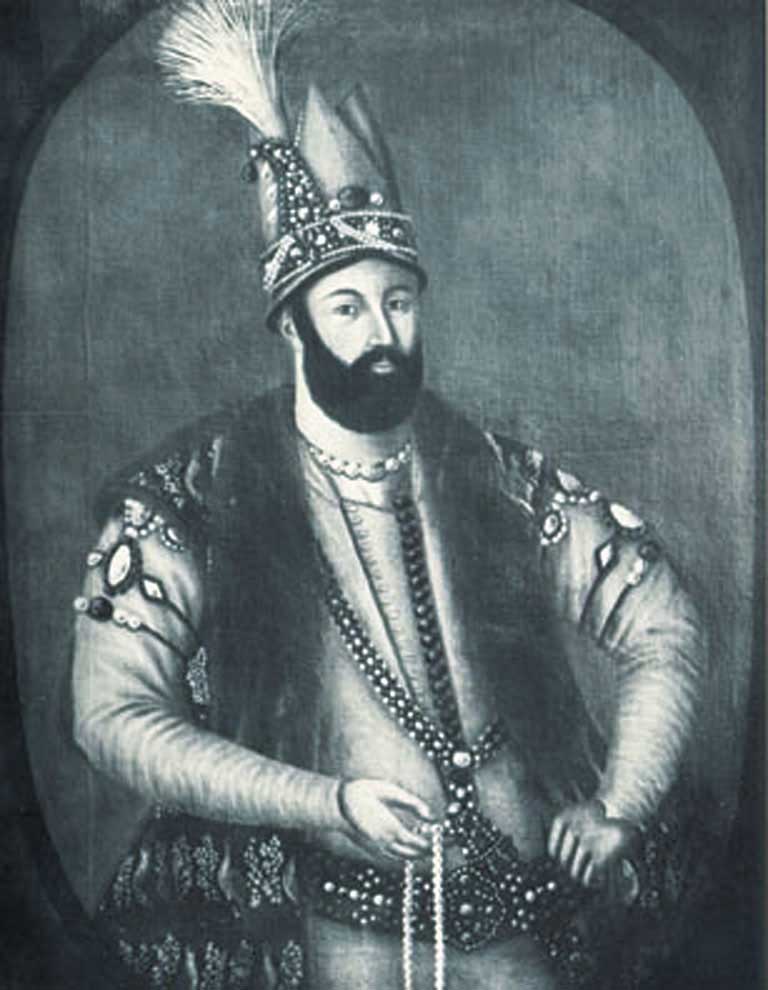 Aside from their beauty and priceless worth, the jewels tell a human saga, a story of a family's spiritual faith even at penalty of death, of steadfast integrity, of love.

Le Vian® jewelers have been purveyors of fine jewelry in Persia since the 15th century. The family, however, can trace its ancestry back more than 2500 years to the ancient Levi tribe, one of the 12 tribes of Israel descended from Jacob. Theirs is a saga of endurance, of faith and, ultimately, of spiritual triumph.

By the 18th century, Le Vian® jewelers enjoyed such high repute that in 1746, Nadir Shah, the Persian emperor, chose them to safeguard the priceless booty he had plundered in Asia including the Kooh-i-Noor diamond, the Daria-i-Nur diamond and the fabled Peacock Throne.
---
The Daria-I-Nur Diamond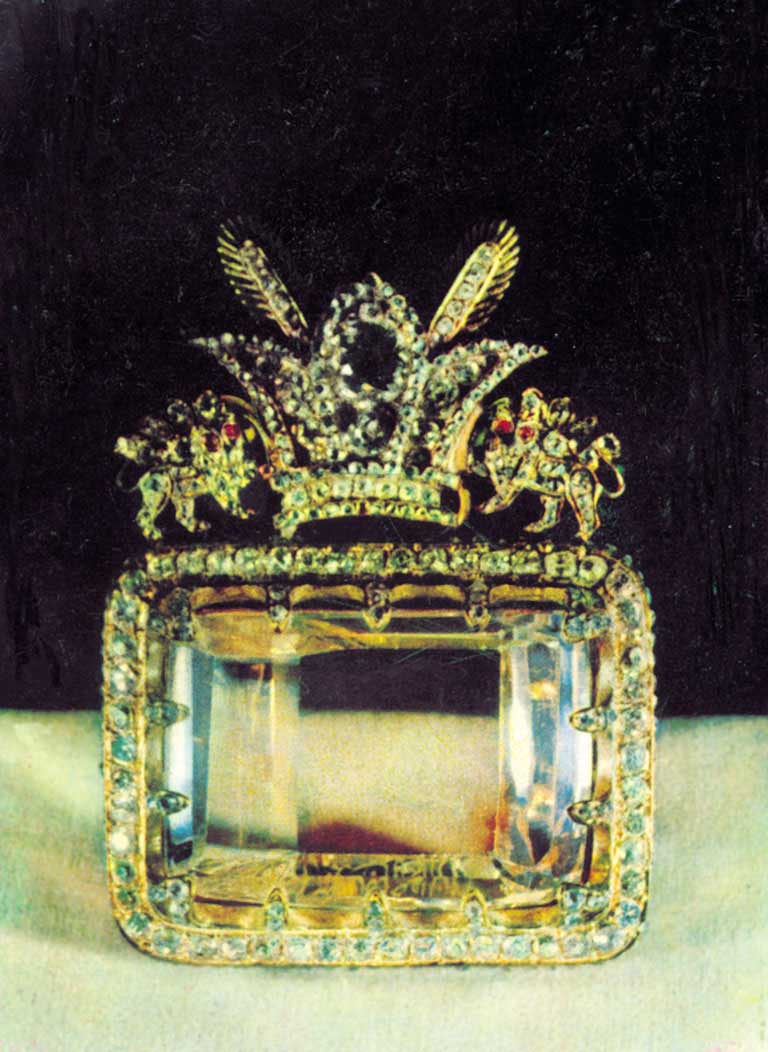 The Daria-I-Nur Diamond Said to be still, today, deep in the vaults of the Bank Markazi in Tehran among Persia's vast treasure of crown jewels, the great diamond known as Daria-I-Nur, the Sea of Light, was also among the spoils of war taken by Nadir Shah and entrusted to the LeVians. 182 carats, it is one of the largest diamonds ever found. Square cut, it sits in a frame of five dozen smaller diamonds, guarded by two gold lions, ruby eyes blazing, surmounted by an imperial Persian crown of diamonds.
---
The Kooh-i-Noor Diamond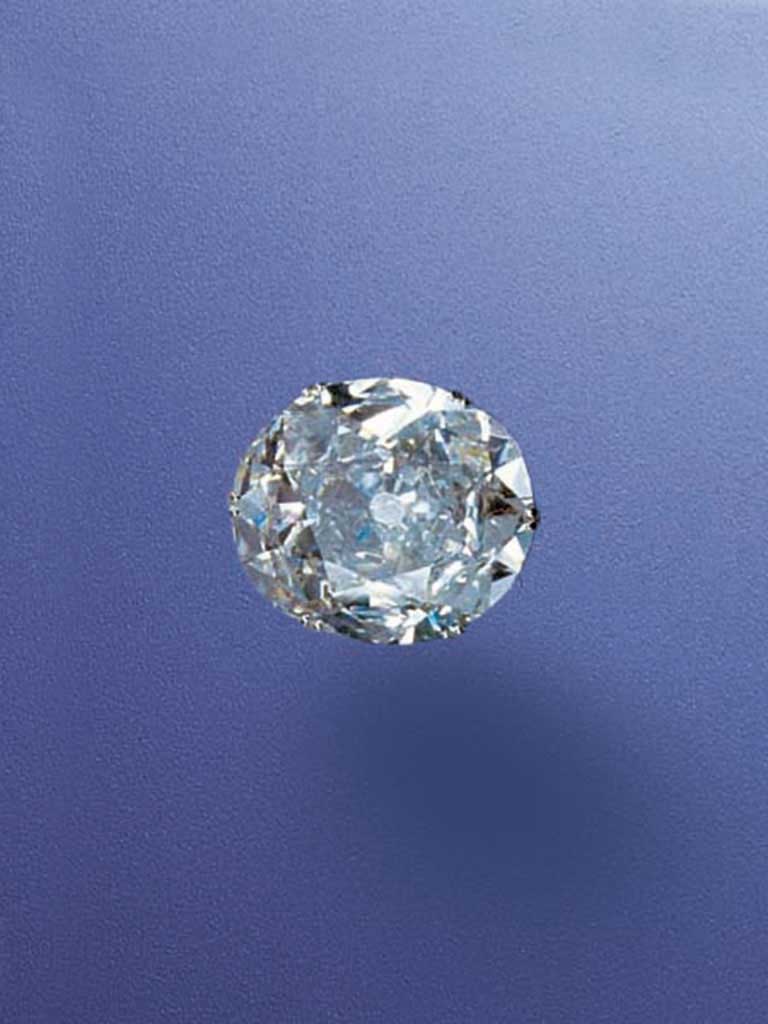 Indian myth has it that the Kooh-i-Noor, the most famous diamond in the world, was the jewel that hung about the neck of the sun god to give him his brilliance. Among mortals, it was first reported in 1304 in the possession of the Rajah of Malwa, weighing in at 186 carats. Later it fell into the hands of the Sultan Babar and for the next 200 years was one of the precious jewels of the Mogul emperors.

In 1739, Nadir Shah of Persia invaded Delhi, pillaged the city but could not find the stone. Aha! A harem woman revealed that the conquered Mogul emperor had hidden it in his turban, so Nadir Shah invited him to feast and suggested they exchange turbans, unrolled his guest's headgear, released the stone and brought it back to Persia– entrusting it to the LeVians for safekeeping in 1746.

Not for keeps, however. When Nadir Shah was assassinated just a year later, in 1747, it somehow traveled to the jewel chamber of Lahore, in India, and, when that state was annexed by the British, the East India company got it and, in 1850, presented it to Queen Victoria who displayed it at the Crystal Palace Exposition.

Not bright enough, the people lamented, so the Queen recut it to its present size of 108.93 carats. In 1911 it became the center stone of a new crown for Queen Mary, then it was transferred to the crown of Queen Elizabeth, now the Queen Mother, and now is on display among the British crown jewels in the Tower of London.
---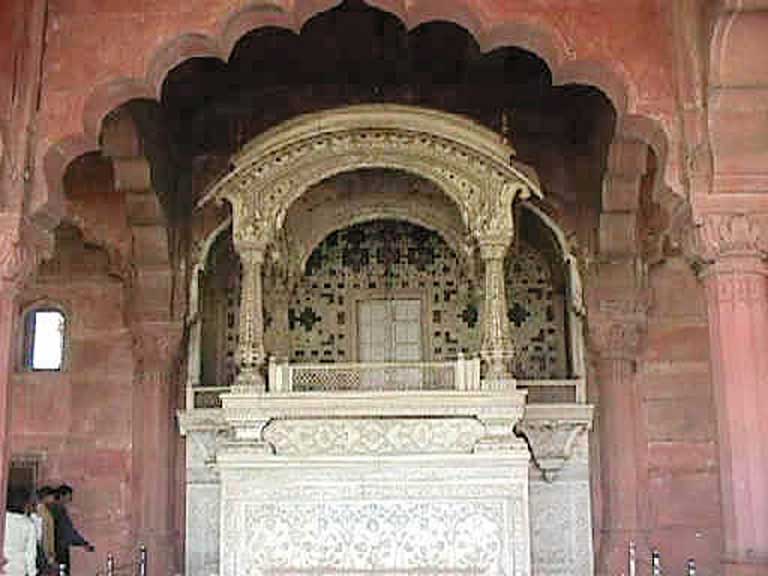 Balcony of the Palace in Delhi, home of the Peacock throne before Nadir Shah's conquest.
---
The Peacock Throne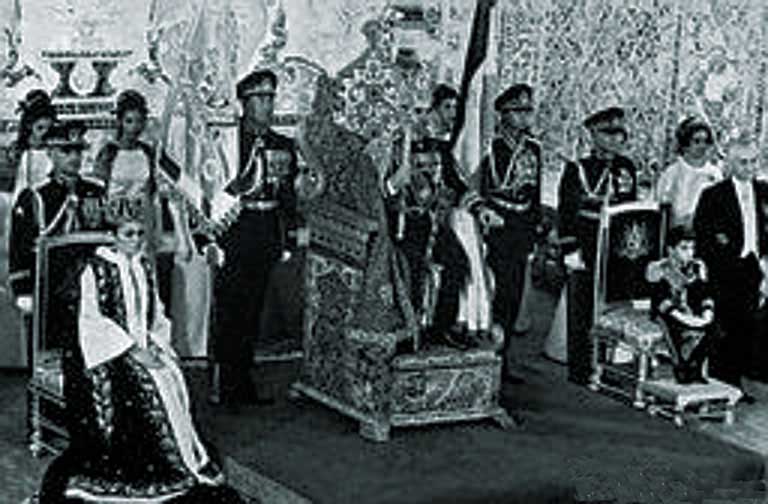 The Peacock Throne It was one of the most splendiferous thrones ever made – but only reproductions are said to remain. Made for Shah Jahan (who built the Taj Mahal in the early 17th century), it was encrusted with 26,733 precious stones! Ascended by silver steps, it was sheeted with gold and encrusted with emeralds and rubies. Its back was a peacock's tail of sapphires, pearls and turquoises.

Who stole it? Shah Nadir, looter supreme, when he conquered India and brought it back to Persia. Although it was lost in warfare with the Kurds, it nonetheless remained the symbol of the Persian monarchy. Was it the real thing or a jeweled reproduction, which ensconced the late Shah at his coronation in 1976? The truth is obscured by glitter.

The saga of Le Vian jewelers falls into two broad periods. For its first 250 years in Qazvin, the emphasis in its designs was on workmanship: hand carving, hand painting, beading, engraving, enamelling, goldsmithing, silver smithing. Then, in 1746, when Nadir Shah brought them to his capital of Mashad and gave them guardianship of his gem-stone studded booty, Le Vian artisans were inspired to turn their hand – and talent – to creating pieces set with some of the finest stones available, many from famed mines now extinct. In some, a single flawless gem ravishes the eye; in others, a suite of wondrously matching stones that have perhaps taken years to collect.

Through these pages both are pictured. Many of the antique pieces hold the seeds of modern designs. Conversely, 20th century styles uniquely replicate incomparable techniques of the past.

An eye – a passion – for great gemstones is an internationally acclaimed Le Vian distinction. Additionally, their mastery of gem cutting, developed over generations, maximizes the brilliance of each stone and brings it to its full potential. Today's new designs glitter with extraordinary deep blue sapphires from newly discovered mines in Ceylon, yellow, pink, green and orange sapphires discovered in Madagascar, tourmalines in a marvelous range of pinks, greens and blues from Nigeria, astonishing green garnets, called Tsavorites, from the Tsavo National Park in Kenya.

And the best – the very best of tanzanites which Le Vian has had the foresight to collect over the past 12 years from the single mine where they are found, in Tanzania.

Whether heritage works from the 1500s or the latest introductions of this new millennium, Le Vian designs, as this retrospective makes luminously clear, are both timely and timeless. Never faddish, never dated, they transcend the fashions of the day and achieve a kind of immortality. To paraphrase Shakespeare's tribute to Cleopatra, time cannot stale nor custom dim their infinite variety.

From the beginning, Le Vian artisans have explored never-before effects and searched out new materials to make their work unique and give it lasting worth. It is a tradition the family has upheld ever since, secretly adhering to their principles even through the horrific 100-year period of persecution and suppression that began in the early 19th century.

In the beginning of the 20th century, when Reza Shah Pahlavi assumed the throne, freedom was at last regained. For Le Vian it marked the beginnings of a great blooming – which continues to this moment. The challenge to excel, to set stones as no one has before, the never-ceasing search for great stones – this is all part of the Le Vian heritage, a matter of family pride
---
Nature inspired themes
Nature-inspired themes blossom throughout Le Vian's history. In the 1500s, storied enamel boxes pictured aviary settings of hand painted exotic birds and cloisonné flower gardens of multi-hued blossoms. In the 1600s brooches were artfully hand painted with fanciful birds and other winged creatures.

Circa 1550, a historied silver box carved in the ancient Kande-Kari technique with an aviary garden of birds and flowers.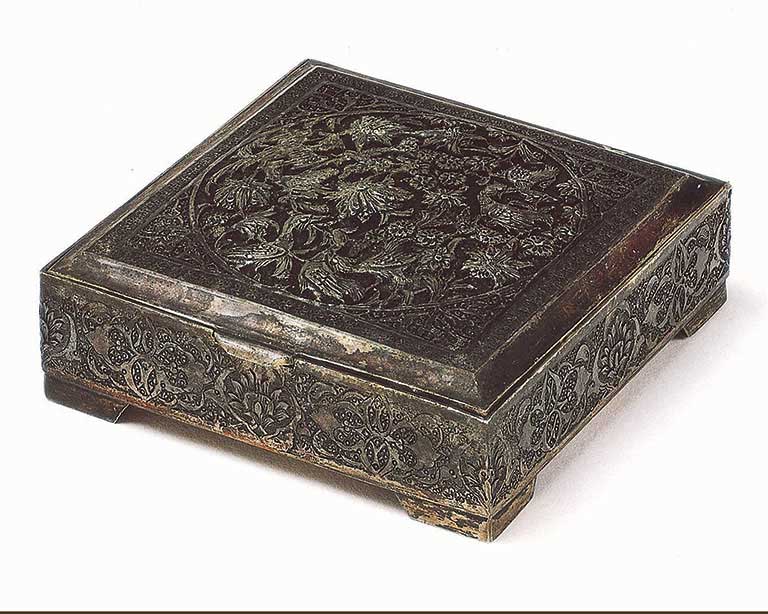 ---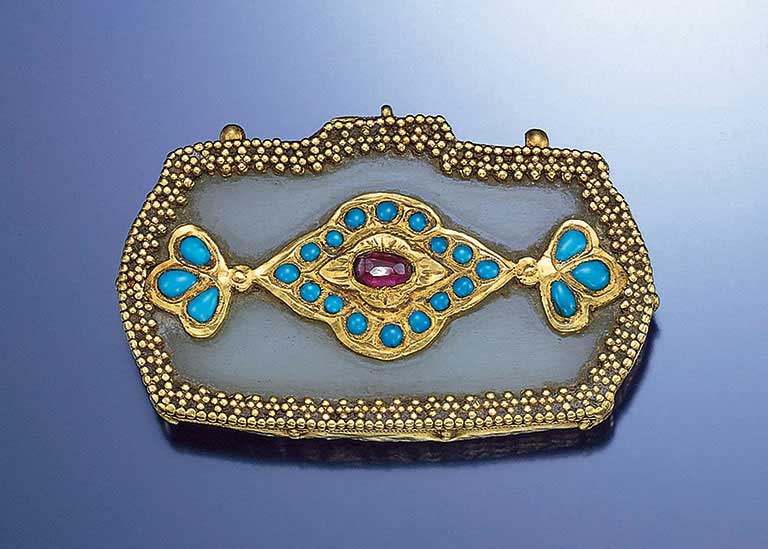 Circa 1501, an exotic slide pendant is made of a solid rectangle of Jade adorned with a golden plaque. In the center is a rare, 1.5 carat oval, old mine-cut ruby, set in a field of ancient Persian turquoise, all hand-wrought within a thickly beaded frame of 22 karat gold.
---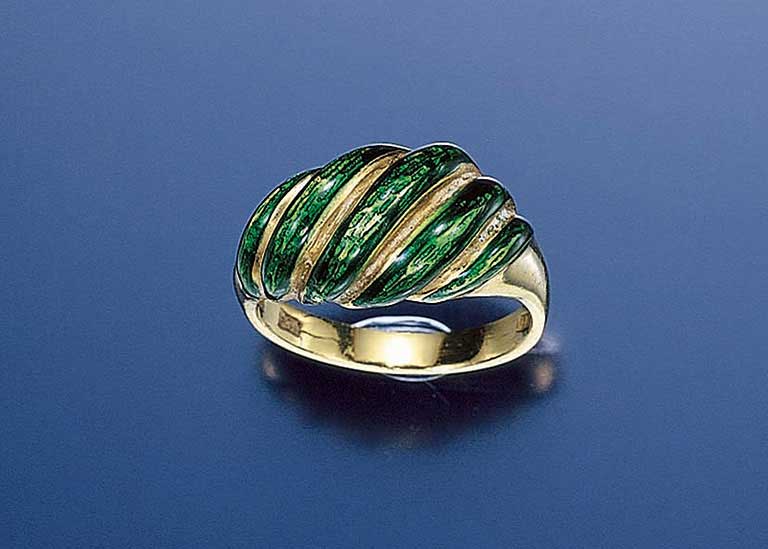 Circa 1630, this ring strikingly interplays bands of 18-karat gold with emerald green enamel.
---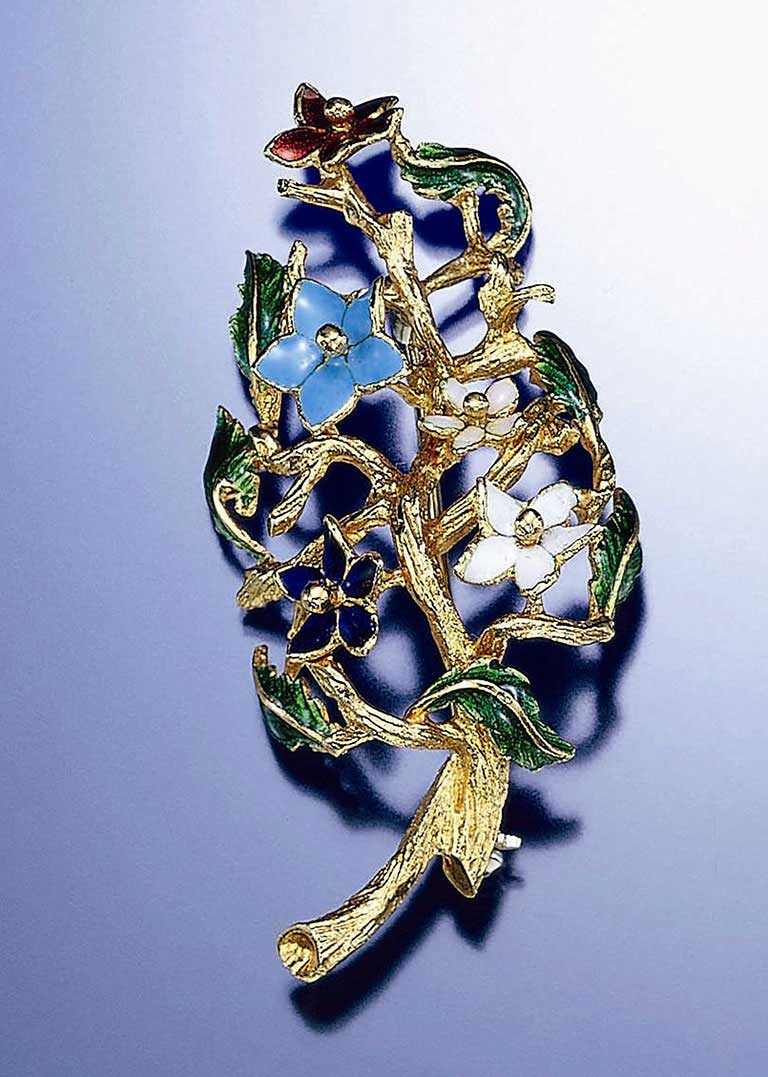 Circa 1630, this flowering tree pin is stemmed and figured with 18-karat gold and colorfully enameled with blossoms of navy, red and turquoise blue, leafed in green.
---
Circa 1669, two hand painted brooches, each set in silver picturing fanciful birds.
---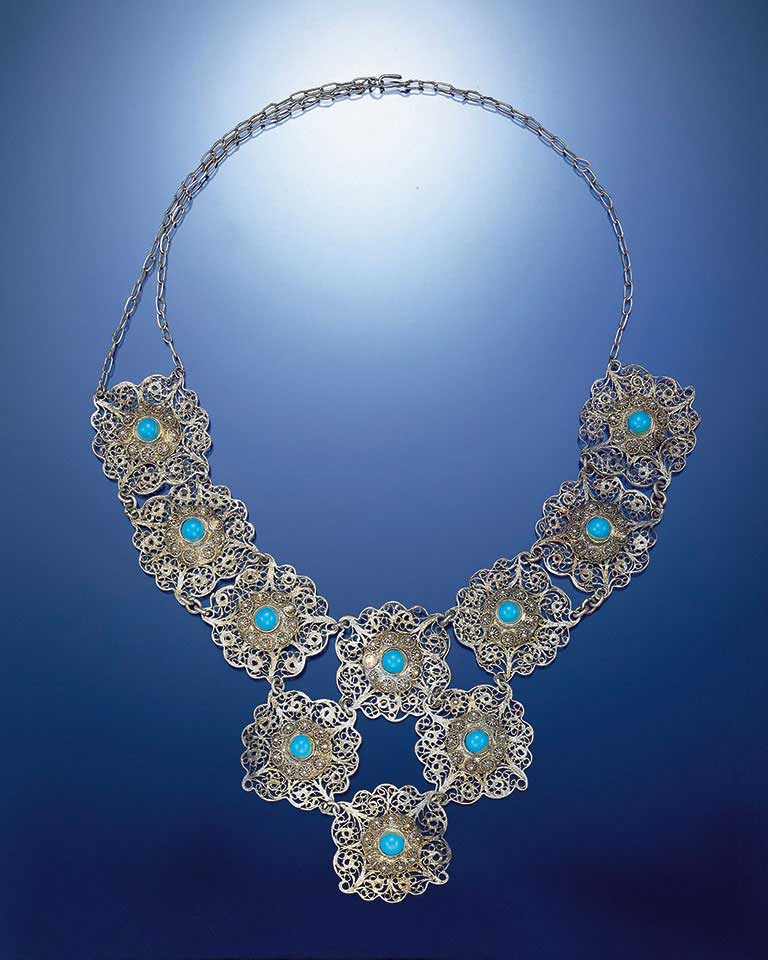 Circa 1500, among the oldest pieces in the collection, this exquisitely wrought filigree necklace illustrates Le Vian's ageless master craftsmanship. It is made of linked silver circles, delicate as fine lace, each centered with a round Persian turquoise framed in bead-studded figured silver.
---
The emphasis in its designs was on workmanship: hand carving, hand painting, beading, engraving, enamelling, goldsmithing, silver smithing. Then, in 1746, when Nadir Shah brought them to his capital of Mashad and gave them guardianship of his gem-stone studded booty, Le Vian artisans were inspired to turn their hand – and talent – to creating pieces set with some of the finest stones available, many from famed mines now extinct. In some, a single flawless gem ravishes the eye; in others, a suite of wondrously matching stones that have perhaps taken years to collect.

Beginning in the 1780s and continuing through today, precious gems – diamonds, emeralds, rubies, sapphires, – have been worked in exquisite floral motifs. Matchlessly fitted into gold or platinum, often invisibly set, jewel-petaled blossoms and gem-studded leaves make a forever garden.

In today's collections, the newly found veins of tanzanites, sapphires and tourmalines – pinks, blues, yellows, greens and orange – have introduced charming pastel chromatics to the designs, adding light, youthful and informal touches.

And what a menagerie of creatures, mythical and real, are denizens of Le Vian's world. Symbolic of man's close ties with animals since time immemorial, the jewelry has an engaging, timeless appeal.

Circa 1929, an enchanting rooster with ruby crest and gem-quality Burmese ruby chest, diamond flanks and sapphire, ruby and emerald-striped tail feathers. Many of the stones in the tail are invisibly set in 18 karat yellow gold, a little marvel of workmanship.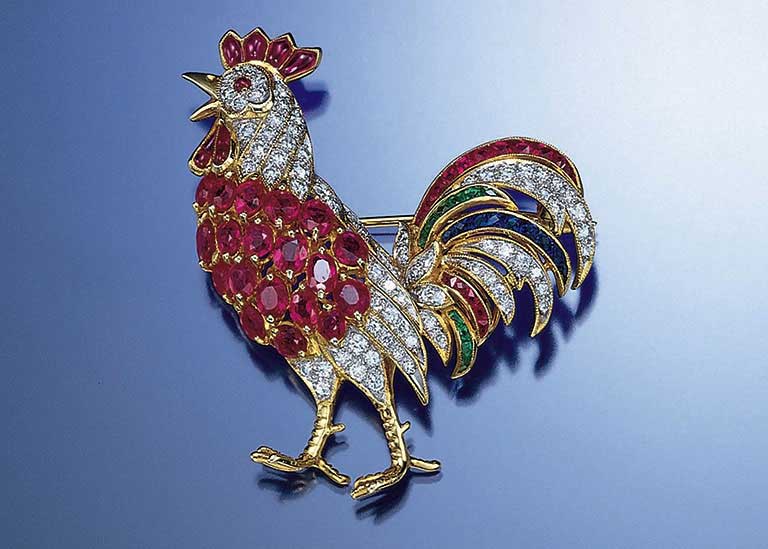 ---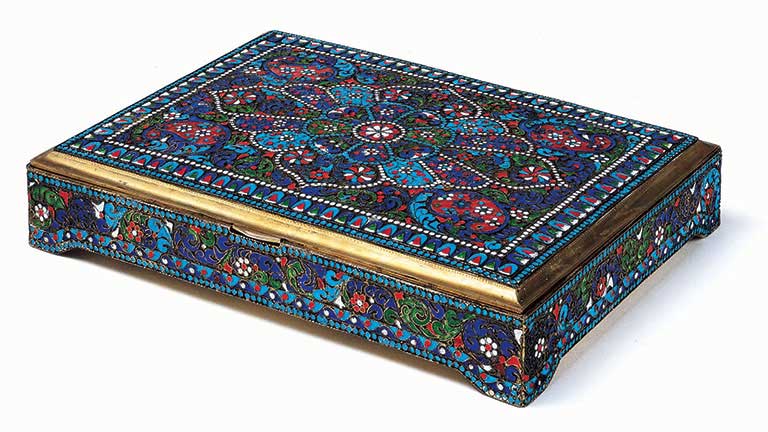 A gold-framed enamel box is richly cloisonnéd-patterned achieved with the ancient Persian Mina-Kari technique. Warm tones of cobalt, red, green and turquoise blue are blended in the floral mosaic.
---
The magnificent Ruby ring that seduced Eddie Le Vian into the family business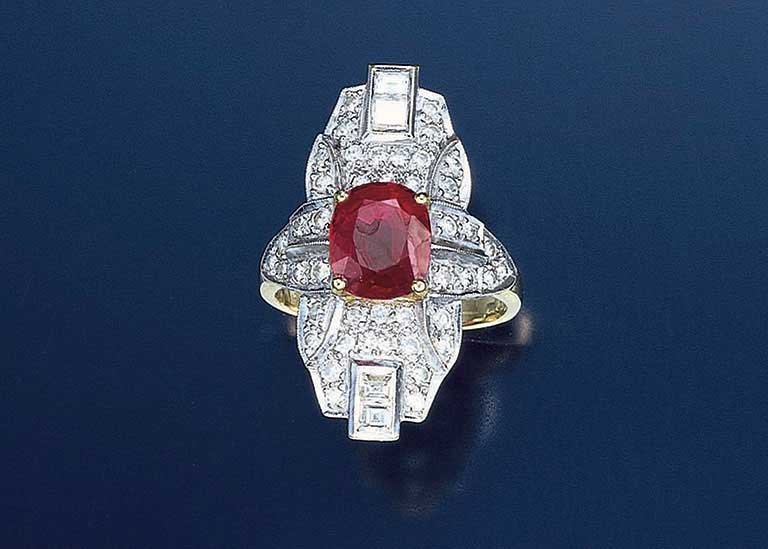 The superb 4 1⁄2 carat blood red Burmese ruby dates back to the 1700s. It was made into the ring in 1922, the great cushion-cut stone mounted in white and yellow gold, surrounded by an Art Deco design of pave diamonds, highlighted at each end with emerald-cut diamonds.
---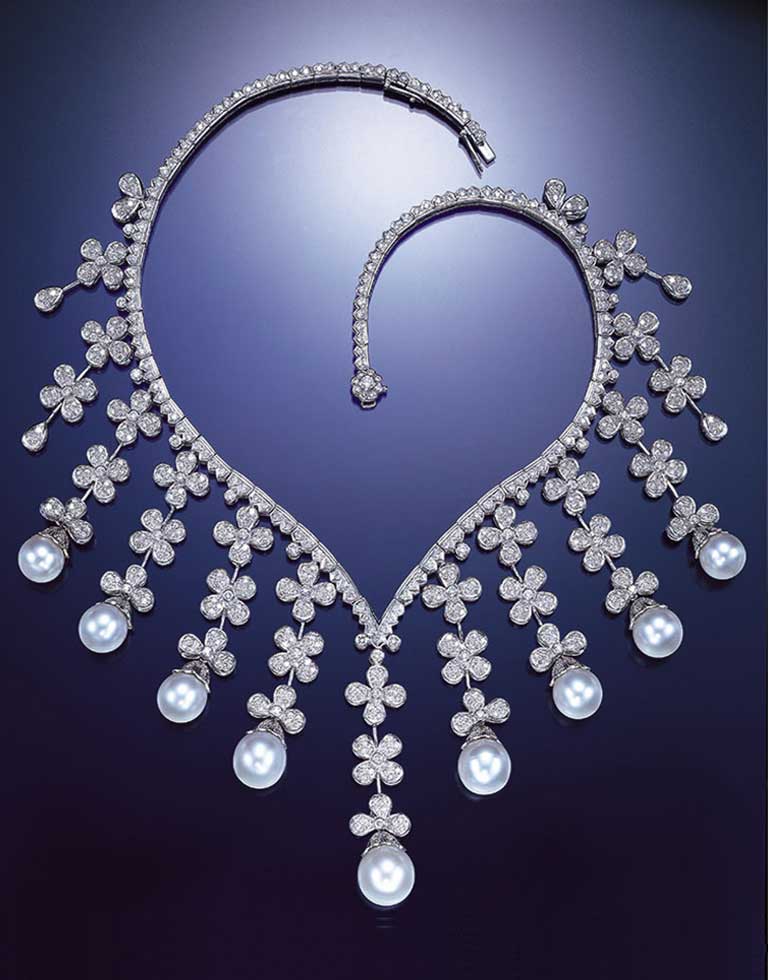 A 1920's design, breathtaking necklace and matching earrings of diamonds and South Sea pearls, the diamonds framed and linked with 18 karat white gold. In the necklace, a single ribbon of diamonds curves to the throat hung with strands of 4-petaled diamond dogwood blossoms, each ending with a 12-15 mm. pearl drop. To double your pleasure, the jewel drops are removable.
In a superlative match with the necklace, the earrings are each hung with a luminous pearl drop beneath a triple flower fall.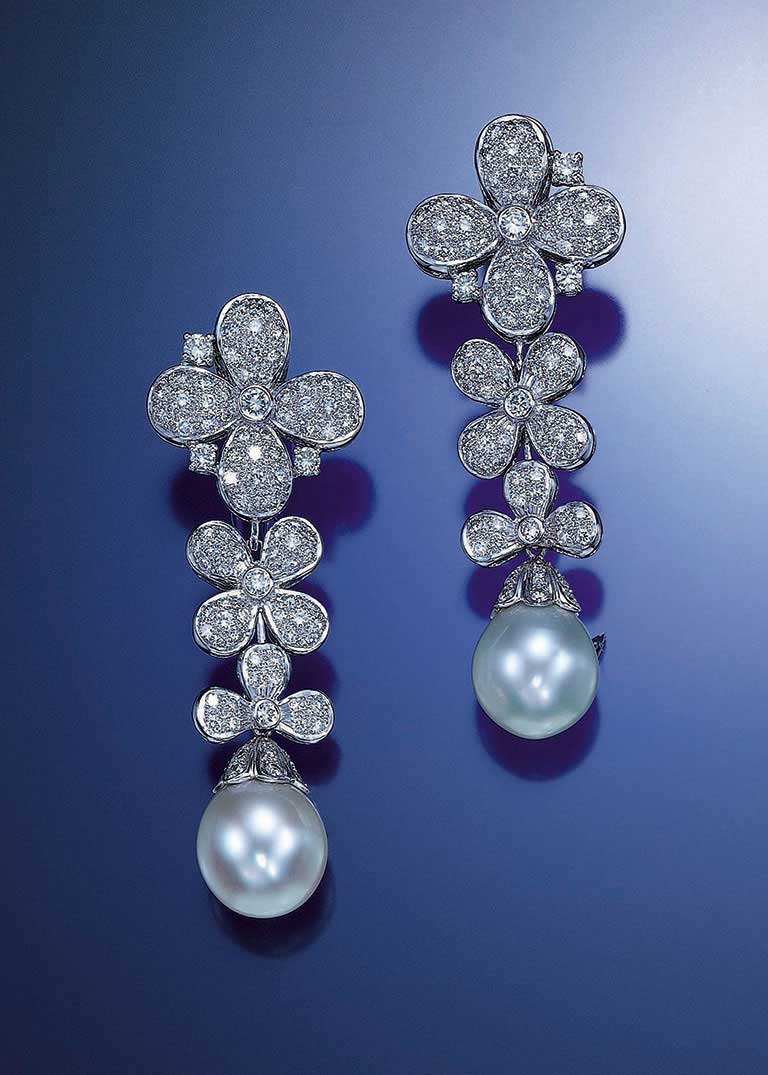 ---
Seeking always to work gemstones in new artful ways, Le Vian has popularized many jewelry fashions. In the earrings shown at left, the beading work, which the company brought to fashion in the 50s, illustrates both the designer's talent and the workman's exceptional skill. The top three brooches interplay a slender curve of diamonds in channel, pave´ and prong settings. The looped earrings delicately ribbon four strips of diamonds into round and pear shapes. All are set in platinum or white gold.
---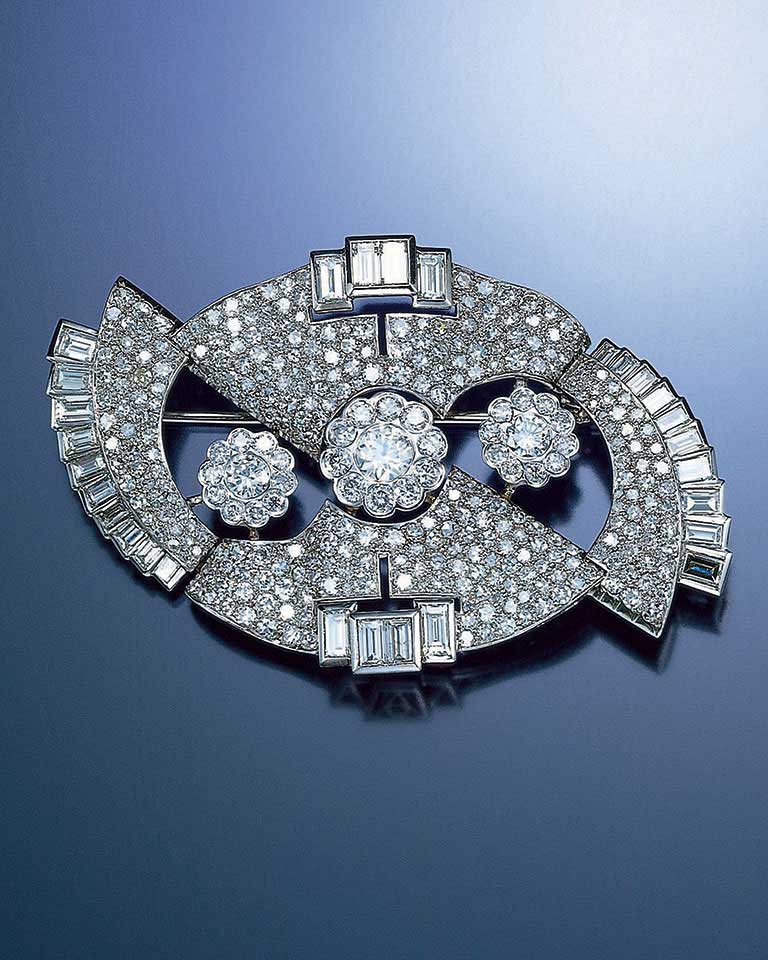 The brooch, introduced in 1955, strikingly combines round and emerald cut diamonds within a play of graceful curves. From the '40s, the bracelet juxtaposes a glittering diversity of diamonds, also round and emerald cut, but within linear patterning.
---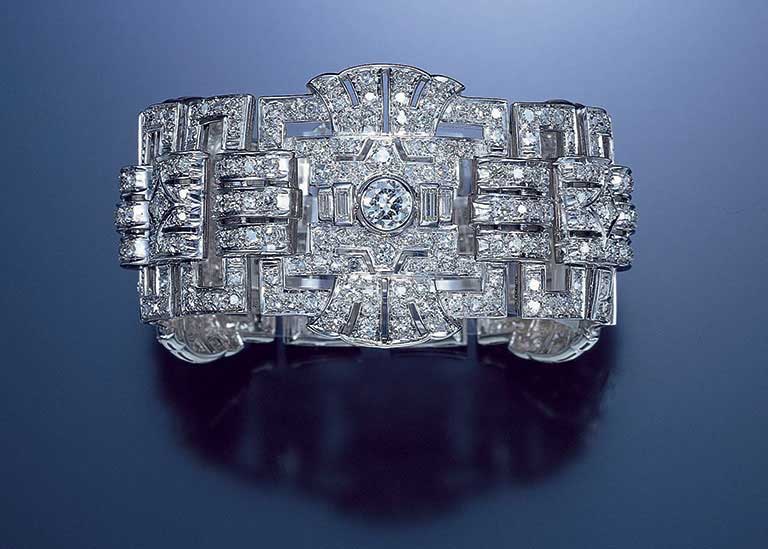 From the '40s, the bracelet juxtaposes a glittering diversity of diamonds, also round and emerald cut, but within linear patterning.
---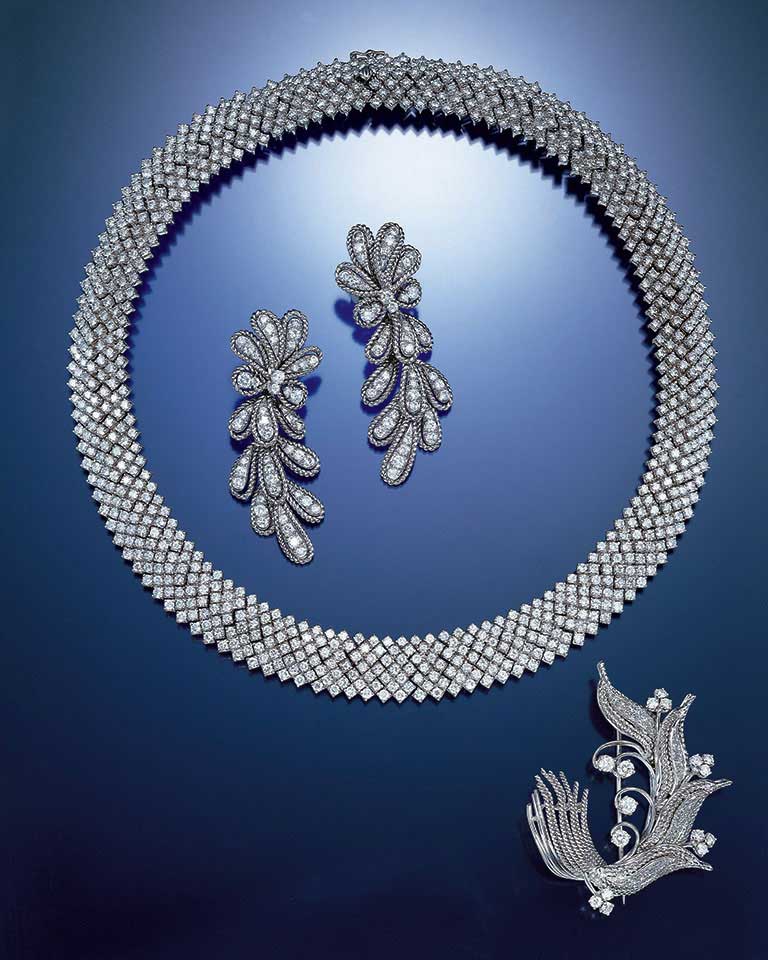 The technique of twisting diamonds into fluid ropes is another of the unusual jewel treatments which Le Vian introduced into the US at its founding here in 1950. This simple – and simply magnificent – necklace glitters with seven rows of diamonds set in 18-karat white gold. The white gold dangling earrings are from 1951, are formed of a cascade of diamond-filled teardrops framed in ropes of diamonds. The brooch is fashioned in the twisted rope technique pioneered by Le Vian. This technique became a popular design treatment in the 50s. Round diamonds offset the slender threads of white gold.
---

135 sapphires are invisibly set in white gold in this magnificent bracelet from the '60s. Three sapphire panels are rimmed on both sides with diamonds, and separated by diamond rectangles. Originally designed in the 20s, this popular bracelet is still made by Le Vian today.
---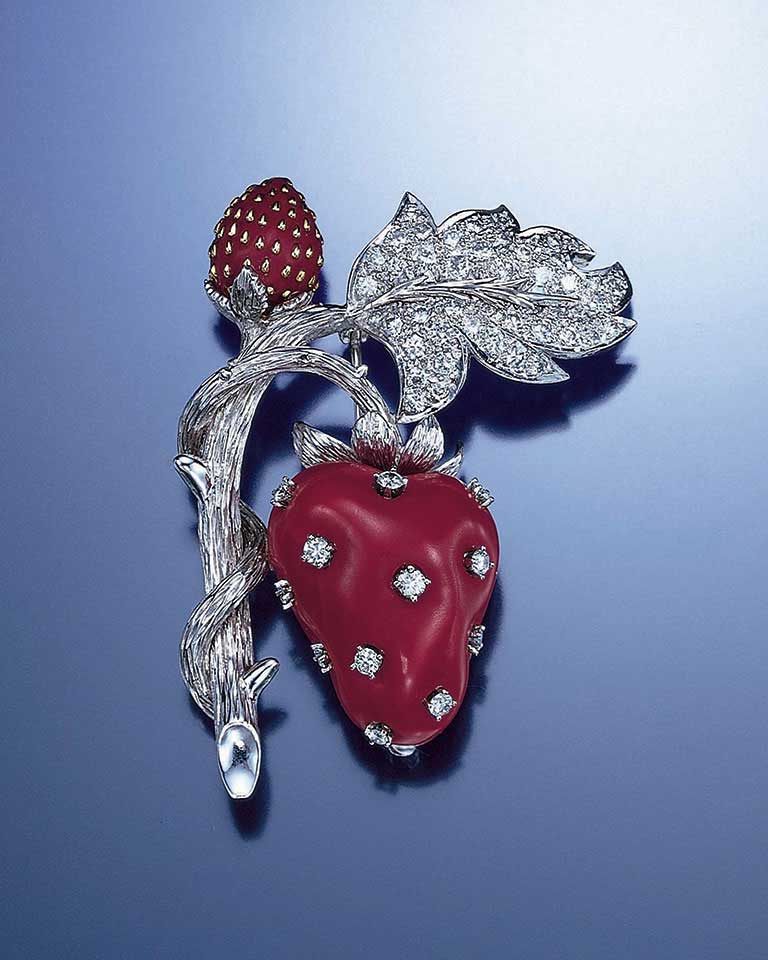 This delightful brooch, circa 1959, features a life-size strawberry sculptured of a single piece of rare warm-red Italian coral studded with bezel set diamonds, branching from a stem of white gold, with a leaf solidly pavé set with diamonds. Plus, a baby gold-studded coral strawberry.
---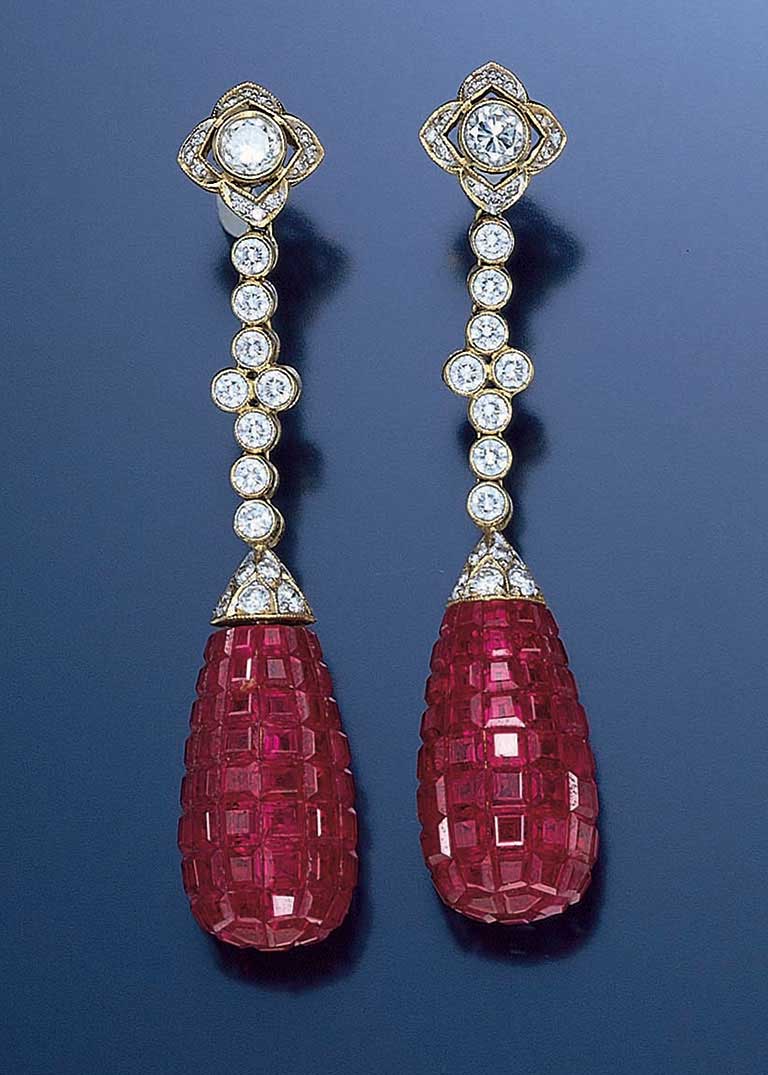 One of the early trendsetting multi-colored pieces introduced by Le Vian in the early '60s, the exquisitely hand wrought earrings are centered above and below with a superb cabochon emerald rimmed in diamonds and cabochon rubies.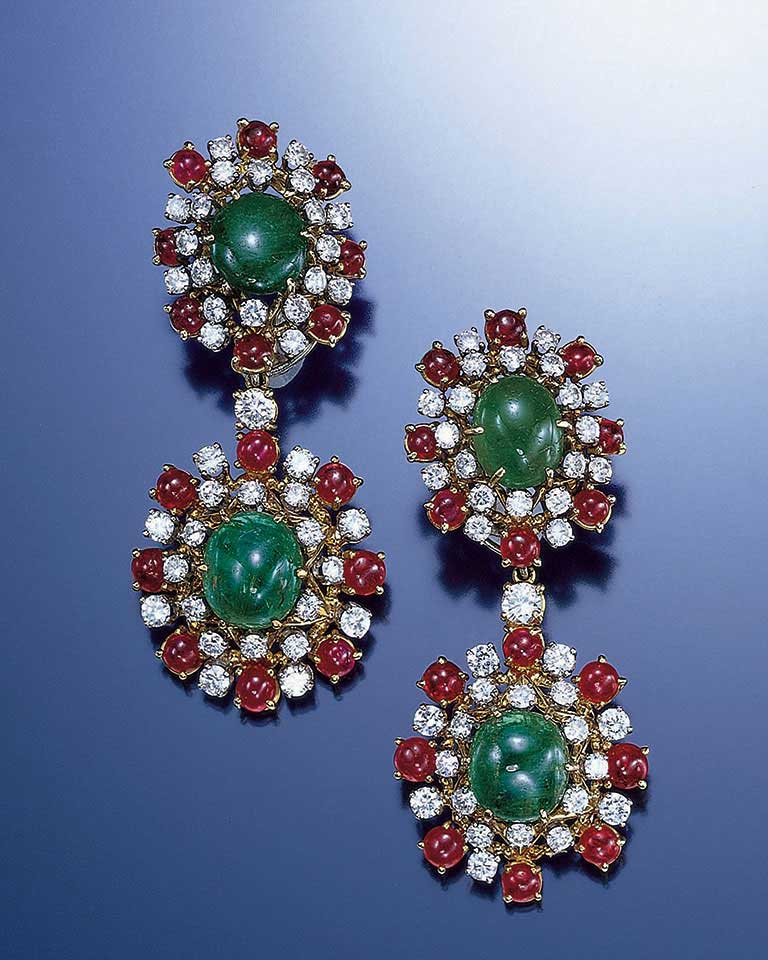 ---
Le Vian searched 50 years – from 1880 to 1930 – to find the suite of 51 perfectly matched heart-shaped and modified pear-shaped sapphires in this parure of necklace, rings and earrings. Each rich blue stone is set within a diamond heart, all adroitly diamond-linked. The actual pieces were not produced until the early '60s.
---

"Face of an Angel" Matching teardrop emeralds of magnificent color and clarity are set amongst the diamonds in the earrings. The bracelet is centered with three pear-shaped emeralds rimmed with marquise-cut diamonds, mounted on a double band of round diamonds.
---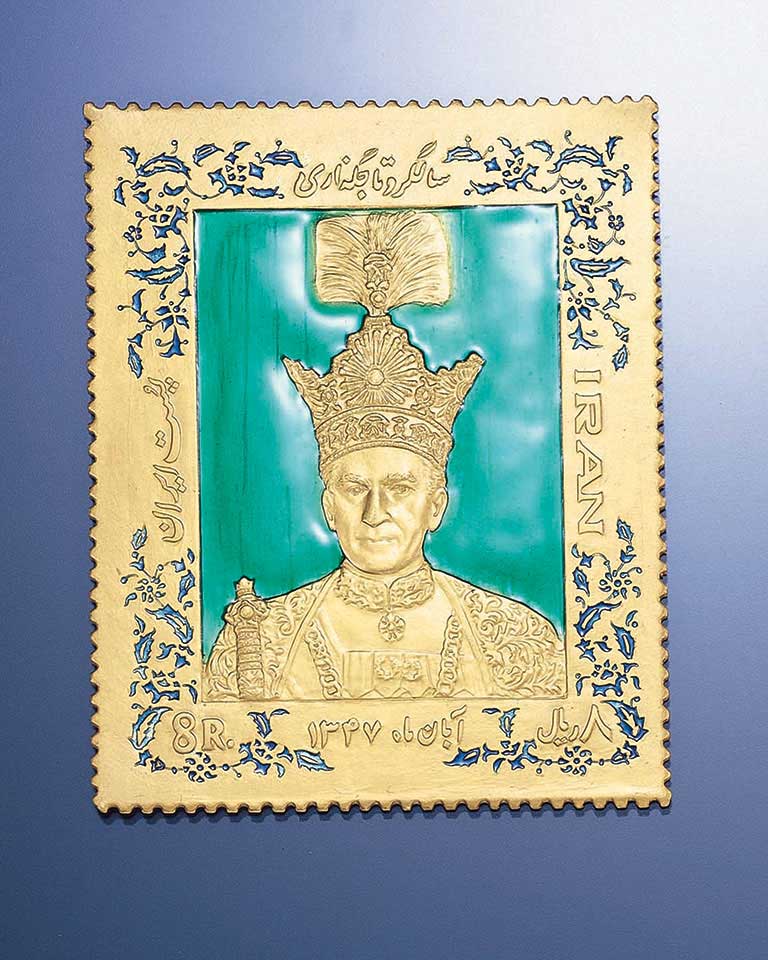 An enamel and gold stamp picturing the late Mohammad Reza Shah Pahlavi made for his coronation in 1976.
---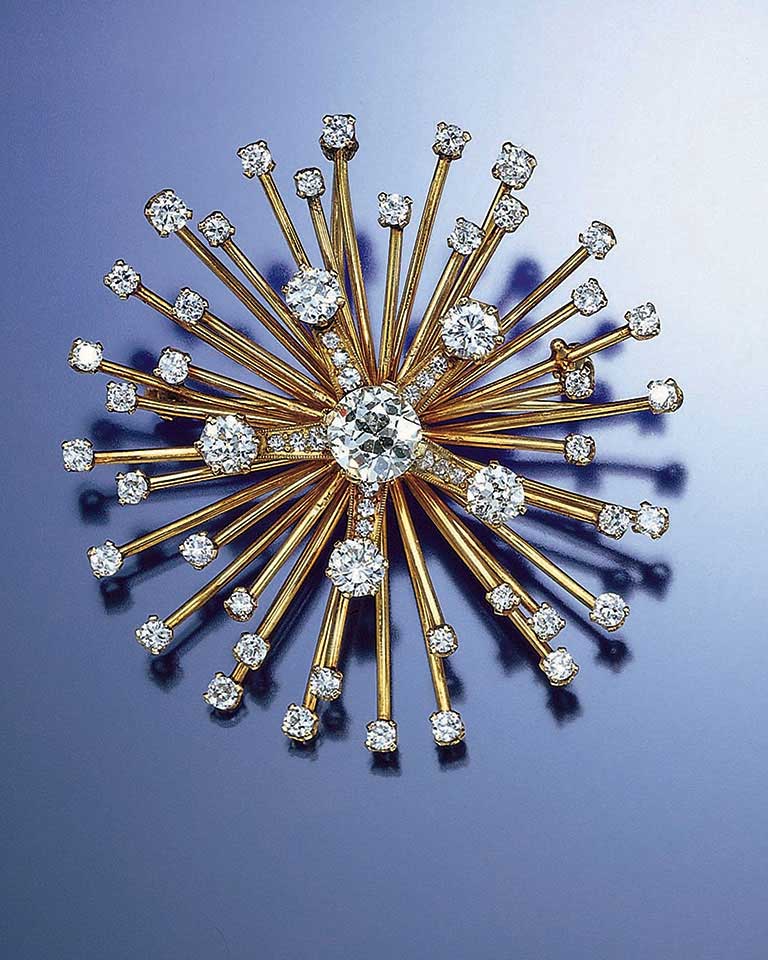 A spinning wheel brooch – with four levels of diamond-tipped 18-karat gold spokes that actually spin – centered with a 100 year-old mine-cut diamond.
---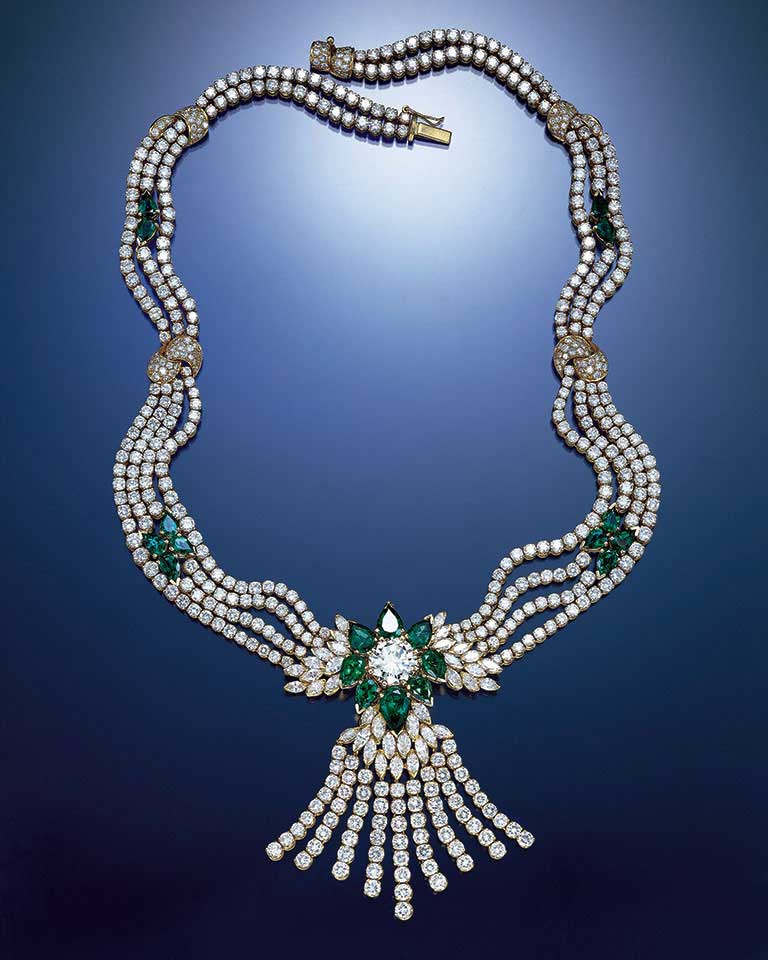 Originally sketched in the 18th century for Nadir Shah, the "Face of an Angel" (the English translation from Persian of a Le Vian's ancestor's charming name), this fabulous parure of necklace, bracelet and earrings contains nearly a thousand diamonds each of which is handset and moves separately. Emeralds totaling 12 carats play a rich counterpoint. Dazzling in design, the necklace graduates from double to triple to quadruple strands of round diamonds and emeralds to a flowing, 9-strand fall of diamonds beneath the "Face" – a superb 5-carat VVS clarity diamond circled with emeralds.
---
"Face of an Angel" Matching teardrop emeralds of magnificent color and clarity are set amongst the diamonds in the earrings. The bracelet is centered with three pear-shaped emeralds rimmed with marquise-cut diamonds, mounted on a double band of round diamonds.

With dazzling diversity, these three designs spanning the '20s to the 50s vividly tell of the wide range of Le Vian work and their unrivaled talent as gem-cutters.

In Art Deco style, a bracelet solidly encrusted with old mine-cut diamonds – marquise, radiant and round – and with square and triangular-cut emeralds.
A spectacular 18-karat white gold ring dramatically displays a showpiece Columbian emerald-cut emerald, surrounded by tapered baguette and round-cut diamonds, fashioned like a ballerina's tutu.
These romantic 18 karat white gold earring jackets feature heart-shaped emerald drops suspended from tiered diamonds.
---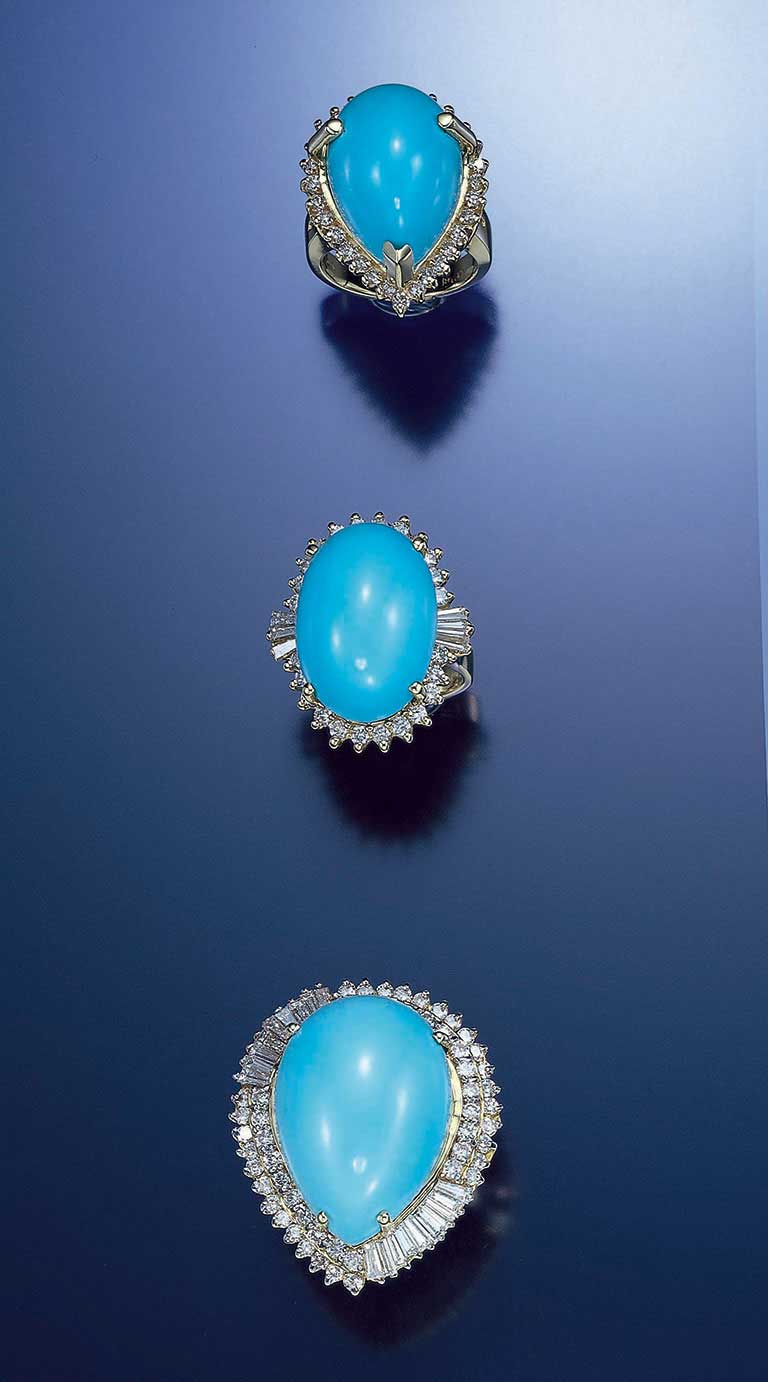 Helping to set off today's passion for turquoise, Le Vian created these three rings in 1998 of stones found in 1973 in the now-extinct Naishabur mine in Persia. The stunning pear and oval-shaped gems range from 12-25 carats and are rimmed with diamonds.
---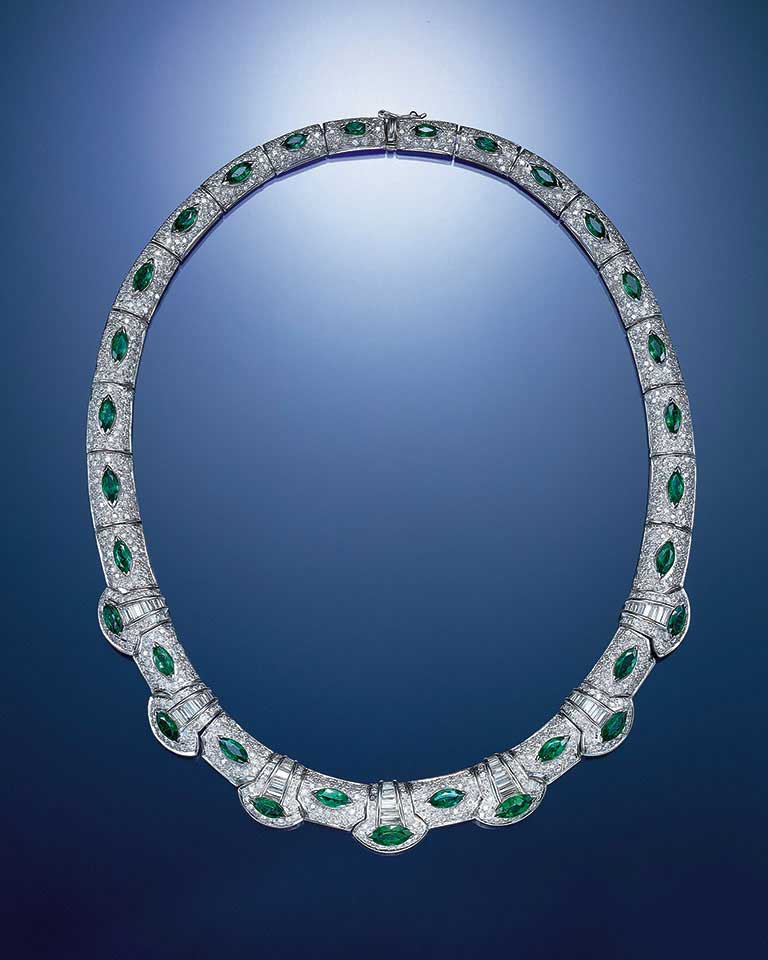 This gorgeous collar created in 1970 showcases Le Vian's wizardry as designers and jewelsmiths. It contains an extraordinary matching suite of 31 perfectly matched marquise-cut Zambian emeralds which are set into unusual V-shaped caps and surrounded by closely pavéd round diamonds culminating in sections of channel set tapered baguette diamonds. A museum-calibre piece.
---

"Ziba Ziba!" which means "Beautiful!" in Persian is the fitting title of this superb necklace, starring rare pigeon blood rubies and diamonds from Siam. The rubies were a wedding gift from Abdulrahim Le Vian to his bride, Pary, in 1946, but it was not until 40 years later, in 1986, for their own sons wedding, that the necklace was made and the long dreamed-of gift completed and presented. The necklace is set with nine pear-shaped rubies, unobtainable today, totaling 18.22 carats, placed center stage amongst double and triple bands of round and marquise diamonds totaling 26.97 carats.

"Ziba Ziba!"matching earrings each hold one pear-shaped ruby at 1.26 carats surrounded by marquise diamonds, with a 5-strand fall of round diamonds, total 15.16 carats in all. The sumptuous bracelet above, features nine pear-shaped rubies totaling 9.77 carats, rimmed and linked with round and marquise diamonds totaling 20.93 carats. -"Ziba Ziba" indeed!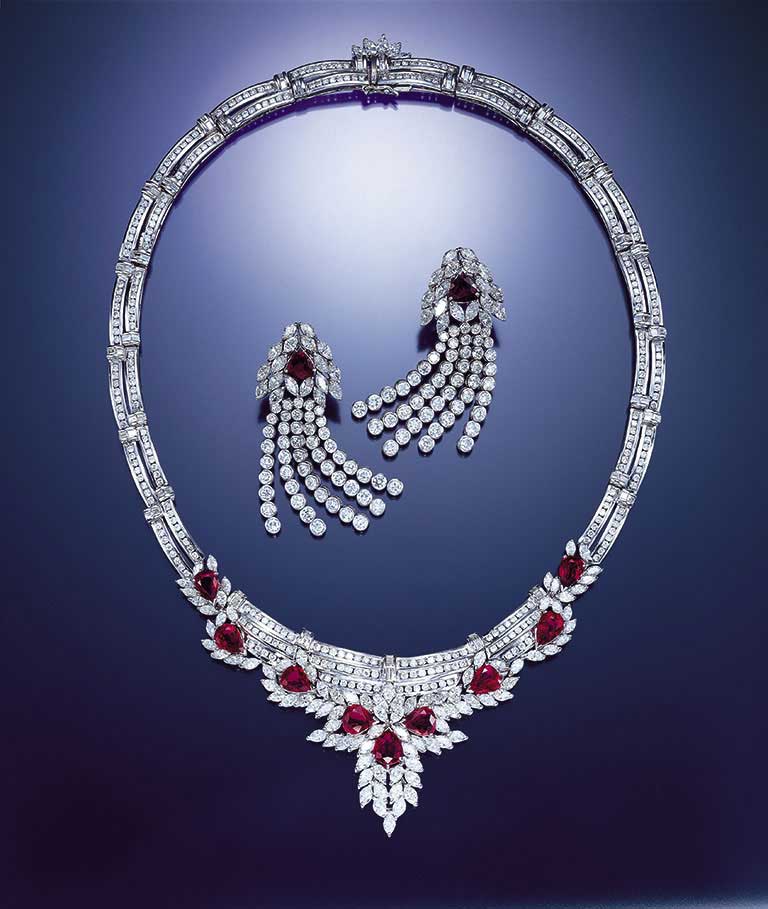 ---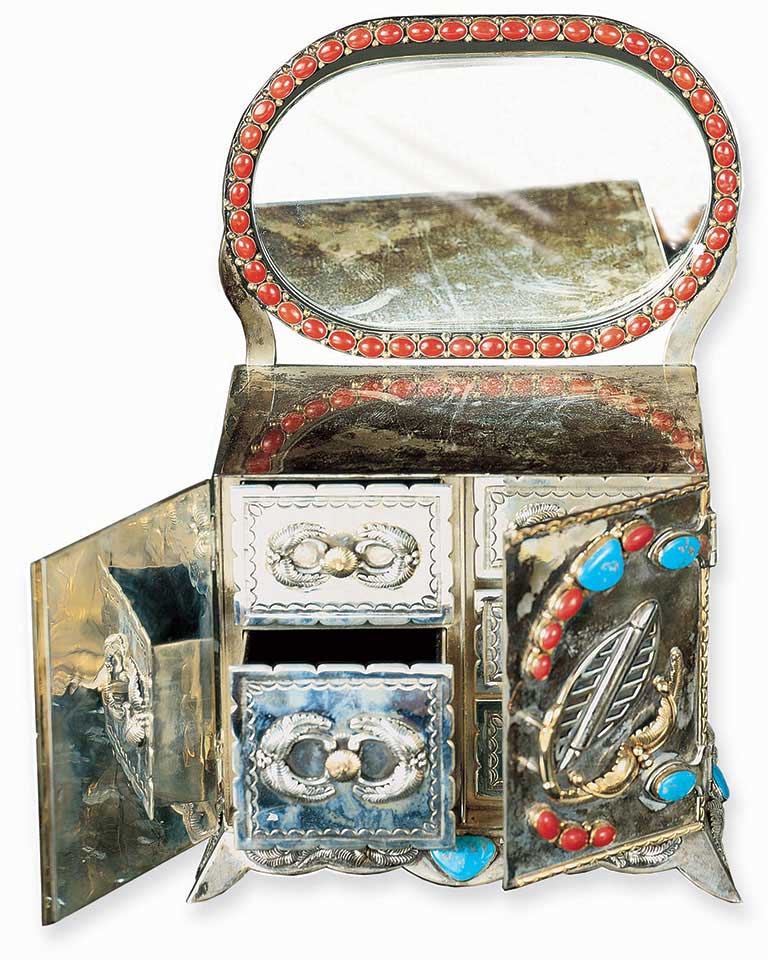 "Armoire des Secrets" – Armoire of Secrets – is a fitting treasure chest for precious jewelry. Circa 1950, it is one of the first objets d'art the Le Vian family created in America. Silver doors are studded with spider-webbed turquoise and bright coral, with raised gold sculptures in relief. Hidden drawers slide open silkily. A mirror, mounted on gold supports, is framed by more than 50 pieces of coral interplayed with gold.
---
In his capacity as designer, CEO, Eddie Le Vian, follows a dream. It is to create – and re-create – and again to create – designs never before attempted. To visualize, then bring to realization settings in which gemstones have never previously before been set – bezel, channel, pavé and invisibly set diamonds; rubies, sapphires and emeralds cut to fit within frameworks thought prohibitively restricting; never-before mountings of cushion-cut stones; production of tanzanite designs once thought impossible, now not only possible but in today's collections.

Many of his designs are one-of-a-kind, signed, numbered and registered for consumer protection. Others are in limited edition. All carry a lifetime guarantee.

Prospectors, miners, cutters, designers, goldsmiths – and distributors, Le Vian has brought within the reach of a wide audience new techniques unavailable before.

It all starts when Eddie asks himself, What's the most difficult design to make? And then makes it.
Two tanzanite rings, which vividly capture the trichroism of tanzanites and their unique ability to change their hues from cobalt blue to deep lavender to royal purple. The world's leader in marketing tanzanites, both stones and jewelry, Le Vian maintains offices in Arusha where the only tanzanite mine exists. Over 12 years, the company has collected a trove of the finest existing stones and designed a wide variety of settings for them – pendants, necklaces, bracelets, earrings and rings, to suit a diversity of tastes.
---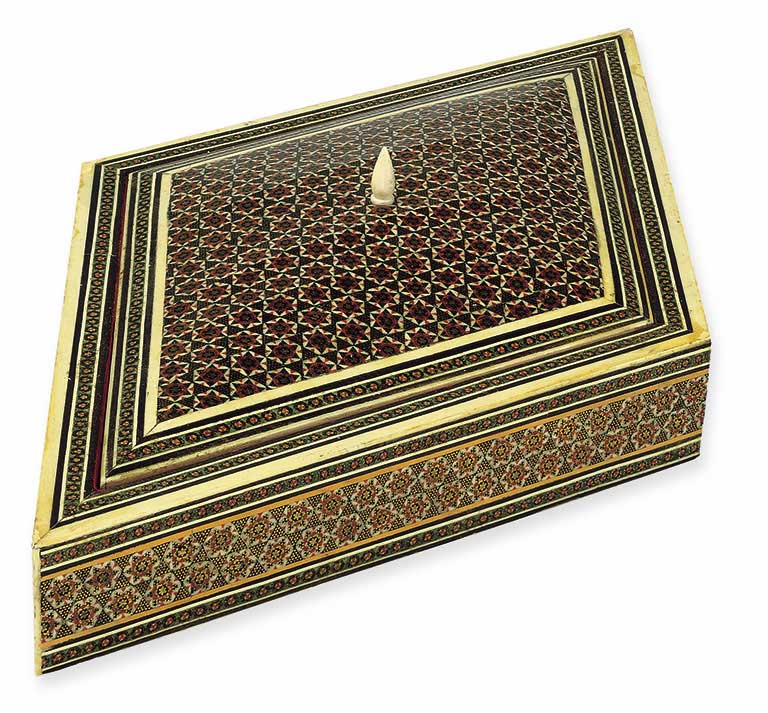 Typical of the handworked objets d'art made by Le Vian in Persia, this museum-quality wooden box from the early 1700s is intricately inlaid with ivory worked in the ancient "Monabat-Kari" technique, and framed in goldleaf. This intricate miniature inlay work, inspired the family's love for invisibly set precious gems, later in their history.
---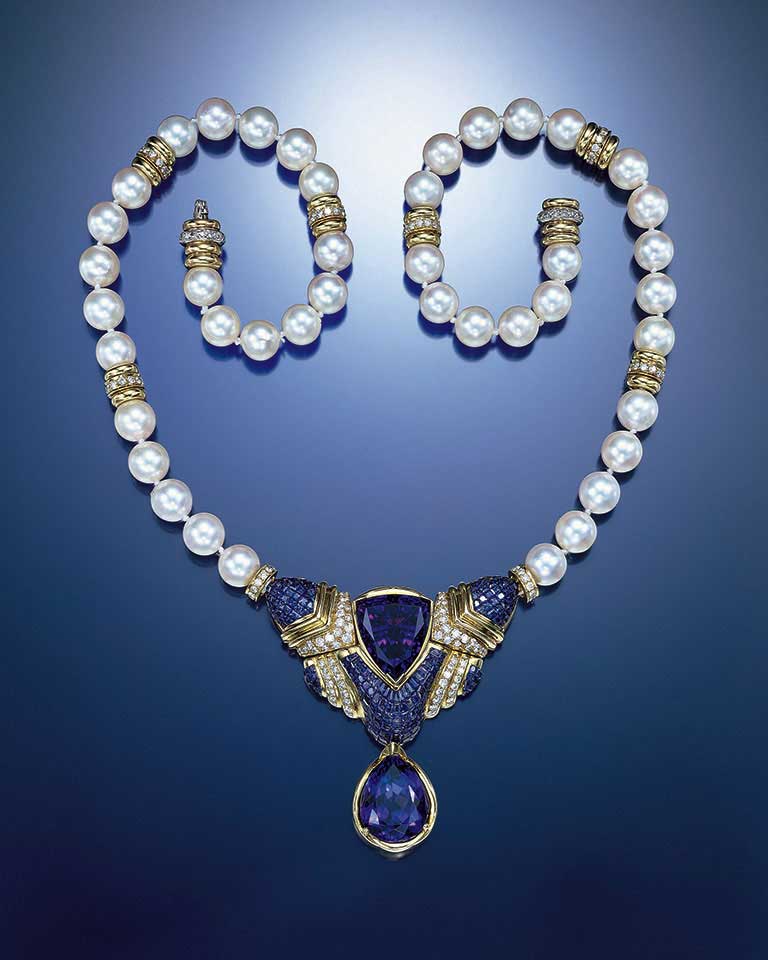 In this necklace, two museum-quality center tanzanites, together weighing 44.23 carats, are coupled with 32 carats of Kashmir blue sapphires – each stone individually cut to fit snugly within the curved invisible setting – amongst diamonds. Not only are the size and quality of the stones dazzling, but the color play between – which Eddie Le Vian set to achieve – is wondrous. In rich contrast, the great stones fall from a rope of 10 mm. white cultured pearls enhanced by separations of diamond-studded 18 karat gold bands.
---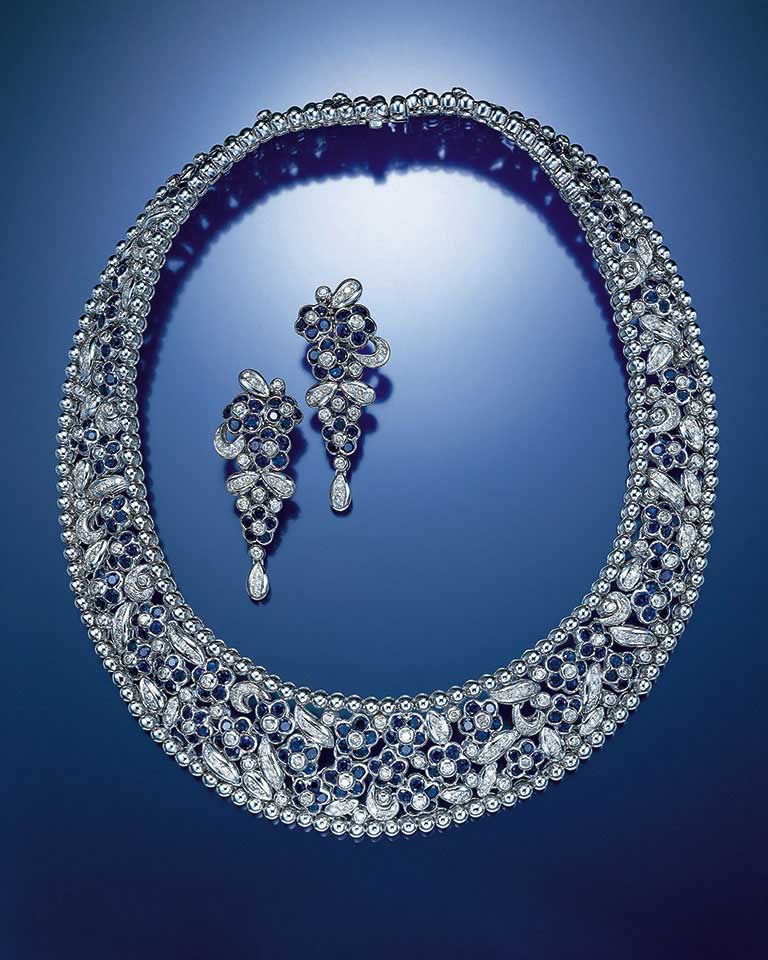 Still widely popular in fashion today, the gold beading that threads its way through Le Vian history since the 1500s marks this sapphire and diamond flower-studded necklace and drop earrings created in 1998. The diamonds and sapphires are both bezel-set in blossoming clusters that evoke the richness of garden flowers, their leaves 18-karat white gold pavéd with diamonds, the whole bordered with a beading of diamonds.

Matching sapphire and diamond studded floral bracelet and ring to necklace & earrings.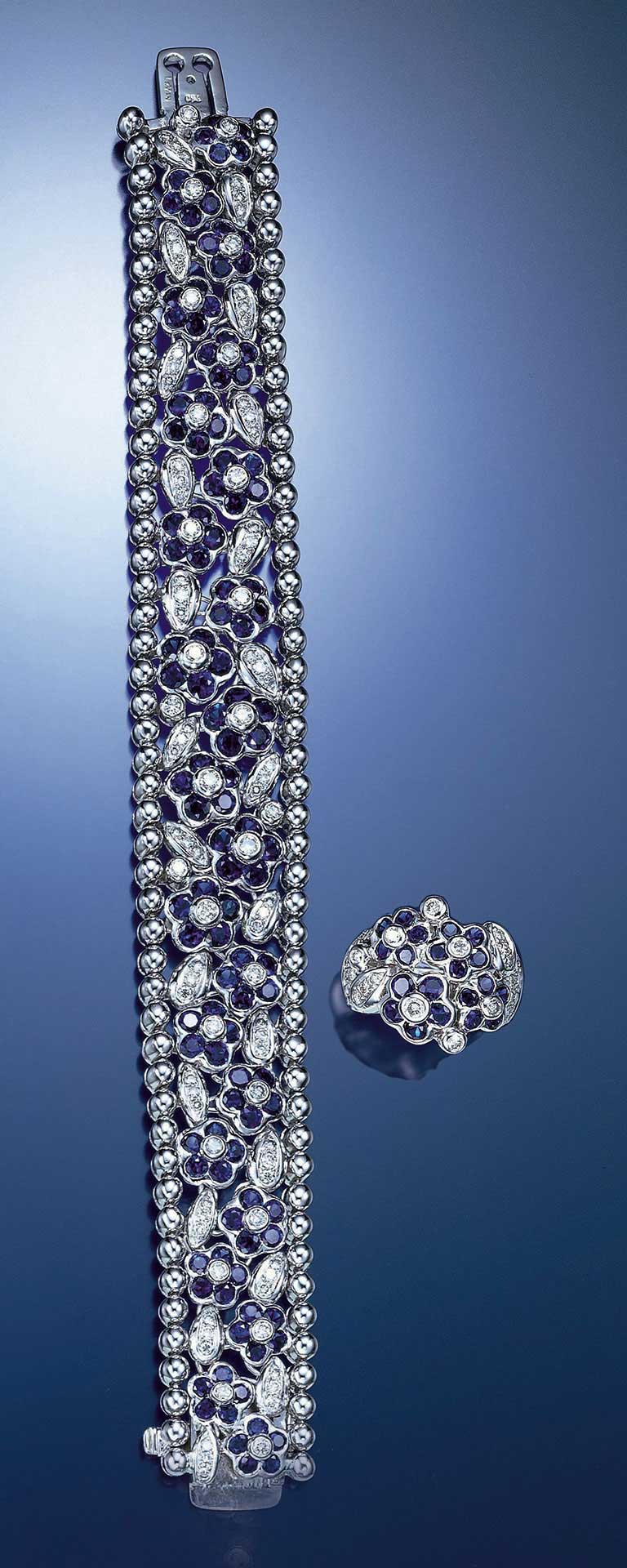 ---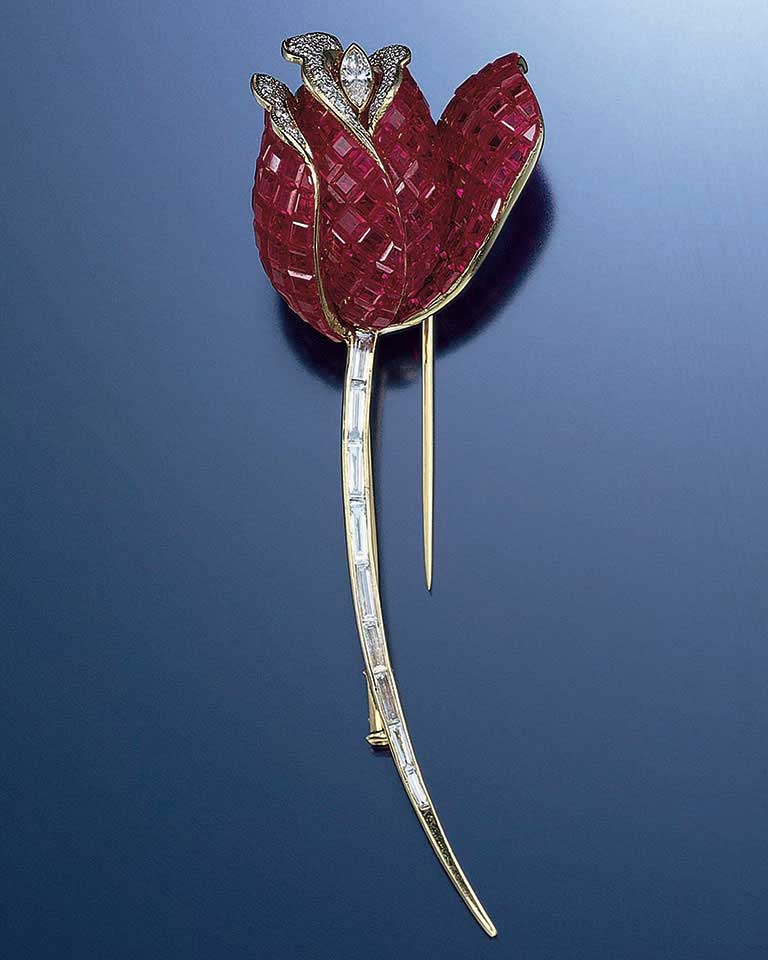 A signature Le Vian design, the beloved rose pin was created in 1880 and has blossomed, in various stages of bud and bloom, ever since. The flower pictured here is petaled with rubies, totaling 48 carats, each invisibly set. Diamonds glow within the 18 karat gold stem. It is so popular with Le Vian collectors, that versions set with blue, yellow and pink sapphires are available – and even a white rose set entirely with diamonds.
---
Le Vian's chameleon ring and earrings are named for the interchangeability of their parts. The panels of diamonds can be removed and substituted with panels of rubies or sapphires of various colors to suit the wearer's choice, providing different effects.
---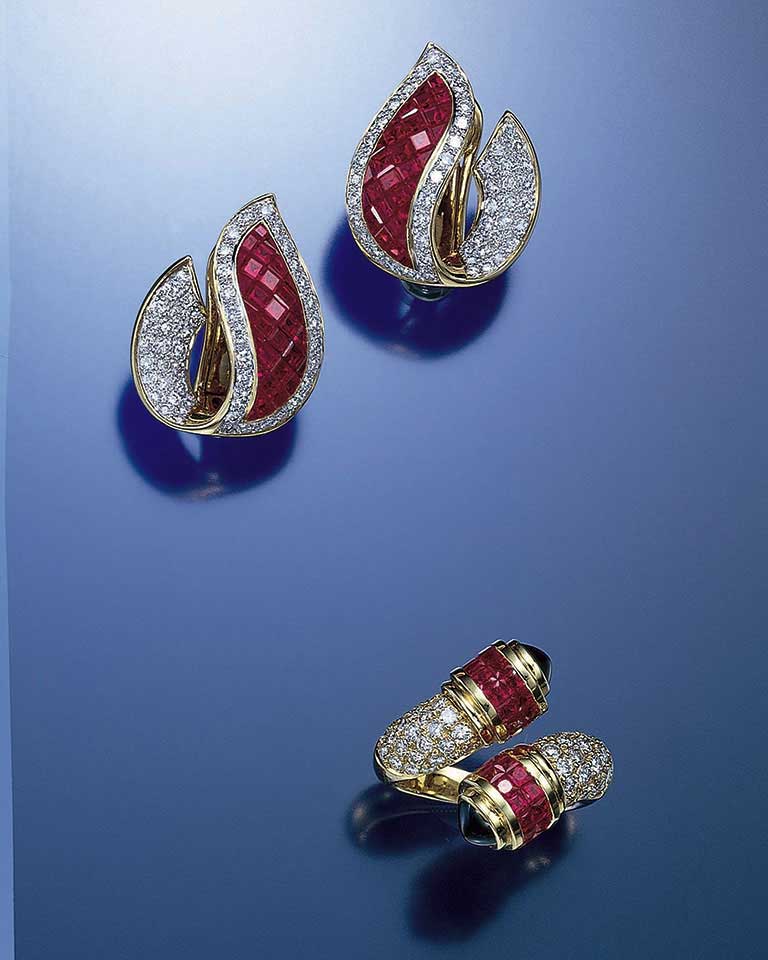 Leaf-shaped earrings of invisibly set rubies banded with diamonds embody new techniques of gem cutting to heighten the beauty of the stones, fitting the recut rubies to a curved space.

A contrast in color and shape, this red, white and blue by-pass ring is banded with invisibly set rubies, pavé set diamonds and tipped with bezel-set cabochon sapphires.
---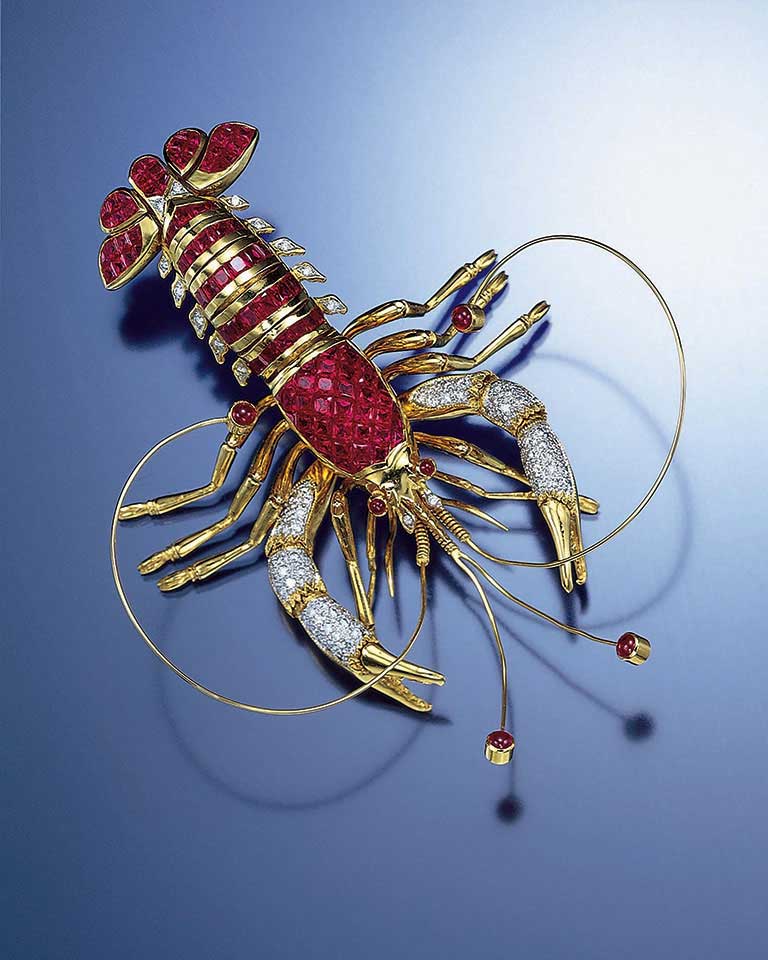 Le Vian's famous lobster pin was first introduced in 1981, is still a reigning favorite. The 18-karat gold banded body is invisibly set with princess-cut rubies; the eyes and tentacle tips are cabochon rubies.

Diamond-studded claws complete this delicious crustacean. The lobster has the distinction of being the forerunner of today's wonderful world of land, sea and air creatures by Le Vian. Peacocks to hummingbirds, fish to frogs, bears to butterflies, crabs to cottontails, lady bugs to puppy dogs – all look their glittering best garbed in jeweled gold by Le Vian.
---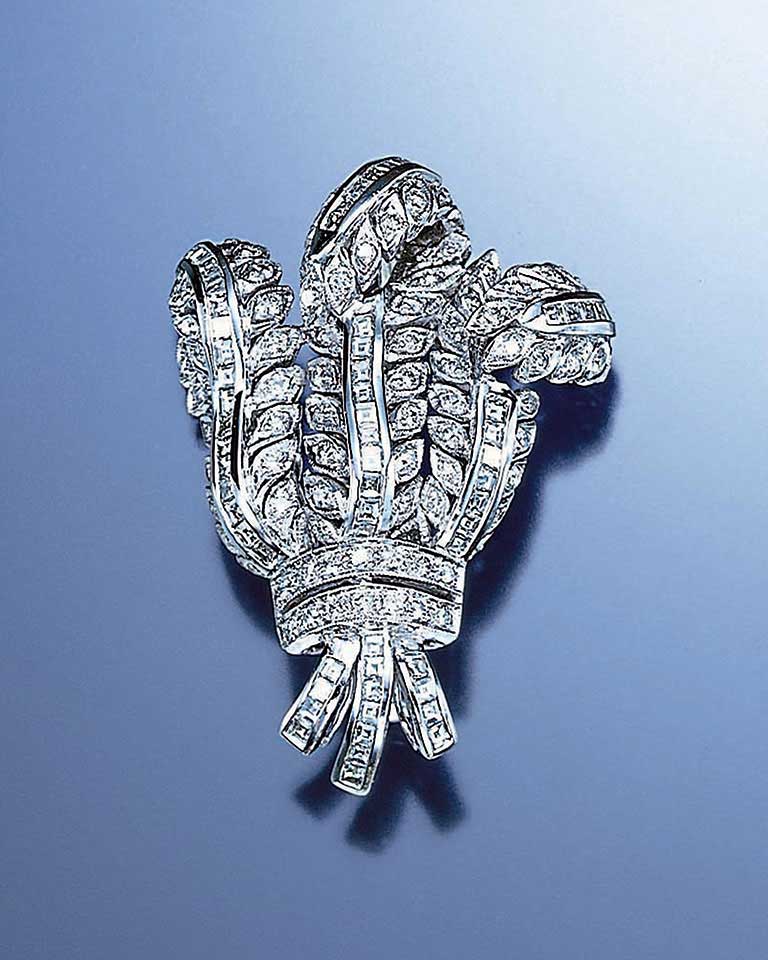 In 1985, Le Vian was commissioned to reproduce the Prince of Wales "plumes" pin, which was auctioned in the estate of the Duchess of Windsor. It reproduces the official crest of the Prince of Wales, using reticulated plumes of baguette diamonds, with feathers and crest set in round diamonds.
---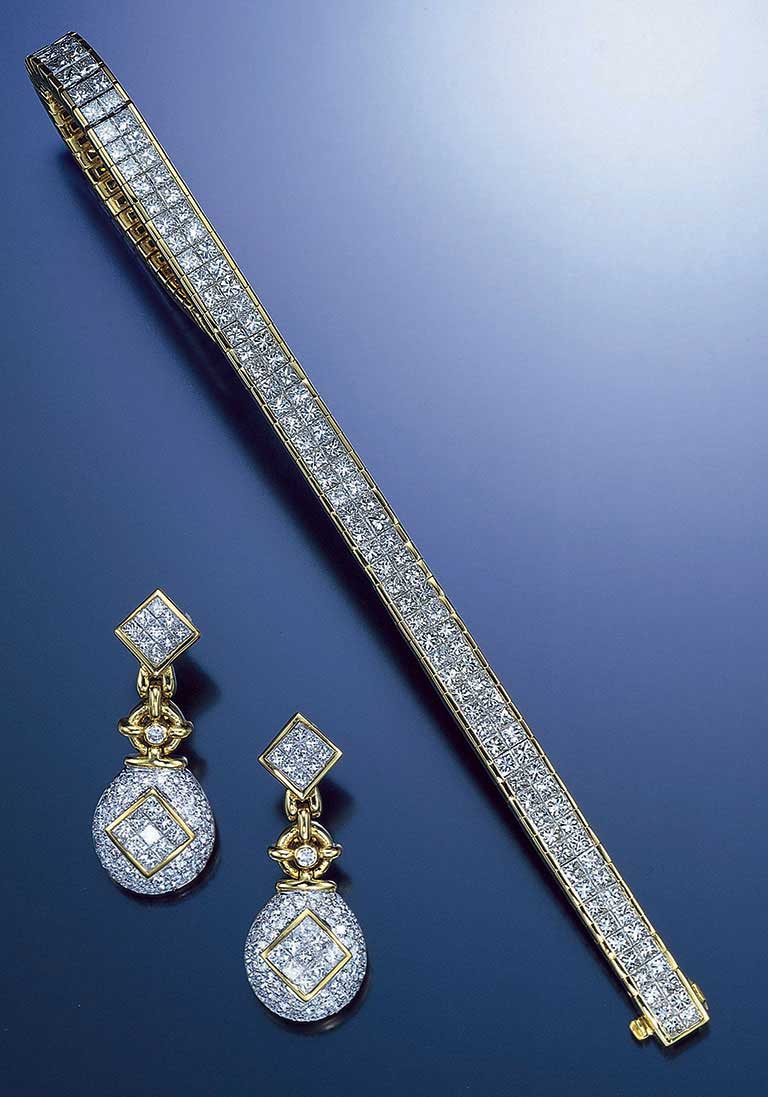 Taking the art of invisible settings to new heights, this matching set of bracelet and earrings is made of 18-karat gold invisibly set with princess cut diamonds.
---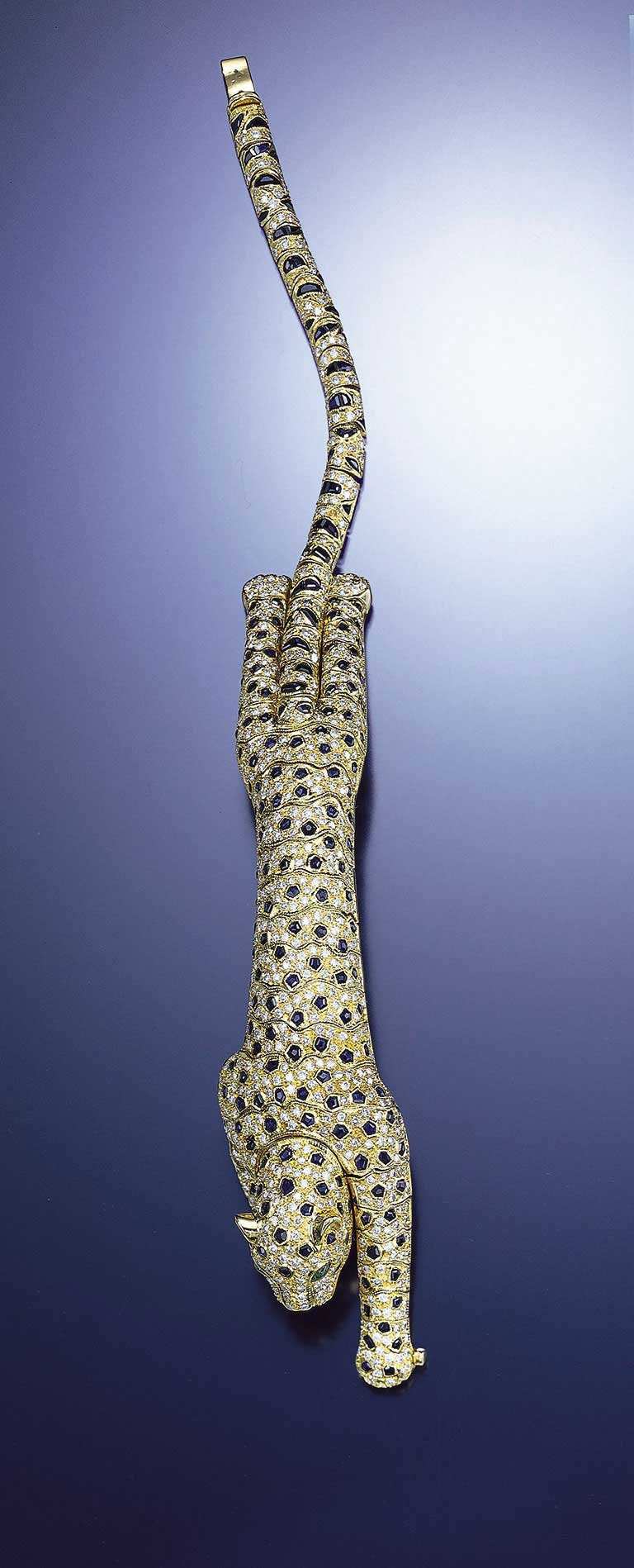 The timelessness of the Duchess of Windsor's jewels inspired Eddie Le Vian to redesign choice pieces from the collection. His copyrighted re-creation of her famous panther bracelet is formed of 18-karat yellow gold covered with diamonds from head to the tip of the tail. The spots are irregularly shaped faceted sapphires; the piercing green eyes are marquise shaped cabochon emeralds; the nose a special cut of black onyx. Made of flexible interconnected parts, this famous piece can convert to a pin that drapes over the shoulder.
---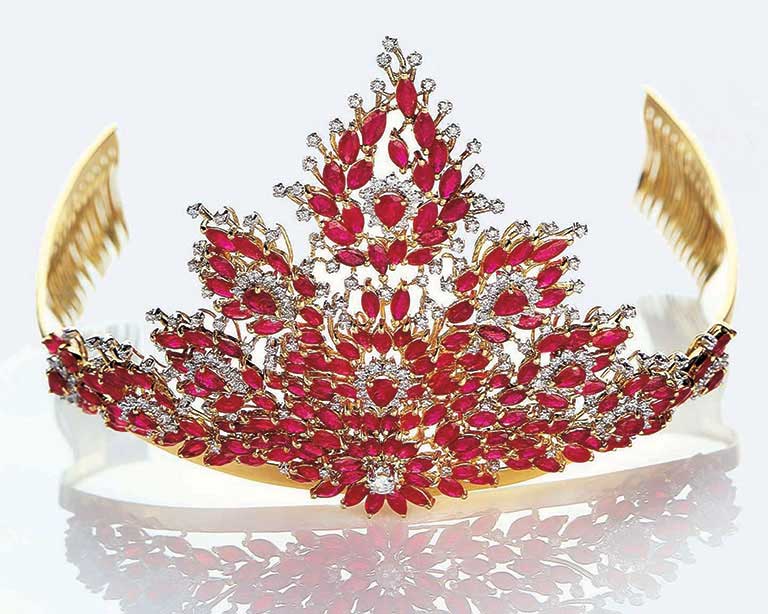 The celebrated Fiesta Bowl Tiara has been worn by the reigning Fiesta Bowl Queen since 1985 during the colorful Pageant and Parade preceding the annual, nationally televised, championship game. The gold work was handcrafted over six months by Le Vian, using four ounces of 18-karat gold, a 2000 year old technique. Valued at $180,000, it contains 392 marquise-cut rubies and round cut diamonds totaling 75 carats.
---
Originally designed in 1950, this striking flower pin was re-created to mark the 500th anniversary of Le Vian. It is petaled with 81.13 carats of invisibly set glowing red rubies which open around a sparkling heart of 19 diamonds totalling 3.66 carats.