A revered leader in the jewelry industry, Mr. A. LeVian, was a pioneer known for his trail blazing efforts in making exquisite Jewelry. His motto - Nurture the honor of the Le Vian family, in every single piece of Jewelry crafted. He was dubbed the "King of Turquoise" in 70's and the "King of Tanzanite" in the 90's. A beloved father and the founder of the Le Vian® company in the United States in 1950. He remains an inspiration to the succeeding generations!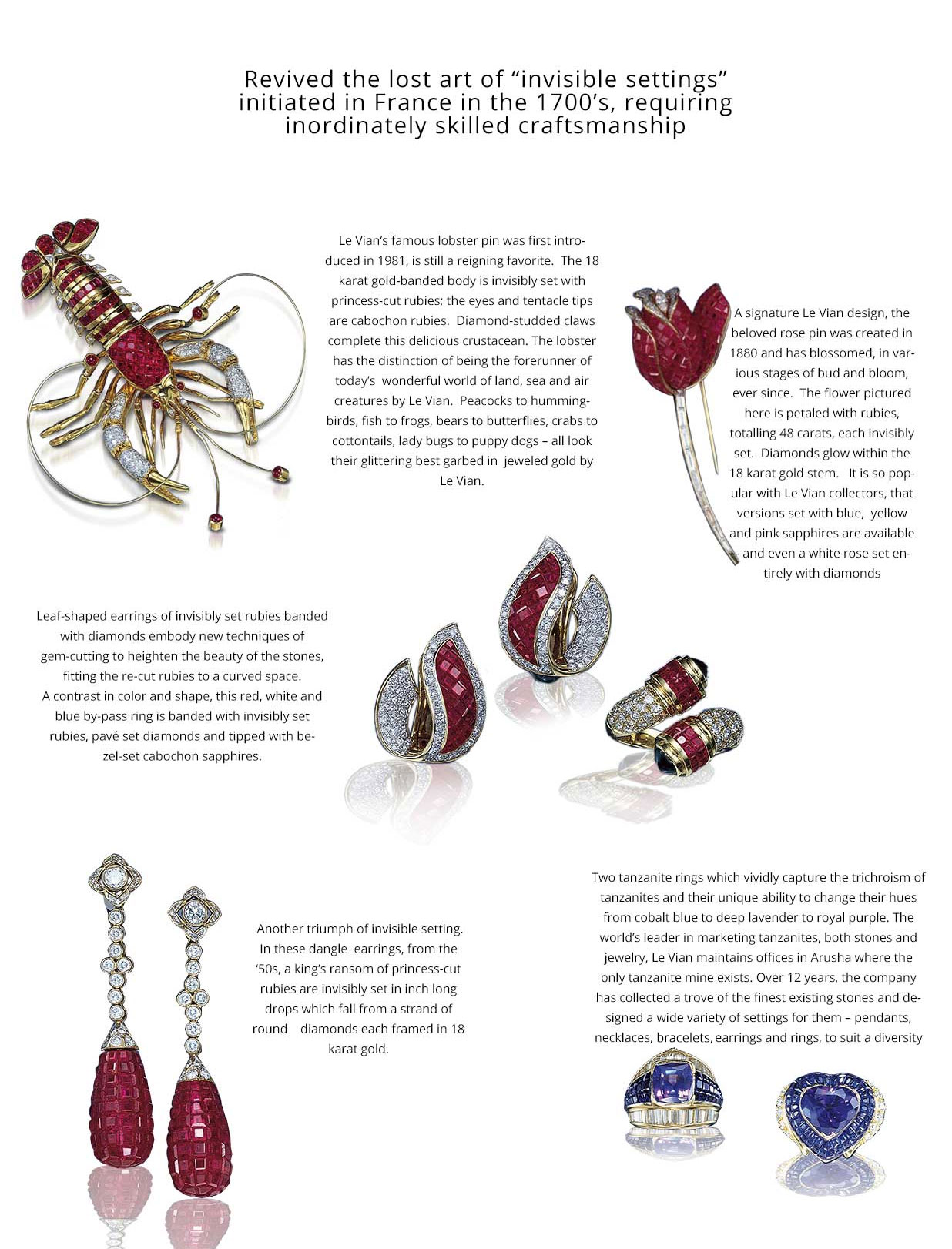 Revived the lost are of "invisible settings" initiated in France in the 1700's, requiring inordinately skilled craftsmanship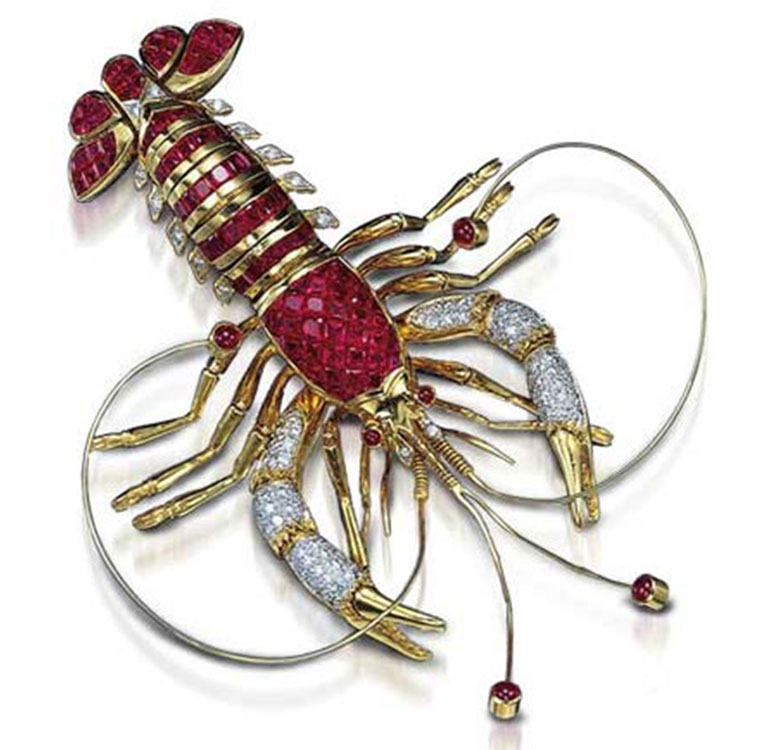 Le Vian's famous lobster pin was first introduced in 1981, is still a reigning favorite. The 18 karat gold-banded body is invisibly set with princess-cut rubies; the eyes and tentacle tips are cabochan rubies. Diamond-studded claws complete this delicious crustacean. The lobster has the distinction of being the forerunner of today's wonderful world of land, sea and air creatures by Le Vian. Peacocks to humming-birds, fish to frogs, bears to butterflies, crabs to cottontails, lady bugs to puppy dogs - all look their glittering best garbed in jeweled gold by Le Vian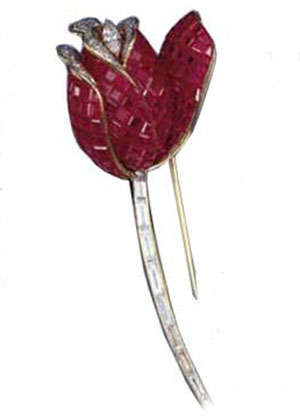 A signature Le Vian design, the beloved rose pin was created in 1880 and has blossomed, in various stages of bud and bloom, ever since. The flower pictured here is petaled with rubies, totaling 48 carats, each invisibly set. Diamonds glow within the 18 karat gold item. It is so popular with Le Vian collectors, that versions set with blue, yellow and pink sapphires are available and even a white rose set entirely with diamonds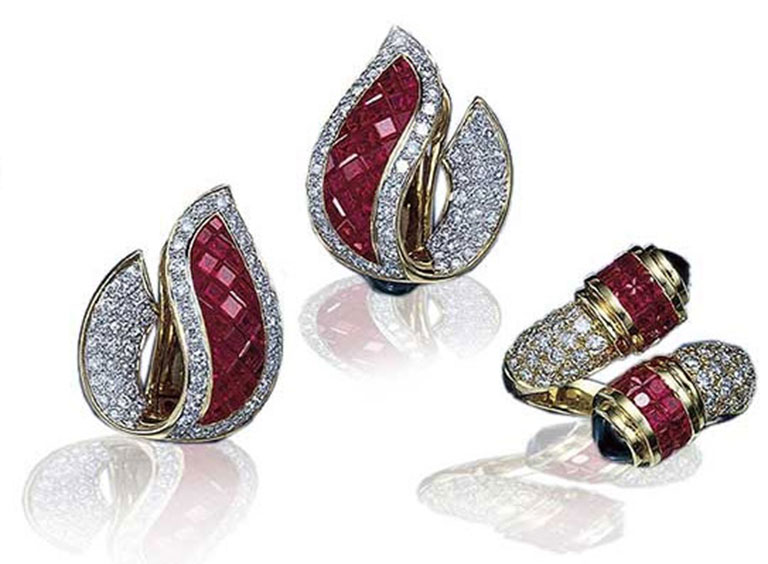 Leaf-shaped earrings of invisibly set rubies banded with diamonds embody new techniques of gem-cutting to heighten the beauty of the stones, fitting the recut rubies to a curved space. A contrast in color and shape, this red, white and blue by-pass ring is banded with invisibly set rubies, pave set diamonds and tipped with bezel-set cabochon sapphires.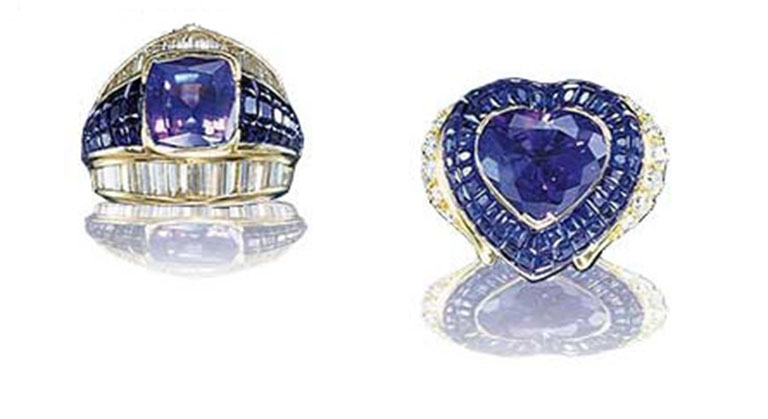 Another triumph of invisible setting. In these dangle earrings, from the '50s, a king's ransom of princess-cut rubies are invisibly set in inch long drops with fall from a strand of round diamonds each framed in 18 karat gold.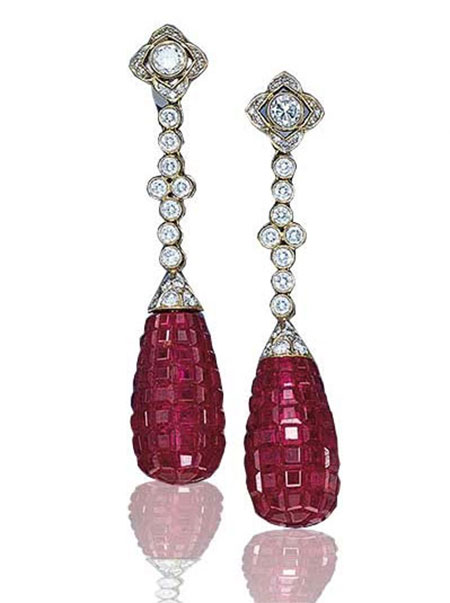 Two tanzanite rings which vividly capture the trichroism of tanzanites and their unique ability to change their hues from cobalt blue to deep lavender to royal purple. The world's leader in marketing tanzanites, both stones and jewelry, Le Vian maintains offices in Arusha where the only tanzanite mine exists. Over 12 years, the company has collected a tove of the finish existing stones and designed a wide variety of settings form them - pendants, necklaces, bracelets, earrings and rings, to suit a diversity