Bubble Gum Pink SapphiresTM
Corundum Family | Mohs Scale: 9
Throughout history, sapphires have always been associated with the color blue, perhaps most likely due to its name which comes from the Greek word sappheiros (blue stone). Traditionally, sapphire symbolizes truth, sincerity, and faithfulness. In history, clergy members wore the gem to symbolize Heaven. In ancient Greece and Rome, the royals believed sapphires protected them from envy and harm. Sapphires have also been closely associated with romance and the royals, most recently in modern times. In 1981, Prince Charles gave Lady Diana Spencer a blue sapphire engagement ring. The same ring was later given to Kate Middleton by Princess William.
But all sapphires are not blue and, in fact, come in a rainbow of colors including pink, which Le Vian® has chosen for its strawberry pink flavor.
"Bubble Gum Pink Sapphires™ offer September babies a blush tone gem to celebrate their birth month."
PASSION RUBYTM
Ruby has the distinction of being the most valued gemstone throughout most of recorded history. Ancient Sanskrit referred to the ruby as the "king of precious stones", the bible found only wise and virtuous women more precious than rubies and the Persian sage al-Biruni wrote about rubies the first place in color, beauty and rank among all gems. The name Ruby comes from the Latin word ruber for its hue. The strength of red in the ruby depends on how much chromium is present—the more chromium, the stronger the red color. Chromium can also cause fluorescence, which adds to the intensity of the red color. The brilliant crimson color of this gem is associated with passion and love, making the ruby an ideal choice for engagement rings.
There are many famous rubies throughout history, two of which can be seen at the Smithsonian Institution, National Museum of Natural History including the 138.72-carat Rosser Reeves Star Ruby from Sri Lanka and the 23.10-carat Carmen Lucia Ruby which is considered one of the world's finest large Burmese rubies.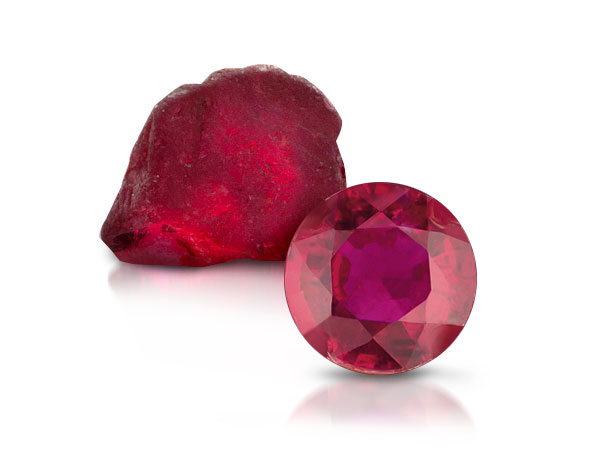 "Passion RubyTM, the July birthstone, embodies our passionate red color and represents the top of production of responsibly sourced ruby."