CHOCOLATE QUARTZ®
In its purest form, quartz is colorless but is also found in many spectacular colors. Le Vian® offers many different flavors of quartz in its collections including its 2014 Color of the Year Chocolate Quartz, one of the flavors in the Chocolate CravingsTM trend. This delicious quartz brings the flavor of Le Vian Chocolatier® to a new level with its high clarity and luster plus big and bold Chocolate flavor exquisitely revealed through Le Vian®'s proprietary gem cuts. The warm neutrality of Chocolate Quartz® offers the perfect complement to the fashions of today and tomorrow.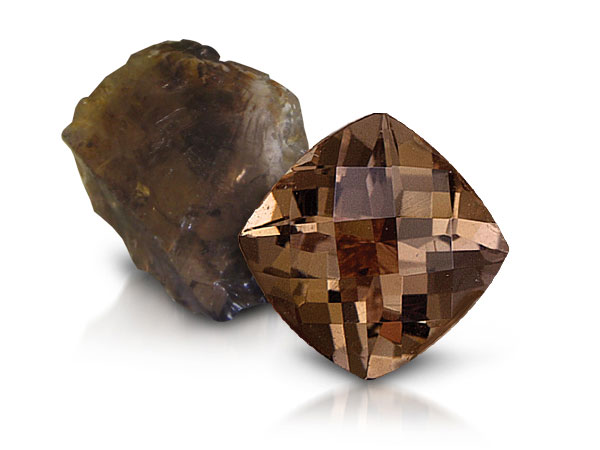 "Chocolate Quartz®, the most delectable flavor from the quartz family, known for its heartbeat and energy, is Le Vian®'s 2014 Gem of the Year"
FOREST GREEN TSAVORITETM
Tsavorite is a green garnet and, like other garnets, forms within metamorphic rocks; its rareness comes from its specific need for more unusual rock chemistries and special conditions to be in place in order for it to form.
The color scale of this gem is fresh and invigorating, ranging from a spring-like pale green to an intensely bluish-green to a deep forest green, which is the flavor of Le Viang Forest Green TsavoriteTM.
"We chose Honey GoldTM as a backdrop which intensifies the lively green flavor of Forest Green TsavoriteTM, one of the brightest green gems in the 50 Shades of GreenTM trend"
Nude Diamonds®
Light Brown Diamonds, C2-C3 | Natural Color Diamond | Mohs Scale: 10 | April Birthstone | 10th Anniversary Gemstone
Nude Diamonds™ are more neutral than white diamonds; their natural hue complements all skin tones."
Nude Diamonds™ are neutral skin tone, natural color diamonds that look colorless, take a high polish and offer a great value that is a fraction of the price of white diamonds. Le Vian® utilizes a very stringent selection process, choosing from a select range of high clarity natural faint and light brown diamonds with a touch of blush, the top of production, that are C2-C3 in color and SI or VS in clarity.