Denim Ombré®
Denim Ombré® is Le Vian's unique interpretation of the hair, fashion and beauty trend, with a touch of classic denim style. Le Vian® combines a patent pending design featuring a range of diamond cut sapphires, gems, meticulously mapped from Blueberry Sapphire™ to Sky Blue
Sapphires to Vanilla Sapphires™, to create its Denim Ombré® design. Denim Ombré® symbolizes AnyWear/EveryWear® wearability, with a destiny to become your new favorite denim style.
Vanilla SapphireTM
Corundum Family | Mohs Scale: 9 | September Birthstone | 5th/45th/70th Anniversary Gemstone
Throughout history, sapphires have always been associated with the color blue, perhaps most likely due to its name which comes from the Greek word sappheiros (blue stone) but this precious gem comes in a rainbow of colors as well as the colorless white sapphire. Le Vian® has named its white sapphire, Vanilla Sapphire™. This gem can be found in Le Vian's popular Blueberry Ombre™ and Blueberry Layer Cake™ collections.
Wisdom and strength of spirit, with extreme pure energy for having clarity in thought and powers to open up the mind, are thought to be some of the powers associate with white sapphire.
CHOCOLATE DIAMONDS®
Natural fancy brown diamonds are available in shades from champagne to cognac to Chocolate Diamonds®, Le Vian®'s original brand of natural fancy color brown diamonds. Chocolate Diamonds® are naturally flavored, the depth of their color determined by the tremendous amount of pressure the diamond receives from deep within the earth.
Famous brown diamonds include the 545 carat dark rich champagne hued "Golden Jubilee," the world's largest cut natural diamond.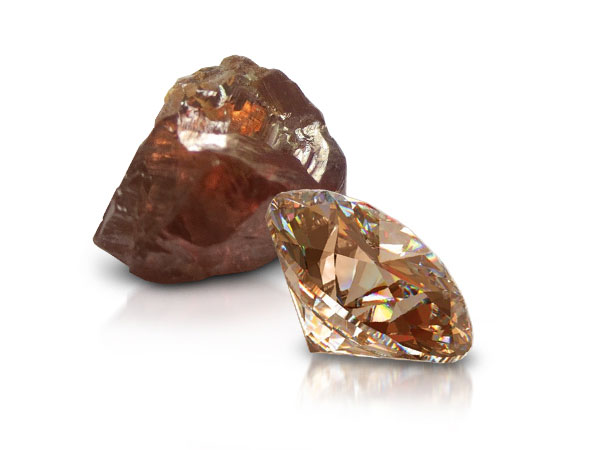 "Le Vian® chooses only those natural brown diamonds that are C4-C7 and higher in color, SI and higher in clarity, each cut to Le Vian®'s standards, and sourced directly through Le Vian®. Le Vian® is the only company on earth to make jewelry with Chocolate Diamonds®."