CINNAMON CITRINE®
The name citrine comes from the French word "Citron" meaning lemon, its color ranging from a juicy lemon yellow to orange brownish orange. This popular neutral gem is the most affordable of the earth-toned gemstones and pairs perfectly with Le Vian® Honey GoldTM.
In ancient times, citrine was worn to deter from snakebites and the even more powerful venom of evil words and thoughts. This gem garnered a big following in the 40s in retro jewelry, with its sun kissed color and large stones brilliantly set against the bold gold of the era. Joan Crawford was often seen wearing an emerald-cut citrine ring that was more than 100 carats!
"Cinnamon Citrine® is among the original Le Vianese flavors, popularized through big stone, high profile designs that today remain a staple in many collectors' wardrobes. This spicy sun-kissed gem stands out within Honey GoldTM with accents of Chocolate Diamonds® and Vanilla Diamonds®"
Vanilla PearlsTM
Mohs Scale: 2.5-3.5 | June Birthstone | 3rd Anniversary
Pearls are the only gemstone formed within a living creature, exquisite spherical shaped treasures from the earth's ponds, lakes, seas and oceans. Ancient Chinese legend spoke to the ability of the pearl to protect one from fire. Europe saw pearls as symbols of modesty, chastity and purity.
Pearls have symbolized status and wealth for thousands of years. It is a tradition that has continued into modern culture, favored by royalty and the wealthy in Europe, Asia and around the world, each of whom treasured and passed along pearls from generation to generation.
Le Vian® Vanilla Pearls™ can be either freshwater pearls or cultured pearls.
Pomegranate GarnetTM
Garnet Family | Mohs Scale: 7.5-8 | January Birthstone | 2nd Anniversary Gemstone
"Pomegranate Garnet offers January babies a garnet with warmer chocolate undertones that are perfectly complemented by Chocolate Diamonds®."
The history of garnets can be traced back to 3100 B.C., the original red garnet gem adorning the necklaces of Egypt's pharaohs and the signet rings of ancient Rome. Garnets were named by the ancient Greeks for its color which resembled pomegranate seed - granatum. In legend, the garnet was believed to light up the night, thus protecting the wearer from nightmares. Garnets are all natural, brilliant and durable making them a favorite for jewelry and favored in rings.
Le Vian® selected a unique hue for its Pomegranate Garnet™, those gems with a rich red tone with a slight umber undertone.
PEACH MORGANITETM
Morganite, the sister stone of emerald and aquamarine, was first discovered in California and is named for J.P. Morgan, one of the greatest financiers in history and one of the most important gem collectors in the early 1900s. Originally known as pink beryl, this peachy pink gem which is rarer than aquamarine, receives its blush hue through traces of manganese. Stronger colors are possible, although the finest colors are mainly achieved through larger stones. Morganite crystals can be quite large, with stones in Brazil weighing over 22 pounds. The largest Morganite weighing in at 50 pounds was uncovered in the U.S. in 1989 and named "The Rose of Maine." The largest faceted Morganite is a 598.70-carat cushion-shape from Madagascar in the collection of the British Museum. Symbolically, Morganite is thought to induce peace, joy and inner strength.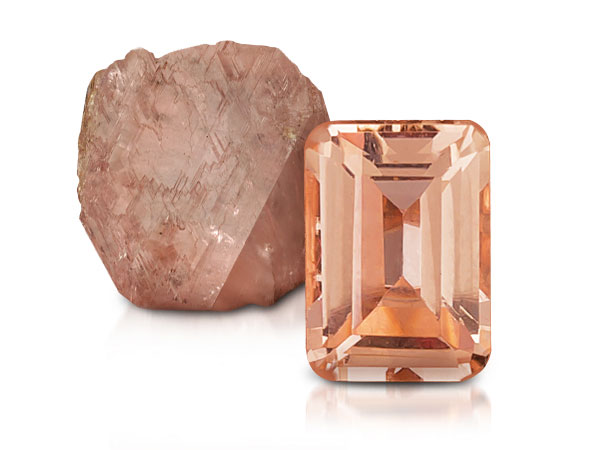 "Le Vian® masterfully combines the peachy pink flavors of its highly selective Peach MorganiteTM with Strawberry Gold®, to create a new effect which enhances the beauty and femininity in any woman."
Strawberry OmbréTM
Strawberry Ombré® is Le Vian's unique interpretation of the popular hair, fashion and beauty trend. Le Vian ® combines a selection of gems ranging from Passion Ruby™ to Strawberry Sapphire™ to Nude Sapphire™ to create its Strawberry Ombré® design. The Strawberry Ombré® patent pending design featuring a collection symbolizing luxury with an expanding collection of chic, elegant styles blushing with Le Vian® flavor.
VANILLA DIAMONDS®
The journey of a diamond in the rough to the sparkling diamond design you love is a fascinating story, one that began billions of years ago, deep within the earth where a diamond has formed under extreme heat and pressure. Its ascent from its natural home is forced by nature or man where it is then cleaved, cut and polished revealing its natural beauty. Diamonds are the hardest material on earth and the only gem that is composed of only one element, carbon.
Vanilla Diamonds® are specially selected to adorn Le Vian® designs – from breathtaking one-of-a-kind red carpet favored designs in Vanilla Gold® to the trendsetting combination of Strawberry 'N Vanilla® featuring the blushing hue of Strawberry Gold® topped with Vanilla Diamonds®.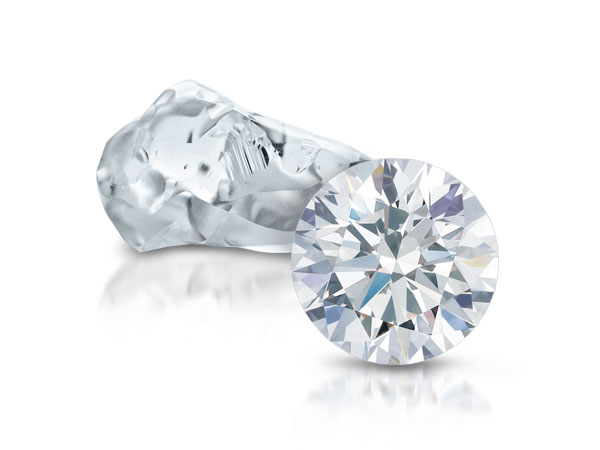 "Le Vian® Vanilla Diamonds® are chosen by exacting standards: SI quality of higher and G-J color."