RASPBERRY RUBELLITETM
Rubellite is from the tourmaline family of gems, which is known for its dazzling colors. While all tourmalines share the same crystal structure, each color has its own set of complex elements that attribute to the color. In pink and red tourmaline, it is manganese, which reveals gems in tender pink to fine shocking pink, an intense violet to a bold ruby-red. A few of these pink tourmalines can be called a rubellite. The name rubellite conies from the Latin 'rubellus', which means reddish. Rubellites are not merely red or shocking pink tourmalines. The standard for this especially beautiful gemstone is in the way its color behaves in daylight and artificial light. While many gems change color depending on the light source, a true rubellite does riot change, it shines just as intensely in artificial light as it does in daylight. The color of most other pink or red tourmalines, by contrast, will display a clearly visible tinge of brown in artificial light.
Le Vian® Raspberry RubelliteTM follows this strict criterion, the gems chosen from mines in Brazil.
"We love the intense frurtry red flavor of Raspberry RhodoliteTM which fits sweetly into our Fiery RedsTM color trend"
VANILLA DIAMONDS®
The journey of a diamond in the rough to the sparkling diamond design you love is a fascinating story, one that began billions of years ago, deep within the earth where a diamond has formed under extreme heat and pressure. Its ascent from its natural home is forced by nature or man where it is then cleaved, cut and polished revealing its natural beauty. Diamonds are the hardest material on earth and the only gem that is composed of only one element, carbon.
Vanilla Diamonds® are specially selected to adorn Le Vian® designs – from breathtaking one-of-a-kind red carpet favored designs in Vanilla Gold® to the trendsetting combination of Strawberry 'N Vanilla® featuring the blushing hue of Strawberry Gold® topped with Vanilla Diamonds®.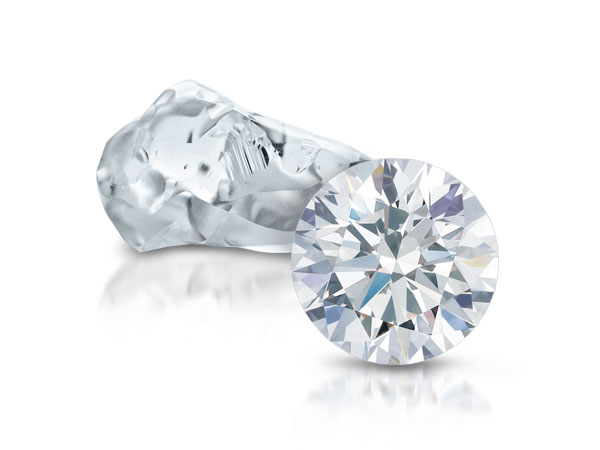 "Le Vian® Vanilla Diamonds® are chosen by exacting standards: SI quality of higher and G-J color."