DEEP SEA BLUE TOPAZTM
Legend has it that topaz dispels all enchantment and helps improve eyesight. In ancient times, it was believed that topaz had the power to increase strength and make the wearer invisible. Today, the gem is favored for its exquisite blue hue which can range from cool icy blues as featured in Le Vian®'s Ocean Blue TopazTM to the deep, Mediterranean blues in Deep Sea Blue TopazTM.
An interesting characteristic of topaz is its ability to build up a distinct electrical charge from heat or friction that it will retain for several hours. Blue is the most popular topaz color which is obtained through a diffusion treatment that is permanent.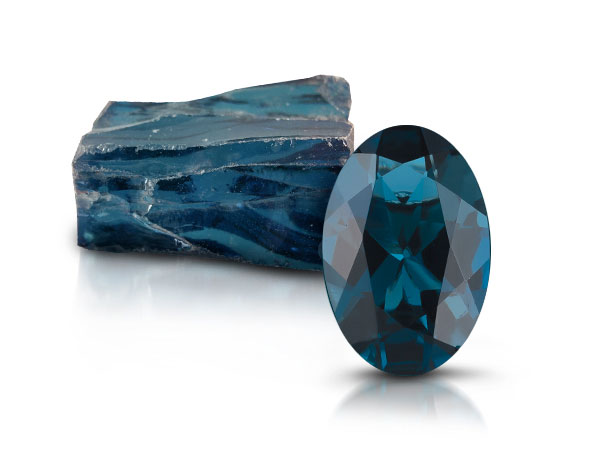 "Le Vian® offers two Blue Topaz flavors: Ocean Blue TopazTM which is a diffusion topaz that combines traditional topaz with the modern look of Santorini Blue; and Deep Sea Blue TopazTM, which features some of the deepest blue hues available"
GREEN APPLE PERIDOTTM
Peridot, nicknamed "emerald of the evening" by the Romans and "gem of the sun" by the Egyptians, is thought to have magical powers and healing properties. Peridot forms deep inside the earth and are brought to the surface by volcanoes. Peridot has also been found in meteorites, although these are especially rare. The Natural History Museum in London has a 146.10 carat peridot in its collection.
Peridot comes in several color variations ranging from yellowish green to brown, but the most attractive are the bright lime greens and olive greens. The intensity of the color depends on the amount of iron present.
"Green Apple PeridotTM reveals the softer side of the 5o Shades of GreenTM trend, each look dazzlingly detailed with Chocolate Diamonds® and Vanilla Diamonds® the contrast uncovering the beauty of the August birthstone."
Bubble Gum Pink SapphiresTM
Corundum Family | Mohs Scale: 9
Throughout history, sapphires have always been associated with the color blue, perhaps most likely due to its name which comes from the Greek word sappheiros (blue stone). Traditionally, sapphire symbolizes truth, sincerity, and faithfulness. In history, clergy members wore the gem to symbolize Heaven. In ancient Greece and Rome, the royals believed sapphires protected them from envy and harm. Sapphires have also been closely associated with romance and the royals, most recently in modern times. In 1981, Prince Charles gave Lady Diana Spencer a blue sapphire engagement ring. The same ring was later given to Kate Middleton by Princess William.
But all sapphires are not blue and, in fact, come in a rainbow of colors including pink, which Le Vian® has chosen for its strawberry pink flavor.
"Bubble Gum Pink Sapphires™ offer September babies a blush tone gem to celebrate their birth month."
VANILLA DIAMONDS®
The journey of a diamond in the rough to the sparkling diamond design you love is a fascinating story, one that began billions of years ago, deep within the earth where a diamond has formed under extreme heat and pressure. Its ascent from its natural home is forced by nature or man where it is then cleaved, cut and polished revealing its natural beauty. Diamonds are the hardest material on earth and the only gem that is composed of only one element, carbon.
Vanilla Diamonds® are specially selected to adorn Le Vian® designs – from breathtaking one-of-a-kind red carpet favored designs in Vanilla Gold® to the trendsetting combination of Strawberry 'N Vanilla® featuring the blushing hue of Strawberry Gold® topped with Vanilla Diamonds®.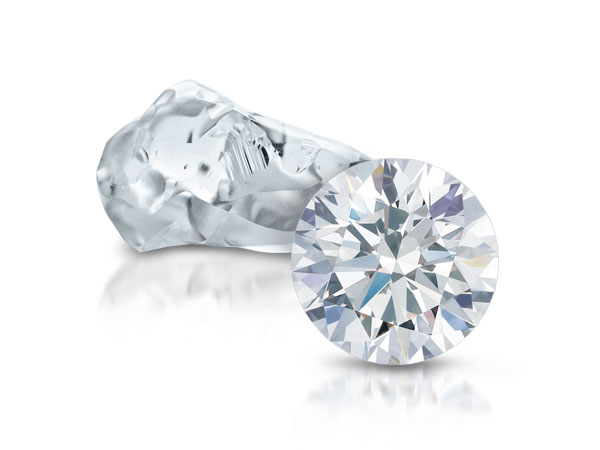 "Le Vian® Vanilla Diamonds® are chosen by exacting standards: SI quality of higher and G-J color."