BLUEBERRY TANZANITE®
Tanzanite was discovered in 1967 and named for the only area in which it is found - Tanzania, Africa. What makes this gem so popular is its vivid color, high clarity and tri-chronic qualities (it shows different colors when viewed in different directions). Le Vian® loved the lush flavor of tanzanite so much that, in the 80s, the company imported over 50% of tanzanite to the U.S. Today, that stockpile which best displays a unique chorus of tri-chronic blue. pink and purple flavors are sweet Blueberry Tanzanite® - the 2015 Gem of the Year.
Among the world's most famous tanzanite designs are the $2 million tanzanite and diamond evening sandals created by Le Vian® which feature over 185-carats of museum quality oval, cushion-cut and tear drop shaped tanzanite ranging from 6 to 16 carats. The shoes won the "Fashion Accessories" category in The Tanzanite Foundation's Celebration of Life Jewelry Design Awards.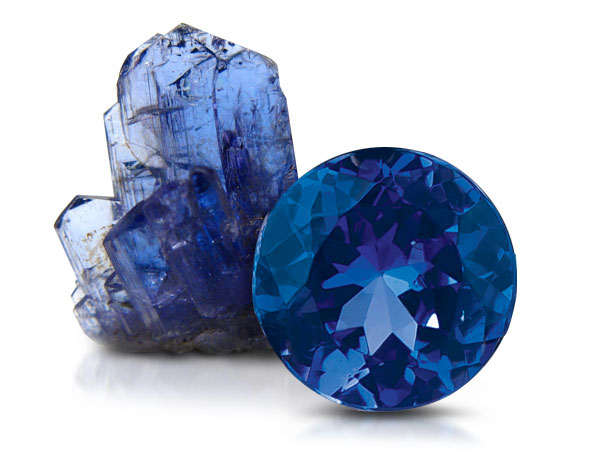 "Le Vian® has been dominant in importing more than half of the world's production of tanzanite for decades, enabling the company to secure gem quality tanzanite that strikes the perfect balance between blueberry, lilac and orchid tones. Blueberry Tanzanite® is the alternate birthstone for December and Le Vian®'s 2015 Gem of the Year:"
BLUEBERRY DIAMONDS®
In 2012, the Le Vian Corporation announced its newest brand, a separate division named Le Vian Exotics®, introducing a new palette of color in diamonds in bold primary hues, enhanced to bring out their natural beauty. Since all other divisions specialize in natural color diamonds, Le Vian Exotics® has become Le Vian's gallery where diamond color has no limits. Le Vian Exotics® Blueberry Diamonds® feature a bold blueberry flavor.
Blueberry Diamonds® can be found in the Blues™ trend with Blueberry 'N Vanilla (Blueberry Diamonds®, Vanilla Diamonds® and Vanilla Gold®), providing accent to softer Blues™ like Sea Blue Aquamarine® and Ocean Blue Topaz™, as well as in the Mixberry Diamonds® collection which features four distinct flavors including Goldenberry Diamonds™, Kiwiberry Green Diamonds™, Blueberry Diamonds® and Cherryberry Diamonds™ in settings of Honey Gold™ or Vanilla Gold®.
"While Blueberry Diamonds® were originally created for the Mixberry Diamonds® collection, we discovered its boldness was enhanced through the combination of Vanilla Diamonds® and Vanilla Gold®. Its vibrant flavor also provides a chic contrast as accents to our Blues™ gems."