BLUEBERRY ZIRCON™
Zircon is the oldest mineral on earth, dating back 4.4 billion years. Its name comes from the Persian "Zargun", which meaning golden color. Zircons can survive geological processes like erosion, transport, and even high-grade metamorphosis; as a result, they contain a rich and varied record of these processes, adding to their unique allure. There are many colors of Zircon including yellow, orange, brown, green, red and blue, the latter of which Le Vian® has chosen to introduce as Blueberry Zircon™, its newest gemstone flavor.
Le Vian® Blueberry Zircon™ can only be found in Cambodia, is chosen from the top of production and displays a unique blue color with green tones, which sometimes causes it to be mistaken for a Paraiba Tourmaline. It is a very highly refractive gem with a hardness of 7.5 and a vitreous luster.
Blueberry Zircon™ has the unique characteristic of being double reflective which means you see twice as many facets and twice as much fire. Larger sizes of Blueberry Zircon™ are extremely rare, almost nonexistent, with only 5 or less pieces of 30 carats or more discovered in the last year. Le Vian® is popularizing this ancient and rare gem as a salute to its 2017 Color of the Year, Blues™.
"Blueberry Zircon™ is cut to Le Vian's exacting standards and displays a unique blue color. They have a very high dispersion of light and high refractive indices giving them very high brilliance."
BLUEBERRY SAPPHIRETM
Throughout history, sapphires have always been associated with the color blue, perhaps most likely due to their name, which comes from the Greek word sappheiros (blue stone). Traditionally, sapphire symbolizes truth, sincerity, and faithfulness. In history, clergy members wore the gem to symbolize Heaven. In ancient Greece and Rome, the royals believed sapphires protected them from envy and harm. Sapphires have also been closely associated with romance and the royals, most recently in modern times. In 1981, Prince Charles gave Lady Diana Spencer a blue sapphire engagement ring. The same ring was later given to Kate Middleton by Prince William
But all sapphires are not blue and, in fact, come in a rainbow of colors including varying shades of blue as well as "fancy sapphires" in pink, yellow, orange, lavender, purple. Blues can be pure blue but may have a range from greenish blue to violet blue. The blue in a sapphire is the result of trace elements of iron and titanium; the more iron in the sapphire, the darker the blue.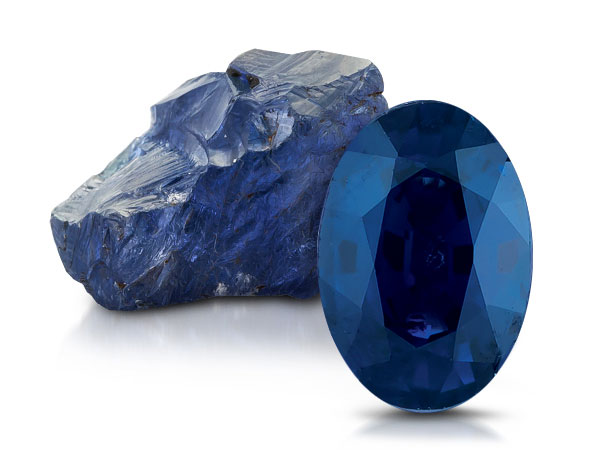 "Le Vian® utilizes exacting standards for its genuine sapphires, choosing only those with a rich royal blue, blueberry flavor for designs which feature the September birthstone"
Nude Diamonds®
Light Brown Diamonds, C2-C3 | Natural Color Diamond | Mohs Scale: 10 | April Birthstone | 10th Anniversary Gemstone
Nude Diamonds™ are more neutral than white diamonds; their natural hue complements all skin tones."
Nude Diamonds™ are neutral skin tone, natural color diamonds that look colorless, take a high polish and offer a great value that is a fraction of the price of white diamonds. Le Vian® utilizes a very stringent selection process, choosing from a select range of high clarity natural faint and light brown diamonds with a touch of blush, the top of production, that are C2-C3 in color and SI or VS in clarity.