DEEP SEA BLUE TOPAZTM
Legend has it that topaz dispels all enchantment and helps improve eyesight. In ancient times, it was believed that topaz had the power to increase strength and make the wearer invisible. Today, the gem is favored for its exquisite blue hue which can range from cool icy blues as featured in Le Vian®'s Ocean Blue TopazTM to the deep, Mediterranean blues in Deep Sea Blue TopazTM.
An interesting characteristic of topaz is its ability to build up a distinct electrical charge from heat or friction that it will retain for several hours. Blue is the most popular topaz color which is obtained through a diffusion treatment that is permanent.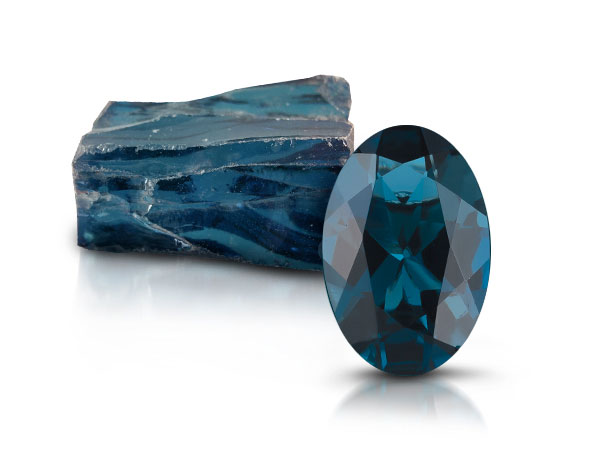 "Le Vian® offers two Blue Topaz flavors: Ocean Blue TopazTM which is a diffusion topaz that combines traditional topaz with the modern look of Santorini Blue; and Deep Sea Blue TopazTM, which features some of the deepest blue hues available"
CINNAMON CITRINE®
The name citrine comes from the French word "Citron" meaning lemon, its color ranging from a juicy lemon yellow to orange brownish orange. This popular neutral gem is the most affordable of the earth-toned gemstones and pairs perfectly with Le Vian® Honey GoldTM.
In ancient times, citrine was worn to deter from snakebites and the even more powerful venom of evil words and thoughts. This gem garnered a big following in the 40s in retro jewelry, with its sun kissed color and large stones brilliantly set against the bold gold of the era. Joan Crawford was often seen wearing an emerald-cut citrine ring that was more than 100 carats!
"Cinnamon Citrine® is among the original Le Vianese flavors, popularized through big stone, high profile designs that today remain a staple in many collectors' wardrobes. This spicy sun-kissed gem stands out within Honey GoldTM with accents of Chocolate Diamonds® and Vanilla Diamonds®"
PASSION FRUIT TOURMALINETM
Tourmaline as a gem has been around for centuries but until modern mineralogy, the dazzling colors of tourmaline were identified as another gem based on its coloring. Even the name given this gem, tourmaline, which comes from the Sri Lanka Sinhalese word "tura malli" meaning "mixed gems", identifies the confusion that surrounded the early days of this gem. Tourmaline is found in a rainbow of colors and various shades of each color - one of the widest color ranges found of any gem species. While all tourmaline colors share the same crystal structure, each color has its own set of complex elements that attribute to the color. In pink and red tourmaline, it is manganese.
Pink Tourmaline in History: In the early 1900s tons of tourmaline were exported from Southern California to China to satisfy the Empress Dowager Tz'u His's craving for pink tourmaline, her favorite gemstone.
"Passion Fruit TourmalineTM brings a hot flavor full of passion and sweetness whether combined in dramatic settings with Blackberry Diamonds® or feminine looks flavored with Chocolate Diamonds®."
CHOCOLATE QUARTZ®
In its purest form, quartz is colorless but is also found in many spectacular colors. Le Vian® offers many different flavors of quartz in its collections including its 2014 Color of the Year Chocolate Quartz, one of the flavors in the Chocolate CravingsTM trend. This delicious quartz brings the flavor of Le Vian Chocolatier® to a new level with its high clarity and luster plus big and bold Chocolate flavor exquisitely revealed through Le Vian®'s proprietary gem cuts. The warm neutrality of Chocolate Quartz® offers the perfect complement to the fashions of today and tomorrow.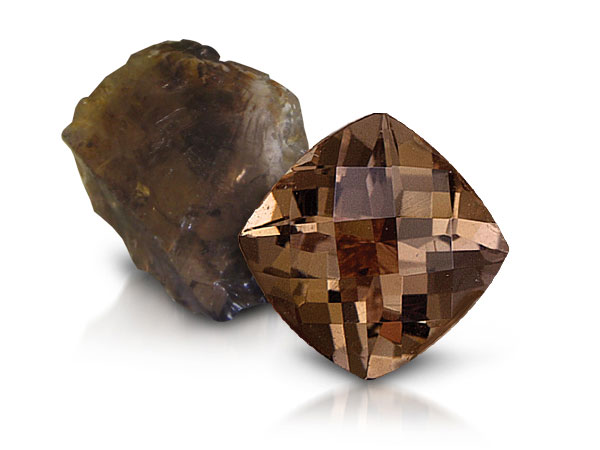 "Chocolate Quartz®, the most delectable flavor from the quartz family, known for its heartbeat and energy, is Le Vian®'s 2014 Gem of the Year"
FOREST GREEN TSAVORITETM
Tsavorite is a green garnet and, like other garnets, forms within metamorphic rocks; its rareness comes from its specific need for more unusual rock chemistries and special conditions to be in place in order for it to form.
The color scale of this gem is fresh and invigorating, ranging from a spring-like pale green to an intensely bluish-green to a deep forest green, which is the flavor of Le Viang Forest Green TsavoriteTM.
"We chose Honey GoldTM as a backdrop which intensifies the lively green flavor of Forest Green TsavoriteTM, one of the brightest green gems in the 50 Shades of GreenTM trend"
Nude Diamonds®
Light Brown Diamonds, C2-C3 | Natural Color Diamond | Mohs Scale: 10 | April Birthstone | 10th Anniversary Gemstone
Nude Diamonds™ are more neutral than white diamonds; their natural hue complements all skin tones."
Nude Diamonds™ are neutral skin tone, natural color diamonds that look colorless, take a high polish and offer a great value that is a fraction of the price of white diamonds. Le Vian® utilizes a very stringent selection process, choosing from a select range of high clarity natural faint and light brown diamonds with a touch of blush, the top of production, that are C2-C3 in color and SI or VS in clarity.