LE VIAN: A FAMILY-OWNED BUSINESS THAT KNOWS PHILANTHROPY BONDS FAMILIES

We thought you might be interested in learning more about the Le Vian family's philanthropic efforts throughout the years. This story, originally posted on Diamonds Do Good®, tells our story best. Read below, or visit Diamonds Do Good to see the original story.
Le Vian is known throughout the world as the creators of Chocolate Diamonds and a Red-Carpet favorite with Hollywood Royalty including Madonna, Taylor Swift, Rihanna, Tiffany Haddish, and Jennifer Lopez – the latter of whom is known on occasion to greet her stylist asking "Where's my Le Vian?" before even saying hello.
Le Vian is at its core a family-owned business. Many LeVian siblings are partners in the company including brothers Larry (Chairman) Eddie (CEO) and Moossa (President) and sisters Liz (Sr. VP Merchandise) and Suzy. (Manager of New Products). Six of the next generation of LeVian's have joined the firm over the last twenty years: Emanuel, Pamela, Jonathan, Joshua, Jason, and Brandon. The future remains strong with the birth of the six LeVian grandchildren born in the last two years, who the LeVian family hopes will be the next generation to continue their legacy.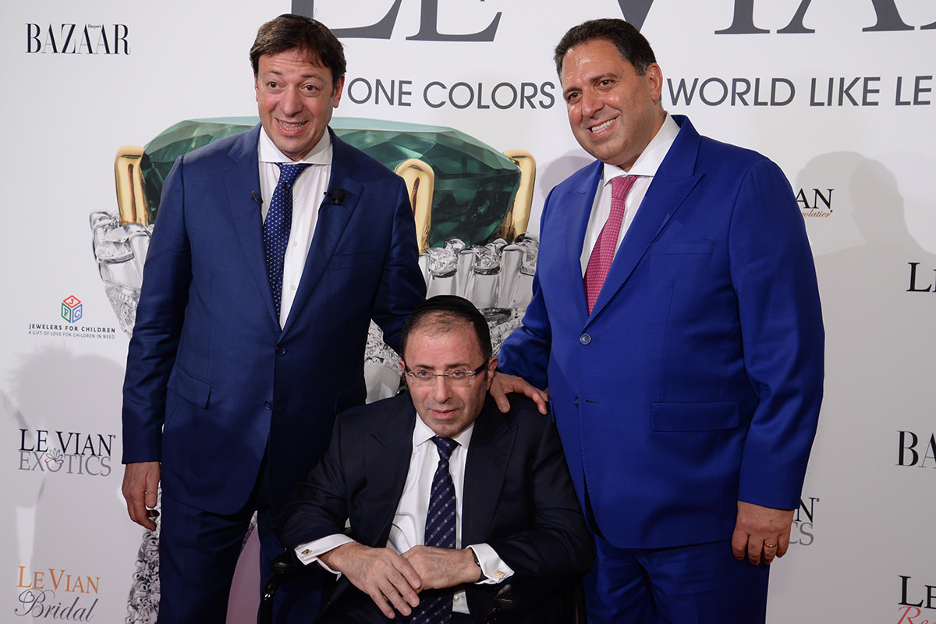 Brothers Eddie, Larry and Moossa
Le Vian's family-owned jewelry company has a history that dates back to the 15th century. As purveyors of fine jewelry, Le Vian had gained such a reputation that in 1746, the emperor Nadir Shah, one of Persia's most powerful rulers, chose the LeVian family to safeguard the collection of jewels he had amassed, including the famous Koh-i-Noor diamond, now among the British Crown Jewels in the Tower of London.
Equally as important to this prominent heritage is the family's long dedication to supporting children's and medical charities. As a young child CEO Eddie LeVian was struck with various illnesses and he and his family lost a 9-year sibling to cancer. Tragically they recently lost another treasured member of the family to cancer, Rafael Etessami, nephew to Lawrence, Moossa and Eddie.
While battling cancer, Rafael created the Rafa Foundation with his family as a non-profit charity to help cancer patients and their families cope with the everyday struggles of cancer through the creation of a multi-tiered support system. As a three-time cancer survivor who succumbed to the disease in 2018, Rafael had discovered that when cancer strikes, it attacked not only the body but also attacked one's social and emotional well-being. In 2013, Etessami stated, "Through my battles with cancer, I learned that one of the most effective tools in coping and recovery was a multi-tiered support system which allowed me to heal both emotionally and physically." During his lifetime, Rafael designed the Le Vian Rafa pendant, proceeds of which continue to go to charity. The LeVian family also continues to match donations to the Rafa Foundation.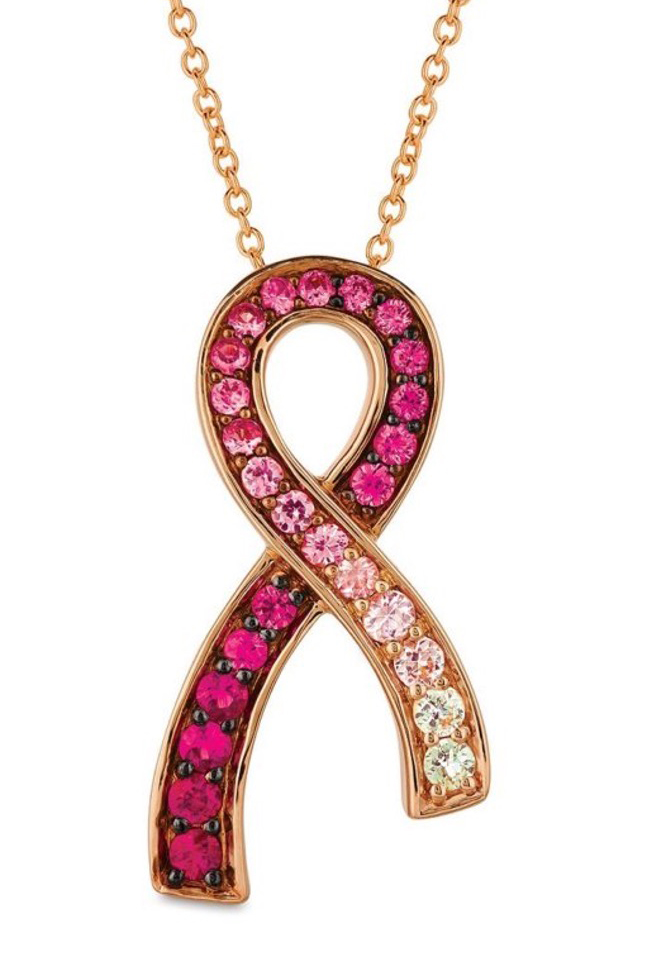 Rafa Foundation Pendant
Le Vian's commitment to giving back is evidenced by their board mandate to give away 10% annually, and in 2018, they gave away 20% of pre-tax profits. In comparison, most Fortune 500 companies give away between 1% and 3% of profit to charity each year, according to Vogue Business.
The three pillars of giving include:
Medical:
In addition to the work with the Rafa Foundation, the LeVian family:
Directly supports St Jude's Children Hospital, donating $100k per year;
Is one of the largest supporters of Jewelers for Children, having donated multi-millions of dollars over the years and is now approaching close to half a million a year through JFC's charity partners including St. Jude Children's Research Hospital®, the Make-A-Wish® America, the Elizabeth Glaser Pediatric AIDS Foundation, and the National CASA Association. All organizations who benefit children whose lives have been affected by illness, abuse, or neglect.
Join Le Vian during the month of June 2020 to support our children's charities by contributing to the Le Vian charity drive. Le Vian will match your donation up to $100,000. Visit LeVian.com/Charity and follow the same instructions listed from the June 2019 drive.
Donated $2.5 million over the last 20 years to the American Heart Association;
Dedicates $1 million over the years to the Le Vian Medical Emergency Fund, which helps people who need emergency surgery that is not covered by insurance.
In February 2020 teamed up with Macy's department store to support America's largest breast cancer charity by donating $20 per piece sold of select styles of the Le Vian Strawberry Layer Cake Collection, to Susan G. Komen for Breast Cancer Research.
Le Vian dedicates $1 million over the years to the Le Vian Medical Emergency Fund, which helps people who need emergency surgery that is not covered by insurance.
Education and Community Building:
Le Vian is committed to education as seen through the creation of:
Medical school scholarship fund, which currently supports 10 medical school students with several beneficiary students having now graduated from medical school.
Private school scholarships helping hundreds of students each year
A $1 million building fund to which it donates $200,000 annually to support the LeVian local community in Long Island, NY.
Diamond Producing Areas:
In diamond producing areas, the LeVian family believes that building schools and community centers is part of their philosophy of integrity, responsibility, and giving back. They donate yearly to Diamonds Do Good's Diamond Empowerment Fund, which supports youth impacted by HIV/AIDS in Botswana, as well as providing scholarships for students in Africa, India and the Northwest Territories of Canada.
Their support for diamond producing areas, in building schools and community centers is part of their philosophy of a sense of integrity, responsibility, and giving back.
Ethical Commitments to the Industry:
Le Vian is certified by the Responsible Jewellery Council. As a company committed to responsible sourcing and ethical and socially responsible practices, CEO, Eddie LeVian believes all companies in the industry should submit to this certification process in order to elevate the status of the entire industry, as leaders in the luxury world. Ethical practice supports not only our customers and suppliers, but the communities around our business.
The process of Le Vian's RJC certification involves lengthy third-party audits to achieve certification of their supply chain which includes visits to their factories around the world. They are committed to ethical, human rights, social and environmental considerations. For example, they do not tolerate irresponsible sourcing of precious metals, diamonds and gemstones. They pledge to source and mine from conflict-free regions, and strictly adhere to the Kimberley Process.
Creating hope out of loss is part of the strength of the Le Vian name. They actively encourage other companies within their industry and circles to set up their own foundations, like their family has done, to mandate companies to give 10% to charity each year. In this way, Le Vian hopes to ensure their industry is creating an environment in which every diamond is doing good.
For more information about Le Vian, visit https://www.levian.com