The evoluTion of
ChoColaTe DiamonDs™
Chocolate Soufflé

2019

Chocolate Layer Cake

2018

CHOCOLATE & NuDE™

2014-2019

This period which spans 2014 to today, ushered in new signature collections and styles, many patented designs, like Chocolate Ombré® featuring the Le Vian Bolo Bracelet. Tiara rings followed the latest Royal Wedding. Chocolate Layer Cake™ and Chocolate Soufflé™, the latest confection by the Le Vian Chocolatier®, were introduced.

Chocolate Ombré

2016
Chocolate Weddings

2012

GLADIATOR® EVOLuTION

2010-2014

The period from 2010 to 2014 saw the evolution of the Gladiator® including the Gladiator® Weave, Swirls, Loop and Super Gladiators with bolder, larger styles. Le Vian also added a sweet touch to its iconic Buckle design.

Gladiator Evolution

2011
CHOCOLATE & STRAWBERRy™

2005-2009

The craving for Chocolate Diamonds® intensified during the period of 2005-2009 which saw the registration of Chocolate Diamonds®. Le Vian developed Strawberry Gold®, a proprietary softer tone pink gold to better complement Chocolate Diamonds®. Chocolate Solitaires, the first Gladiator® and the first Le Vian Chocolate Timepieces were launched.

The Gladiators

2009

Strawberry Gold®

2005

Chocolate Timepieces

2009

Registration

2008

Chocolate Solitaires

2007
CHOCOLATE & VANILLA™

2000-2004

Le Vian launched Chocolate Diamonds® in 2000. Collections featured pavé set Chocolate Diamonds® in Vanilla Gold® with Vanilla Diamonds®. Collections focused on wide bands. The period also introduced clusters, hearts and flowers, including the first iconic Chocolate Flower ring that became a darling on the red carpet

The Launch

2000

Le Vian on The Red Carpet
The evoluTion of
ChoColaTe DiamonDs™
CHOCOLATE & NuDE™
2014-2019
This period which spans 2014 to today, ushered in new signature collections and styles, many patented designs, like Chocolate Ombré® featuring the Le Vian Bolo Bracelet. Tiara rings followed the latest Royal Wedding. Chocolate Layer Cake™ and Chocolate Soufflé™, the latest confection by the Le Vian Chocolatier®, were introduced.
Chocolate Soufflé
2019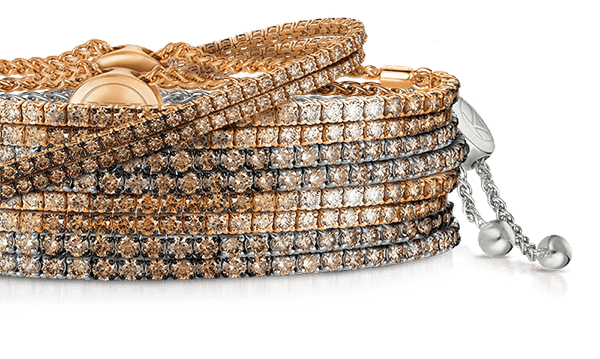 Chocolate Layer Cake
2018
Chocolate Ombré
2016
GLADIATOR® EVOLuTION
2010-2014
The period from 2010 to 2014 saw the evolution of the Gladiator® including the Gladiator® Weave, Swirls, Loop and Super Gladiators with bolder, larger styles. Le Vian also added a sweet touch to its iconic Buckle design.
Chocolate Weddings
2012
Gladiator Evolution
2011
CHOCOLATE & STRAWBERRy™
2005-2009
The craving for Chocolate Diamonds® intensified during the period of 2005-2009 which saw the registration of Chocolate Diamonds®. Le Vian developed Strawberry Gold®, a proprietary softer tone pink gold to better complement Chocolate Diamonds®. Chocolate Solitaires, the first Gladiator® and the first Le Vian Chocolate Timepieces were launched.
Chocolate Timepieces
2009
The Gladiators
2009
Registration
2008
Chocolate Solitaires
2007
Strawberry Gold®
2005
CHOCOLATE & VANILLA™
2000-2004
Le Vian launched Chocolate Diamonds® in 2000. Collections featured pavé set Chocolate Diamonds® in Vanilla Gold® with Vanilla Diamonds®. Collections focused on wide bands. The period also introduced clusters, hearts and flowers, including the first iconic Chocolate Flower ring that became a darling on the red carpet
The Launch
2000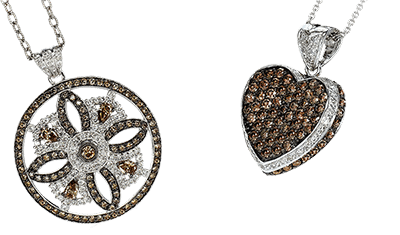 Le Vian on The Red Carpet