PISTACHIO DIOPSIDE®
Pistachio DiopsideTM features Le Vian®'s selection of Chrome Diopside. The gem, which is believed to reinvigorate the body and soothe the soul, is only found in the ice cold reaches of Siberia. Pistachio Chrome DiopsideTM is one of the most captivating green gems found in the universe, with a very high refractive index and a brilliantly deep forest green color.
An Italian inspired combination of Pistachio Chrome DiopsideTM with layers of Vanilla Diamonds® set in Strawberry Gold® creates the unique Spumoni Collection® by Le Vian®, in salute to its 2014 trend forecast of Fifty Shades of GreenTM .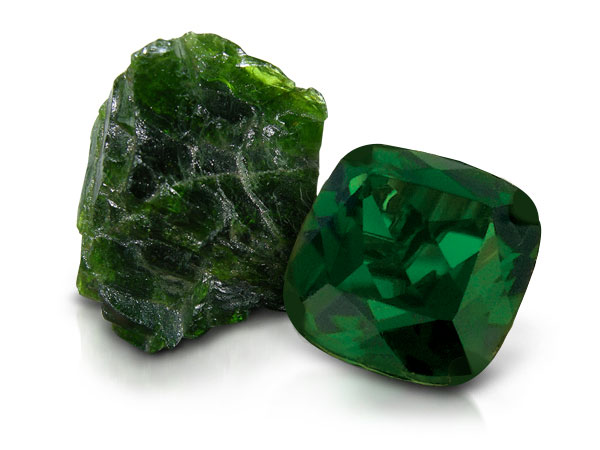 "Pistachio Diopside® is Le Vian®'s top selections of chrome diopsi de that are chosen for their open color and high refraction. Le Vian® combines Pistachio Diopside Strawberry Gold® and Vanilla Diamonds® for its Spumoni Collection® which was inspired by the traditional Italian dessert."
NEOPOLITAN OPALTM
The lore of opals is plentiful, just like the variety of colors found in this fascinating, kaleidoscopic gem. The Romans believed it was the most powerful of gems and named the stone "opalus". The Greeks thought opals gave them the power of prediction. Europeans saw a symbol of hope, purity and truth. One famous opal "The Burning of Troy" was given by Napoleon to Josephine.
Internal diffraction is what creates the colors you see in an opal and provides its shimmering iridescence. The colors dependent on the size of the silica spheres within the stone. Small spheres show blue, the largest show red and other colors too. The value is determined by the amount of color play within the stone although for many the colors and patterns favored are personal taste.
Neopolitan Opal™ comes from only one mine - the new Yahwah mine in Ethiopia - and features an intriguing play of background colors combined with a captivating iridescence which blends deliciously with Le Vian® flavors of gold and diamonds, especially Strawberry Gold® and Chocolate Diamonds®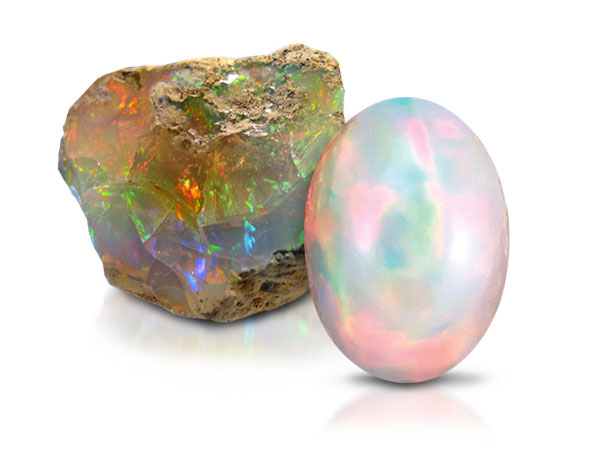 "What Le Vian® loves about Ethiopian Chocolate OpalTM is the unmatched iridescence, the flavorful body, and the higher hardness and durability compared to the milky look and softness of the Australian variety."
VANILLA DIAMONDS®
The journey of a diamond in the rough to the sparkling diamond design you love is a fascinating story, one that began billions of years ago, deep within the earth where a diamond has formed under extreme heat and pressure. Its ascent from its natural home is forced by nature or man where it is then cleaved, cut and polished revealing its natural beauty. Diamonds are the hardest material on earth and the only gem that is composed of only one element, carbon.
Vanilla Diamonds® are specially selected to adorn Le Vian® designs – from breathtaking one-of-a-kind red carpet favored designs in Vanilla Gold® to the trendsetting combination of Strawberry 'N Vanilla® featuring the blushing hue of Strawberry Gold® topped with Vanilla Diamonds®.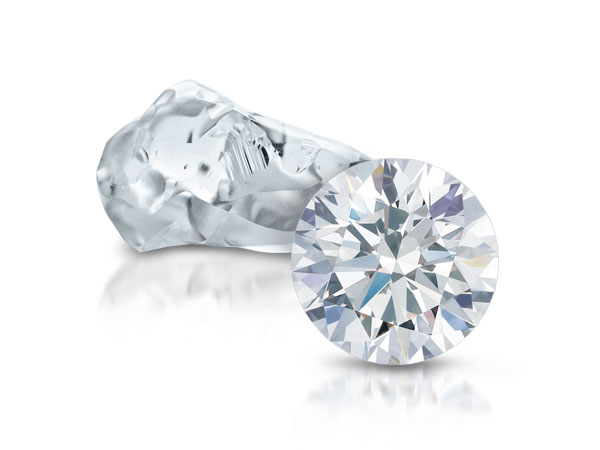 "Le Vian® Vanilla Diamonds® are chosen by exacting standards: SI quality of higher and G-J color."