Pomegranate GarnetTM
Garnet Family | Mohs Scale: 7.5-8 | January Birthstone | 2nd Anniversary Gemstone
"Pomegranate Garnet offers January babies a garnet with warmer chocolate undertones that are perfectly complemented by Chocolate Diamonds®."
The history of garnets can be traced back to 3100 B.C., the original red garnet gem adorning the necklaces of Egypt's pharaohs and the signet rings of ancient Rome. Garnets were named by the ancient Greeks for its color which resembled pomegranate seed - granatum. In legend, the garnet was believed to light up the night, thus protecting the wearer from nightmares. Garnets are all natural, brilliant and durable making them a favorite for jewelry and favored in rings.
Le Vian® selected a unique hue for its Pomegranate Garnet™, those gems with a rich red tone with a slight umber undertone.
Bubble Gum Pink SapphiresTM
Corundum Family | Mohs Scale: 9
Throughout history, sapphires have always been associated with the color blue, perhaps most likely due to its name which comes from the Greek word sappheiros (blue stone). Traditionally, sapphire symbolizes truth, sincerity, and faithfulness. In history, clergy members wore the gem to symbolize Heaven. In ancient Greece and Rome, the royals believed sapphires protected them from envy and harm. Sapphires have also been closely associated with romance and the royals, most recently in modern times. In 1981, Prince Charles gave Lady Diana Spencer a blue sapphire engagement ring. The same ring was later given to Kate Middleton by Princess William.
But all sapphires are not blue and, in fact, come in a rainbow of colors including pink, which Le Vian® has chosen for its strawberry pink flavor.
"Bubble Gum Pink Sapphires™ offer September babies a blush tone gem to celebrate their birth month."
VANILLA DIAMONDS®
The journey of a diamond in the rough to the sparkling diamond design you love is a fascinating story, one that began billions of years ago, deep within the earth where a diamond has formed under extreme heat and pressure. Its ascent from its natural home is forced by nature or man where it is then cleaved, cut and polished revealing its natural beauty. Diamonds are the hardest material on earth and the only gem that is composed of only one element, carbon.
Vanilla Diamonds® are specially selected to adorn Le Vian® designs – from breathtaking one-of-a-kind red carpet favored designs in Vanilla Gold® to the trendsetting combination of Strawberry 'N Vanilla® featuring the blushing hue of Strawberry Gold® topped with Vanilla Diamonds®.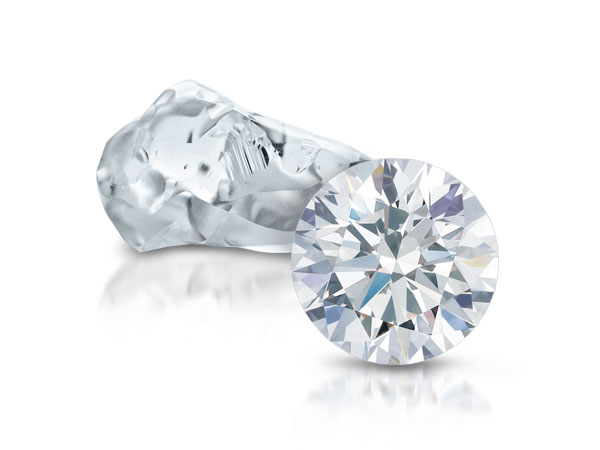 "Le Vian® Vanilla Diamonds® are chosen by exacting standards: SI quality of higher and G-J color."